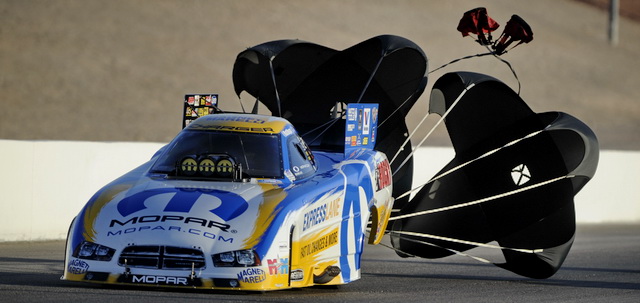 Matt Hagan (above) found a little extra motivation in a friendly rivalry to help him race to the Funny Car qualifying lead Friday at the SummitRacing.com NHRA Nationals.
Steve Torrence (Top Fuel) and Jeg Coughlin Jr. (Pro Stock) also were the leaders in their respective categories at the fourth of 24 NHRA Mello Yello Drag Racing Series events.
The 2011 Funny Car world champ has twice been a runner-up at The Strip at Las Vegas Motor Speedway, but the Virginia cattle rancher powered his Mopar Express Lane/Rocky Boots Dodge Charger to a performance of 4.063 seconds at 320.58 mph to edge out Del Worsham for the qualifying lead. Two rounds of qualifying on Saturday (1:10 and 3:50 p.m.) will set the fields for Sunday's 11 a.m. eliminations.
Hagan was paired against Don Schumacher Racing teammate Ron Capps for both runs and felt that being in the opposite lane from one of the category's most successful drivers gave him a bit more focus.
"I always try to put the extra effort in during qualifying, but especially when we're running a teammate," Hagan said. "It is bragging rights when you go out and lay one on your teammate. That always puts a smile on my face."
Hagan and his team recently switched back to their 2013 race car following the first three races this season. That car propelled Hagan to five wins and a runner-up points finish last season and he is hoping that could be the spark needed to get his first win of the season.
"With this car that we have right now, Dickie [Venables, crew chief] can pretty much call the shots on it," Hagan said. "It (the new car) was kind of hit or miss, so he said let's go back to what we know. We pulled it out of the box and went right to the top."
Worsham sits second following a 4.069 at 311.99 in his DHL Toyota Camry. Capps was impressive as well posting a 4.075 in his NAPA Auto Parts Dodge Charger. Chad Head, Robert Hight and Courtney Force also completed 4.0-second passes on the first day.
In Top Fuel, Torrence rose to the top of the qualifying leaderboard with a 3.779 at 310.91 in his Capco Contractors dragster. Torrence led the qualifying order after both sessions and needed his quicker effort in the final session to move back to the top of the 16-car order.
"To go out and run low of each session was huge for us," Torrence said. "We were back in the lanes and saw a couple of 3.79s roll up on the scoreboards, and we figured someone could go .77, .78. The run really surprised me; it left really good, but at about 900 feet, it knocked the panels out of the blower. It surprised me it still went that quick out of power."
With three semifinal showings in three races to open the season, Torrence is looking to advance to his first final round appearance of the year. He's halfway to his first No. 1 qualifying position of the season.
Phoenix winner Antron Brown and Gainesvile winner Doug Kalitta sit second and third after two sessions, posting identical 3.797 second runs. Brown's Matco Tools dragster reached 322.96 mph to best series points leader Kalitta's 319.75 mph run in his Mac Tools dragster.  Rookie Australian driver Richie Crampton was fourth overall with a 3.798 at 319.75 in his GEICO/Lucas Oil dragster.
Coughlin shook off his early season slumber and took the top spot in Pro Stock with his performance of 6.625 at 208.78 in his JEGS.com/Mopar Dodge Dart. The defending Pro Stock world champ is hoping that his great start will translate to success at the K&N Horsepower Challenge bonus event, an eight car race where drivers compete for a $50,000 payday. Being one of only three former winners of the Challenge in the 2014 field, Coughlin is ready to get his fourth win in the bonus event and another hefty paycheck.
"We'd like to carry this over into Saturday and the K&N Horsepower Challenge," Coughlin said. "We're putting our game face on now. There is $50,000 going to the winner, and one of the fans will win a Toyota Tacoma. It's very fitting for the high-stakes race to take place here at The Strip."
Coughlin has five career victories at Las Vegas and a sixth would move him one closer to tying Greg Anderson's Pro Stock record of seven wins in the desert.
Chris McGaha sits second after the first day of qualifying, tying Coughlin's 6.625 pass. The Odessa, Texas native piloted his Harlow Sammons of Odessa Chevy Camaro to a 208.07 mph run. McGaha was the No. 1 qualifier in Phoenix.
(Photos courtesy NHRA/National Dragster; JEGS/Auto Imagery; Click to enlarge)
LAS VEGAS — Friday's results after the first two of four rounds of qualifying for the 15th annual SummitRacing.com NHRA Nationals at The Strip at Las Vegas Motor Speedway, fourth of 24 events in the NHRA Mello Yello Drag Racing Series.  Qualifying will continue Saturday for Sunday's final eliminations.
Top Fuel
1. Steve Torrence, 3.779 seconds, 322.27 mph; 2. Antron Brown, 3.797, 322.96; 3. Doug Kalitta, 3.797, 319.75; 4. Richie Crampton, 3.798, 319.98; 5. Tony Schumacher, 3.816, 322.96; 6. Bob Vandergriff, 3.831, 319.52; 7. Brittany Force, 3.834, 311.34; 8. Spencer Massey, 3.837, 320.89; 9. Khalid alBalooshi, 3.847, 312.57; 10. Shawn Langdon, 3.848, 316.90; 11. Clay Millican, 3.874, 295.59; 12. Terry McMillen, 3.936, 309.77. Not Qualified: 13. Troy Buff, 4.028, 237.88; 14. Steven Chrisman, 4.327, 206.64; 15. David Grubnic, 5.102, 134.70; 16. Mike Strasburg, 5.594, 115.82; 17. Steve Faria, 5.820, 112.62.
Funny Car
1. Matt Hagan, Dodge Charger, 4.063, 317.05; 2. Del Worsham, Toyota Camry, 4.069, 311.99; 3. Ron Capps, Charger, 4.075, 314.61; 4. Chad Head, Camry, 4.076, 308.07; 5. Robert Hight, Ford Mustang, 4.084, 313.66; 6. Courtney Force, Mustang, 4.093, 315.19; 7. Alexis DeJoria, Camry, 4.102, 308.64; 8. Tim Wilkerson, Mustang, 4.108, 310.63; 9. Jack Beckman, Charger, 4.115, 310.13; 10. Tommy Johnson Jr., Charger, 4.116, 305.98; 11. Cruz Pedregon, Camry, 4.122, 293.03; 12. Paul Lee, Charger, 4.124, 306.81. Not Qualified: 13. Bob Tasca III, 4.148, 307.30; 14. Tony Pedregon, 4.163, 295.92; 15. John Force, 4.172, 301.07; 16. Jon Capps, 4.223, 278.23; 17. Jeff Diehl, 4.297, 293.98; 18. Gary Densham, 4.444, 224.28; 19. Jeff Arend, 4.783, 169.93.
Pro Stock
1. Jeg Coughlin, Dodge Dart, 6.625, 209.17; 2. Chris McGaha, Chevy Camaro, 6.625, 208.46; 3. Erica Enders-Stevens, Camaro, 6.627, 209.04; 4. Dave Connolly, Camaro, 6.627, 208.26; 5. Jason Line, Camaro, 6.630, 208.94; 6. Allen Johnson, Dart, 6.632, 208.94; 7. Shane Gray, Camaro, 6.632, 209.17; 8. Jimmy Alund, Camaro, 6.639, 208.49; 9. Vincent Nobile, Camaro, 6.647, 207.72; 10. V. Gaines, Dodge Avenger, 6.657, 209.07; 11. Steve Kent, Camaro, 6.657, 207.56; 12. Deric Kramer, Avenger, 6.686, 207.59. Not Qualified: 13. Matt Hartford, 6.686, 207.34; 14. Mark Wolfe, 6.740, 205.76; 15. Larry Morgan, 6.765, 206.95; 16. Rodger Brogdon, 6.813, 206.67.