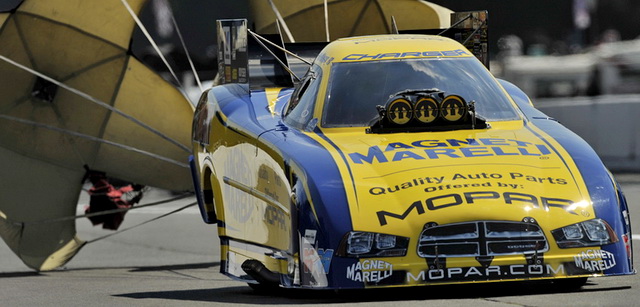 NHRA Funny Car driver Matt Hagan (above) extended his points lead on Sunday and led a trio of first-time Seattle champions, winning for the fourth time in 2013 with a victory against Bob Tasca III at the O'Reilly Auto Parts NHRA Northwest Nationals presented by Super Start Batteries at Pacific Raceways.
Morgan Lucas (Top Fuel) and Vincent Nobile (Pro Stock) also were winners of the NHRA Mello Yello Drag Racing Series event, the 16th of 24 in the 2013 season.
In the championship round, Hagan, the 2011 Funny Car world champion, powered his 8,000-horsepower Magneti Marelli/Rocky Boots Dodge Charger to a time of 4.171 seconds at 294.75 mph. Tasca, seeking his first win in nearly a year, slowed to a 5.324 at 164.81 in his Motorcraft/Quick Lane Ford Shelby Mustang.
Hagan, who also picked up his ninth career win, outran Alexis DeJoria, Johnny Gray and Courtney Force, ending her six-round winning streak at the track, to reach the final round.
"The chemistry of this team is something I've never had before," Hagan said. "It shows on the racetrack, and it trickles down from the top, where (crew chief) Dickie (Venables) is a great leader.
"It's phenomenal to strap into this Don Schumacher Racing car and know I have the opportunity to win every time I sit in it. I like to get patted on the back as much as anyone, but this is 100 percent hats off to my team."
The weekend got even better for Hagan as he also clinched the first Funny Car position in the Countdown to the Championship. Cruz Pedregon jumped back into second in the points standings, while Tasca moved into the top 10 with the final round appearance. Hagan, meanwhile, was outstanding on the starting line, winning on a holeshot against Force and posting a strong .036 reaction time in the final round to pick up his first career win in Seattle.
"It's a huge deal for us to get locked into the Countdown," Hagan said. "(Ron) Capps didn't qualify and now we have a whole race worth of points on him. We're out there to win championships. We can be buddies later, but right now we have one goal: pull on the helmet, get focused, get up on the wheel and turn on four win lights. We just have to dig deep, work hard and make it happen."
In Top Fuel, Lucas claimed his first victory of the season and eighth of his career, knocking off David Grubnic in the final round. Lucas covered the distance in his 8,000-horespower GEICO/Lucas Oil dragster in 3.908 at 296.57 to knock off Grubnic's Candlewood Suites dragster, which was making its first final round appearance in 2013 and went 4.253 at 256.31.
Lucas made his second straight final round appearance, finishing the job in Seattle after losing last weekend to points leader Shawn Langdon in Sonoma, Calif.
"We've had our struggles, but this is a sign that we're getting there and turning the corner," Lucas said. "We're starting to show some consistency. To win here in front of these fans with an amazing team, it's probably as cool and as big as any win I've had. I can't begin to tell you how proud I am of my team."
Langdon maintained his points lead in Top Fuel, though Lucas was able to extract revenge in Seattle by beating the Al-Anabi Racing driver in the semifinals on Sunday. Despite a first-round loss, Tony Schumacher moved back into second place. Lucas, who has now made three final round appearances in 2013 and stayed seventh in points, also knocked off Khalid alBalooshi and Doug Kalitta en route to his first victory at Pacific Raceways.
"I've always had a special place in my heart for this track," said Lucas, who went as quick as 3.817 at 318.32 during eliminations. "Hopefully we can maintain this consistency the back half of the season because I really want to make a serious run at a championship."
Nobile won for the second straight week and picked up his third victory in 2013 by knocking off four-time world champion Jeg Coughlin in a rematch of last weekend's final round in Sonoma. Nobile's Mountain View Tire Dodge Avenger posted a 6.586 at 210.54 while Coughlin ran a 6.615 at 210.60 in his JEGS.com/Mopar Dodge Avenger. Nobile also improved to 3-0 in final round appearances against Coughlin this season.
"Luckily we came out on top, just like last weekend," Nobile said. "I think I try a little bit harder when I'm going up against my teammates in Jeg and Allen, and it definitely means a lot beating Jeg. He's just unbelievable and to be able to beat a champion, it means a lot to me and my team."
Mike Edwards, who lost to Coughlin in the semifinals, stayed as the points leader in Pro Stock, while Nobile climbed to fourth in earning his first victory outside of California in 2013. Greg Anderson also clinched a position in the Countdown to the Championship. Nobile, who posted his quickest run of the day in the finals, beat Chris McGaha, Allen Johnson and Anderson to reach the final round.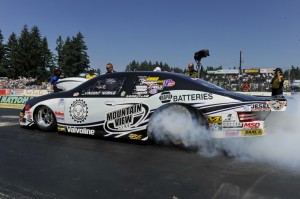 "I owe it a lot to my team because they're doing a tremendous job right now," said Nobile, who clinched his Countdown spot on Saturday during qualifying. "This is definitely a great time to turn it on for the Countdown. I was struggling in the beginning of the year, but I think I figured out what I was doing wrong."
The NHRA Mello Yello Drag Racing Series continues Aug. 15-18 with the Lucas Oil NHRA Nationals at Brainerd International Raceway in Brainerd, Minn.
(Photos courtesy NHRA/National Dragster; Click to enlarge)
KENT, Wash. — Final round-by-round results from the 26th annual O'Reilly Auto Parts NHRA Northwest Nationals presented by Super Start Batteries at Pacific Raceways, the 16th of 24 events in the NHRA Mello Yello Drag Racing Series:
TOP FUEL
ROUND ONE — Morgan Lucas, 3.817, 318.32 def. Doug Kalitta, 4.905, 148.62; Khalid alBalooshi, 3.820, 315.34 def. Brittany Force, 5.886, 111.69; Shawn Langdon, 3.823, 315.05 def. Troy Buff, 3.864, 303.71; David Grubnic, 3.789, 317.72 def. Brandon Bernstein, 3.827, 311.34; T.J. Zizzo, 3.843, 313.22 def. Tony Schumacher, 3.902, 302.62; Antron Brown, 3.866, 310.63 def. Bob Vandergriff, 3.826, 313.58; Clay Millican, 3.807, 316.67 def. Tommy Johnson Jr., 4.552, 172.19; Steve Torrence, 3.836, 308.57 def. Spencer Massey, 3.842, 313.88; QUARTERFINALS — Zizzo, 3.975, 276.75 def. Brown, 4.626, 179.56; Langdon, 3.836, 309.06 def. Torrence, 3.874, 294.11; Grubnic, 3.848, 311.49 def. Millican, 3.840, 310.05; Lucas, 3.869, 305.29 def. alBalooshi, 3.942, 284.69; SEMIFINALS — Grubnic, 3.847, 310.55 def. Zizzo, 4.611, 167.74; Lucas, 3.867, 308.43 def. Langdon, 4.825, 168.16; FINAL — Lucas, 3.908, 296.57 def. Grubnic, 4.253, 256.31.
FUNNY CAR
ROUND ONE — Tim Wilkerson, Ford Mustang, 4.115, 293.79 def. Jeff Arend, Dodge Charger, 4.134, 296.05; Robert Hight, Mustang, 4.077, 300.20 def. John Hale, Chevy Impala, foul; Johnny Gray, Charger, 4.096, 296.96 def. Jack Beckman, Charger, 4.521, 224.70; Cruz Pedregon, Toyota Camry, 4.064, 299.80 def. Del Worsham, Camry, 4.184, 292.96; Matt Hagan, Charger, 4.155, 292.84 def. Todd Lesenko, Charger, 4.161, 280.08; Paul Lee, Charger, 4.133, 299.13 def. John Force, Mustang, 4.086, 297.42; Bob Tasca III, Mustang, 4.137, 287.53 def. Tony Pedregon, Camry, 5.855, 116.94; Courtney Force, Mustang, 4.086, 300.80 def. Alexis DeJoria, Camry, 4.161, 291.26; QUARTERFINALS — Hagan, 4.175, 289.82 def. Lee, 5.243, 143.90; Tasca III, 4.105, 293.60 def. C. Pedregon, 4.228, 271.19; Wilkerson, 4.153, 291.32 def. Hight, 4.924, 162.35; C. Force, 4.106,300.40 def. Gray, 4.722, 173.61; SEMIFINALS — Hagan, 4.121, 292.65 def. C. Force, 4.115, 301.27; Tasca III, 7.440, 93.64 def. Wilkerson, foul; FINAL — Hagan, 4.171, 294.75 def. Tasca III, 5.324, 164.81.
PRO STOCK
ROUND ONE — Jason Line, Chevy Camaro, 6.609, 209.62 def. Larry Morgan, Ford Mustang, 6.637, 208.55; Greg Anderson, Camaro, 6.571, 210.50 def. Rodger Brogdon, Camaro, 6.618, 210.24; Vincent Nobile, Dodge Avenger, 6.592, 209.30 def. Chris McGaha, Avenger, 6.641, 208.55; Shane Gray, Camaro, 6.578, 209.69 def. V. Gaines, Avenger, 6.593, 210.47; Jeg Coughlin, Avenger, 6.582, 209.39 def. Steve Kent, Camaro, 6.640, 208.68; Mike Edwards, Camaro, 6.559, 211.03 def. Deric Kramer, Avenger, 6.663, 208.17; Rickie Jones, Camaro, 6.596, 209.95 def. Matt Hartford, Avenger, 6.629, 209.33; Allen Johnson, Avenger, 6.555, 211.13 def. JR Carr, Mustang, 6.667, 207.34; QUARTERFINALS — Coughlin, 6.675, 202.58 def. Gray, 16.073, 50.28; Anderson, 6.608, 209.17 def. Jones, 10.364, 86.59; Edwards, 6.590, 210.21 def. Line, 6.612, 209.46; Nobile, 6.589, 209.75 def. Johnson, 6.583, 210.37; SEMIFINALS — Coughlin, 6.632, 208.71 def. Edwards, 6.602, 211.06; Nobile, 6.592, 209.85 def. Anderson, 6.621, 210.01; FINAL — Nobile, 6.586, 210.54 def. Coughlin, 6.615, 210.60.
KENT, Wash. — Sunday's Sportsman final results from the 26th annual O'Reilly Auto Parts NHRA Northwest Nationals presented by Super Start Batteries at Pacific Raceways. The race is the 16th of 24 in the NHRA Mello Yello Drag Racing Series:
Top Alcohol Dragster — Shawn Cowie, 5.372, 268.33  def. Garrett Bateman, 5.649, 252.80.
Top Alcohol Funny Car — Clint Thompson, Chevy Monte Carlo, 5.594, 257.04  def. Sean Bellemeur, Chevy Camaro, 5.632, 256.84.
Competition Eliminator — Doug Lambeck, Pontiac Sunfire, 8.399, 160.27  def. Alan Ellis, '23-T Ford, 6.572, 209.65.
Super Stock — Dan Fletcher, Chevy Camaro, 10.252, 117.35  def. Jody Lang, Chevy Malibu, foul.
Stock Eliminator — Dan Fletcher, Chevy Camaro, 11.279, 104.95  def. Don Elgin, Pontiac Grand Am, 12.739, 100.21.
Super Comp — Steve Williams, Dragster, 8.945, 178.12  def. Andy Morris, Dragster, 8.929, 163.39.
Super Gas — Ed Hutchinson, Chevy Corvette, 9.918, 160.86  def. Eddy Plaizier, Corvette, foul.
Super Street — Larry Miner, Chevy Camaro, 10.904, 141.09  def. Brett Oglesbee, Chevy Vega, 10.917, 121.32.