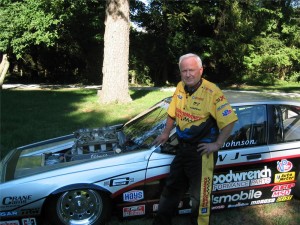 The Darrell Gwynn Foundation will auction a 1987 Oldsmobile Firenza Warren  Johnson Pro Stock car at Barrett-Jackson Scottsdale on Monday, January 13, at 7 p.m. MST, at Westworld of Scottsdale.
The car was donated to DGF for auction by legendary NHRA driver Joe Amato. Proceeds will benefit the foundation's mission. The Darrell Gwynn Foundation's mission is to provide suuport to people with paralysis and prevent spinal cord injuries.
"We are excited to take this car to Barrett-Jackson," said Darrell Gwynn, president of the Darrell Gwynn Foundation. "These race cars have turned into treasures amongst car collectors. This Oldsmobile Firenza could possibly be the most correct rendition of a vintage NHRA Pro Stock car available for auction to date according to Warren Johnson himself."
The Oldsmobile Firenza is a historic part of Warren Johnson's NHRA Pro Stock racing career. This marked the beginning of a long-lasting sponsorship between Warren Johnson and General Motors Corporation. Warren Johnson was the first NHRA Pro Stock driver to break the 180 mph barrier, 190 mph barrier (Firenza, September '86) and the 200 mph barrier (Pontiac Firebird). The Oldsmobile Firenza was also used at the beginning of the Pro Stock racecar wind tunnel testing era that is now an integral part of all professional automobile racing.
As Warren Johnson remembers, three Ness chassis Oldsmobile Firenzas were built for the early 1987 NHRA Pro Stock racing season. Two identical cars were ordered by Warren Johnson. This 1987 Ness Oldsmobile Firenza is one of the two originally ordered and the only one known to still exist.
It has been restored to original condition with a genuine Warren Johnson engine and drivetrain as Warren raced in 1987. Every effort has been made to restore the body and chassis to the same exacting detail as it was in 1987 and no restoration expense has been spared. An international search was conducted to acquire the few missing 1987 parts to make this car a reality.
This Firenza still has all of the original chassis components as recalled by Warren Johnson. It includes rear end assembly, rear coilover shocks and springs, front struts and springs, steering rack and brakes. Each part on this car, if not still the original part, was restored with attention to detail overseen by Warren Johnson himself.
This car has many items Warren custom-built just for the Firenza. The repainting and application of graphics are a combination of vinyl and paint, as was the case when Warren Johnson raced his 1987 Firenza. Warren Johnson's signature will be on the rear wing of the car. A photo opportunity with the new owner and Warren Johnson will be available should the winning bidder so desire.
While at the gala, the Darrell Gwynn Foundation, on behalf of its donors, will donate a $26,000 custom power wheelchair to Karen Spencer of Phoenix, Ariz. Karen is in need of a custom power wheelchair to increase her independence and mobility. Karen was diagnosed with polio at three months old. Although she recovered, she was diagnosed with post-polio syndrome at age 35, leaving her unable to walk. Additionally, the polio caused arm weakness inhibiting her ability to independently propel a manual wheelchair. Karen was provided with a power chair by her insurance company several years ago, but the wheelchair is ill-fitting, difficult to get in and out of, and doesn't have the necessary features that Karen needs to remain healthy. Her insurance will not replace her current power chair. The new custom power wheelchair donated by the Darrell Gwynn Foundation will save her strength and energy, drastically reduce her pain, ward off constant fatigue and help reduce swelling.
Give the Gift of Mobility: https://darrellgwynnfoundation.org/the-gift-of-mobility.php