Gumout Performance Additives announced Feb. 4, its sponsorship of Leah Pritchett and the Ohio-based Dote Racing Top Fuel dragster team for the 2014 NHRA Mello Yello Drag Racing Series.
Gumout became a drag racing staple in the 1970s and 1980s with the legendary "Grumpy's Toy" Pro Stock car campaigned by Hall of Famer Bill "Grumpy" Jenkins.  Gumout expanded its motorsports activities following the Jenkins association with a variety of competitions included circle track racing, road racing, boat racing and off-road racing.
"We are extremely excited to return to NHRA professional drag racing in a big way with Leah Pritchett and the Dote Racing Top Fuel organization," said Rusty Waples, Global Group Brand Manager at ITW Global Brands.  "Leah is one of the bright young stars of drag racing and a great spokesperson for Gumout. Leah and the Dote Racing team will assist us in communicating with our retailers and customers throughout the country. We can't wait to see Leah in the Gumout Top Fuel dragster at the season-opening NHRA Winternationals at Pomona (Feb. 6-9)."
Pritchett, 25, grew up near the famed Pomona Raceway in Redlands, Calif., and actually competed in her first drag racing event at Pomona at age eight in the NHRA Junior Dragster program.  The Cal State University, San Bernardino communications graduate worked her way through the drag racing ranks including driving in the Pro Mod division and Nostalgia Funny Cars before entering the Top Fuel division in 2013.
"I am so thrilled to have Gumout as a partner for the 2014 NHRA Mello Yello Series," said Pritchett, who now lives in Avon, Ind. "I have been drag racing for most of my life as I began at age 8. I have worked on the race cars in smaller divisions but now I am driving for Dote Racing in the national tour. It is so exciting to have Gumout as our team's major sponsor."
Pritchett, whose maiden name was Pruett, recently married Torrence Racing Top Fuel car chief Gary Pritchett. She was an NHRA Division 7 champion at age nine, NHRA Wicked West Coast champion at age 16 and was the first woman driver to break the five-second barrier in a Nostalgia Funny Car. She also won the NHRA Hot Rod Heritage Series championship and scored multiple victories in the Pro Mod class including wins at Charlotte and Las Vegas.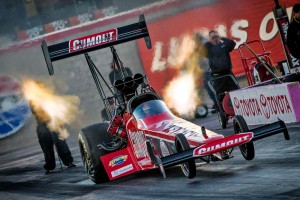 Pritchett gained her NHRA Funny Car license in 2008 and began piloting Top Fuel dragsters in 2013. She qualified in her first NHRA national event in Top Fuel last year at the NHRA Winternationals in Pomona.
The Dote Family, a three-generation racing team, began in drag racing in the 1980s and currently is operated by Mike Dote and his wife, Connie. The Dote Racing racing team joined the Top Fuel ranks in 2009.
Led by crew chief Doug Kuch, Dote Racing is based in Monroe, Ohio, and hired Pritchett for the 2013 NHRA season opener in Pomona. In just her second Top Fuel race, Pritchett upset reigning NHRA Mello Yello Top Fuel champion Shawn Langdon in the first round at Phoenix. At Topeka, she advanced to the semi-finals with victories over Top Fuel race winners Anton Brown and Doug Kalitta.
"We believe that Leah and the entire Dote Racing team can be successful in 2014 with the new Gumout sponsorship," said Kuch.  "While Leah is fairly new to the Top Fuel class, she is a veteran drag racer who has the skills to be very competitive in the sport's top category. With Gumout onboard, we feel we have a solid base to give Leah and Dote Racing the proper tools to go after the top teams in Top Fuel."
(Photos courtesy Dote Racing/Speer; Click to enlarge)