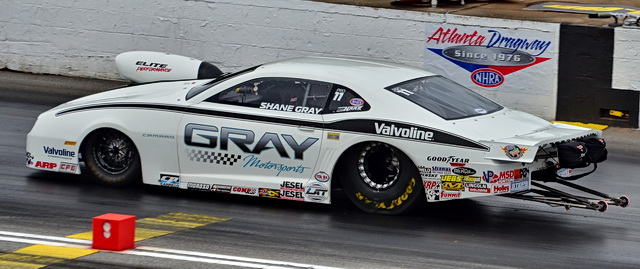 Shane Gray and the Gray Motorsports Pro Stock team are enjoying the best string of events that they've experienced in a very long time, and as the Mello Yello Drag Racing Series tour heads to the heart of America for the 25th annual NHRA Kansas Nationals at Heartland Park Topeka this weekend, Gray and his horsepower-obsessed cohorts are eager to extend their successful run and expand upon accomplishments that have been a long time coming.
Last weekend in Atlanta, Gray raced to the closing round of eliminations for the third consecutive event; in Charlotte at the four-wide race several weeks ago, the second-generation drag racer put together a better combination than this challengers to qualify all the way up in the No. 3 position and then move through eliminations. The Denver, N.C.-based Gray graduated to the last act and came up short at what he has considered his home track for the past few years, but the stage was set for positive and rather immediate future results.
Just one week later in Houston, Gray improved to start from the No. 2 position and powered his way through eliminations once again with support from his motivated team. Gray's Texas triumphs included knocking out the defending series champion en route to the final and then posting a 6.589 in the money round that was identical to his opponent and lost by just a tick.
Another top-half qualifying effort came through in Atlanta, and the Gray Motorsports crew prepared a great racecar for Sunday. When the car wasn't quicker than that of his opponent, Gray made up the difference at the starting line with a collection of psychic .00-second reactions, including a .001-second start in the final. Gray was just two-hundredths of a second away from sharing the winner's circle with his father, Atlanta Funny Car winner Johnny Gray, in what would have marked the first time in the history of NHRA that a father and son doubled-up in the professional ranks at a national event.
"That sure would have been neat, and we truly believe we can make that happen this year if everything lines up right again. We have so many important guys with us at the track and back at the shop who contribute to where we are today with this program, and hopefully we're closing in on a win," said Gray.
"My crew chief Justin Elkes is just awesome, and Rick Jones has sure been a huge help. Nick Ferri heads up the engine department, Jerry Haas has given us a great racecar with the Gray Motorsports Chevy Camaro, and I think the combination of everybody working together just makes my job pretty darn easy."
A return to Topeka marks a journey back to the site of Gray's most recent victory in the extremely tight Pro Stock class; he won there in 2011, and after a humbling 2012 in which no further victories were logged, Gray is eager to see what he can do in Kansas with a rejuvenated, thriving program.
"Racing is a combination of a lot of things, and right now, we've got a good racecar and good engines," said Gray. "Really, it just gives you confidence. When the car is bad, you don't know whether it's going to go right, left, up, down, backwards, forward. You just don't know what it's going to do, and that takes away any confidence you might have had in a sport where confidence is key – but here lately, the Gray Motorsports Chevy Camaro has been a car that I can count on.
"I feel good. I'm genuinely excited. I have a great car and an awesome team behind me, and that's really all I can ask for. The rest is up to me."
(Photos by Ian Tocher; Click to enlarge)