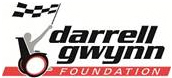 The Darrell Gwynn Foundation, on behalf of Pitch Energy, Funny Car driver Johnny Gray and wife Terry, and Johnny's sister Terry Chandler, donated a custom power wheelchair to 9-year-old Kyson Brannon of Euless, Texas, at today's (Sep. 22), AAA Texas NHRA FallNationals at the Texas Motorplex.
Kyson is diagnosed with cerebral palsy and is unable to propel his current manual wheelchair. Medicaid denied his claim for a new power wheelchair.
A loving and outgoing child who loves computers and outdoors, the new power wheelchair will give Kyson the gift of mobility he deserves and allow him to remain in school, better interact with his classmates and develop his communication skills.
Today's wheelchair donation was made in honor of Johnny Gray and Terry Chandler's father, the late John R. Gray.
"It is very special to all of us – my wife Terry, my sister Terry Chandler, and me – to be able to make this presentation together with the Darrell Gwynn Foundation, and we sure hope it brings a positive change to Kyson's life," said Johnny Gray.
"This foundation and others like it have touched my family deeply. Hopefully, we are raising awareness for what they do and for the people out there who really need this kind of help."
For more information on the Darrell Gwynn Foundation's Wheelchair Donation Program please visit www.darrellgwynnfoundation.org.