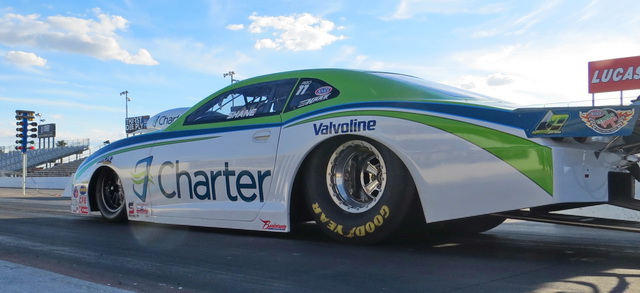 Pro Stock driver Shane Gray will be wearing all new colors when the 2014 season of NHRA's Mello Yello Drag Racing Series kicks off at Auto Club Raceway Pomona this weekend with the 54th annual Circle K NHRA Winternationals.
Gray, fresh off of a career season that included one win in a remarkable six final rounds, will start the year in the striking green, blue and white Charter Communications Chevrolet Camaro for Gray Motorsports. The fresh coat of paint, however, only tells part of the story.
The Gray Motorsports team expanded magnificently during the off-season, finalizing a merge with the Pro Stock powerhouse formerly known as Cagnazzi Racing. With combined forces and a wealth of experience populating every corner of the Denver, N.C., Gray Motorsports headquarters, Gray and new teammate Dave Connolly are prepared to go to battle for the championship, beginning this weekend at the first of 24 events on the NHRA tour.
"This is a really exciting time for this team, probably the most exciting time we've ever had aside from our first year doing this deal here in Pro Stock," said Gray. "To get to come to Pomona and represent Charter Communications just adds to that excitement.
"The Gray Motorsports team has put in a lot of hours over the winter, and we aren't necessarily working harder than we have before, but we're sure working smarter. I think that is going to be evident this weekend at the Winternationals."
The rapid and incredible growth of Gray Motorsports included the addition of veteran tuner Tommy Utt to the crew chief staff. Utt will join Justin Elkes, who has led the charge since 2011, and the duo will share tuning duties on both Gray Motorsports entries. The group has had plenty of practice over the course of the winter with multiple test sessions and plenty of hours logged at the race shop.
"We sure have a lot more manpower than we've had in the past – we have a lot of guys in our shop and on our team who bring years and years of experience and success to the table," said Gray, who earned his first professional win in his rookie season at the 2010 NHRA Finals held at venerable Auto Club Raceway Pomona.
"We know that there are other teams out there that also have strong programs," Gray continued. "It's tough out here in Pro Stock. It won't be any easier than it was before, but we feel like we've equipped ourselves with the best in every way, and our Charter Communications Chevrolet Camaro is ready to perform.
"At the end of the day, it's going to come down to who performs up to standards during the Countdown to the Championship, but you have to be great along the way. All these guys are really good drivers, and I'm looking forward to seeing how this year plays out. It should be interesting."
(Photos courtesy Gray Motorsports; Click to enlarge)