Kalitta Motorsports is pleased to announce an extension with Global Electronic Technology, the fastest name in credit card processing. Former Top Fuel Champion Shawn Langdon will continue to drive the Global Electronic Technology Top Fuel dragster for the 2018 NHRA Mello Yello Drag Racing Series season.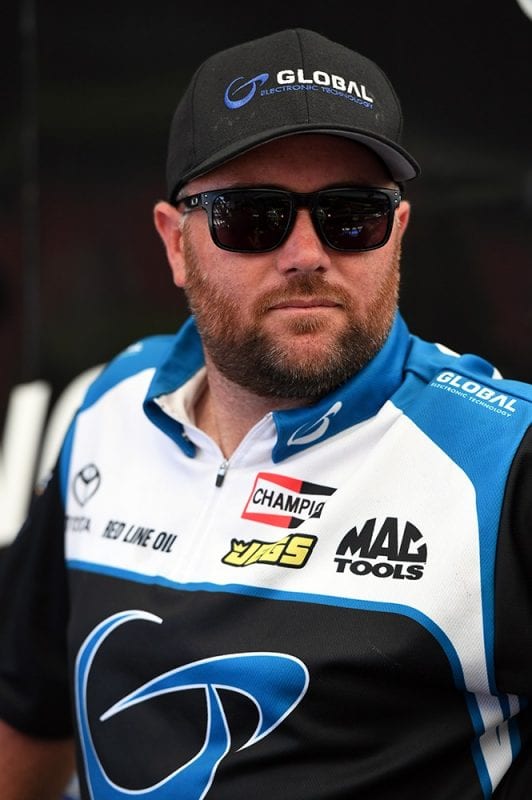 "It is great to be associated with Global Electronic Technology. Steve and Samantha Bryson have shown so much dedication to me, Team Kalitta and the NHRA as a whole," said Shawn Langdon, driver of the Global Electronic Technology Top Fuel Dragster. "They are always at the track cheering us on and as a driver you cannot really ask for more than that. It is incredible that we are just six months into their time with Team Kalitta and they are already ready to resign. I am excited to see what we can do with the whole season next year. To have everything locked up and to not be involved in silly season this offseason is awesome, and I look forward to 2018 as Global Electronic Technology's driver."
Based in Torrance, CA, Global Electronic Technology has over a quarter century of expertise in the payment processing industry. The Global Electronic Technology team is committed to setting the standard by delivering the most advanced technological packages in the payment processing industry, which makes their team one of the most knowledgeable in the world. 2018 will be Global Electronic Technology's second season with Team Kalitta. They began the 2017 season as an associate partner on Doug Kalitta's Top Fuel dragster, before adding primary sponsorship on Langdon's machine beginning at the series' fifth event of the season in Houston.
"Our brand is built on family values and integrity," said Steve Bryson, Founder and CEO of Global Electronic Technology. "Joining Team Kalitta headed by Conrad Kalitta, Rob Flynn and a world champion driver, Shawn Langdon, makes it a perfect fit. This is a great partnership for us at Global Electronic Technology, both sides of our team operate towards one goal – success. We field a world class team that Samantha and I are proud to be a part of on and off the track. To do business with people who exemplify the same values as we do takes this to a whole new level and we just cannot seem to stay away. I am excited to commit to another year for Team Global for the 2018 season. I know there will be much success to come."
In 2018, Global Electronic Technology will continue sponsoring Langdon's Top Fuel dragster and will be an associate partner on the remainder of the Team Kalitta entries, including a major role on Doug Kalitta's Mac Tools Top Fuel dragster.
"Great news for Team Kalitta and exciting news for the sport of NHRA drag racing that Global Electronic Technology and Steve & Samantha Bryson thought enough of our sport to get involved and continue to grow," said Jim Oberhofer, Vice President of Operations, Kalitta Motorsports. "It has been an awesome relationship and friendship with Steve and Samantha and to be able to see it grow the way it has in such a short period of time has been nothing short of amazing. Although it has been great to see them as part of the Kalitta family, it has been even better that they have been able to meet with so many people involved in NHRA that can utilize their service."
Despite missing the first four events of the season, Langdon is closing in on a NHRA Countdown for the Championship berth. His Connie Kalitta and Rob Flynn-tuned Global Electronic Technology Top Fuel dragster will begin qualifying for the historic U.S. Nationals this evening with final eliminations beginning on Monday, September 4th.