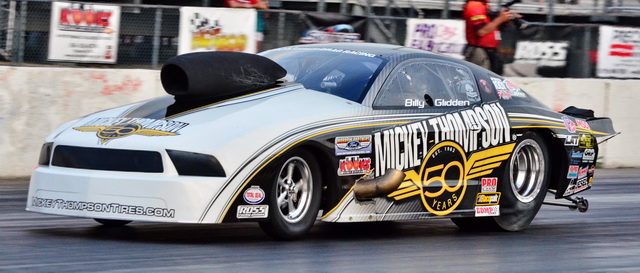 With continued support from Mickey Thompson Performance Tires and Wheels, second-generation drag racing star Billy Glidden with his wife, Shannon, have teamed up with veteran nitrous racer Brian Shaw for a full-season run in the quarter-mile NHRA Pro Modified class.
"We're very excited and happy to continue working closely with the folks at Mickey Thompson," Glidden stated. "We've had a long-standing relationship with them and appreciate Mickey Thompson President Chris Barbara and Vice President of Marketing Ken Warner choosing to keep the progress of tire development rolling with us.
"Of course, we'll still have M/T Motorsports Manager Tom Kundrick with us at the track, ready for all the new challenges as well as on call for all questions about the products in the field, and not to be forgotten at the drawing board is Product Development Manager Jason Moulton."
Shaw and his wife, Suzette, will be joining Glidden trackside this season as vital parts of helping in all aspects of running the 2010 Mustang Glidden campaigned the last couple of years in eighth-mile ADRL and X-DRL Pro Nitrous competition with engines from Naiser Racing Components (NRC) in Houston.
"Through the years we have met many people and we have a great friend in Jeff Naiser, who has supplied us with the latest in big-cubic-inch nitrous engine technology, which has been great since we had no previous access to the 800-cubic-inch engine world," said Glidden from his Whiteland, IN, home.
"Since being with Jeff we have won many DRL and NMCA events. This year we will be racing with NRC again with an 840 c.i. motor, as well as their latest 864-cubic-inch piece with Jeff's latest-design billet heads and manifold." Glidden said he's also looking forward to experimenting with fuel-injection technology for the first time this season. "For two decades we have been great friends with John Meany, the owner of Big Stuff3, and John and George at Accufab will be the supplier of the throttle bodies."
The list of great people and companies is overwhelming for us," Glidden said. "Without their help we could not even dream to make this all happen, so Shannon and I are thankful to all involved."