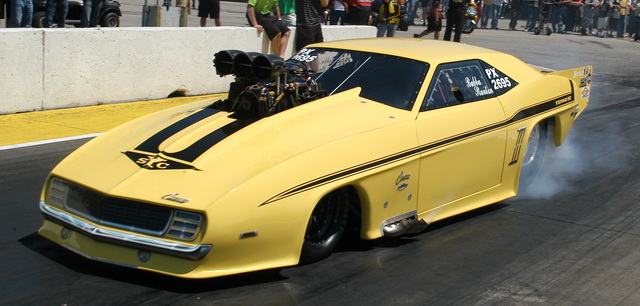 Garret Race Cars entries dominated the ADRL Pro Extreme class July 13-14, in Martin, Michigan, led by the company flagship '63 Corvette of two-time class champion Jason Scruggs, who won the ADRL Summer Drags VIII at U.S. 131 Motorsports Park.
After 23 Pro Extreme teams made qualifying attempts on the U.S. 131 eighth mile, Garret-built cars took three of the top five positions and made up a full quarter of the 16-car, race-day field, led by the '69 Camaro of 2006 class champion Bubba Stanton (above), who ran 3.663 seconds at 205.17 miles per hour to earn the top spot. ADRL officials also presented Stanton with the Turbos by Garrett Best Engineered Car award at the West Michigan event.
"I was thrilled to see Jason win again and for Bubba to regain the kind of performance and recognition he's used to," said Garret Livingston, founder and president of Garret Race Cars in Marble Hill, Missouri. "All of our cars did extremely well this weekend, which is a testament to the quality of people and teams we work with at the ADRL."
Just two-thousandths of a second behind Stanton in second place with his Garret-built '58 Corvette was Brandon Pesz after posting a career-best 3.665-seconds pass at 207.99 mph, which stood as the fastest speed in qualifying and second-fastest of the weekend.
Scruggs rounded out the top five in qualifying with a 3.674 at 206.64 mph, and Pesz's teammate and car owner Todd Martin qualified his own Garret '68 Mustang 14th before advancing to his first ADRL semi-final after running a career-best 3.689 at 204.23 in the quarter-finals.
"Todd and Brandon have really been coming on strong these last two or three events and I wouldn't be at all surprised to see one of them get a win this year, too," Livingston said. "It all comes down to who's on his game the best that day."
In eliminations, Scruggs ran consistent 3.60s in defeating Pro Extreme veterans Quain Stott and Tommy D'Aprile before running a 3.65-seconds solo pass in the semis to reach Terry Leggett, who made his first ADRL final-round appearance. Scruggs led stripe-to-stripe in the final, leaving with a .046 advantage off the starting line and posting the quickest and fastest run of the event with a track record 3.638-seconds pass at 208.87 mph.
"I want to congratulate Jason, his father and crew chief, Mitchell, and everyone on their team for a truly impressive performance," Livingston said. "I know we built their car, but it's still a thrill for me to see it in the hands of such a talented driver and crew. They make me and my guys look good!"
Additionally, ADRL Top Sportsman championship contenders Glenn Butcher and Aaron Glaser, who won in April at Bristol, Tennessee, qualified their Garret Race Cars-built '68 Camaros at Martin, with Butcher, the defending race champion, making it to the quarter finals this year.
The 2012 ADRL tour resumes Aug. 3-4, with Dragstock IX, the series' oldest and most prestigious event, this year for the first time at zMAX Dragway in Concord, North Carolina, near Charlotte.