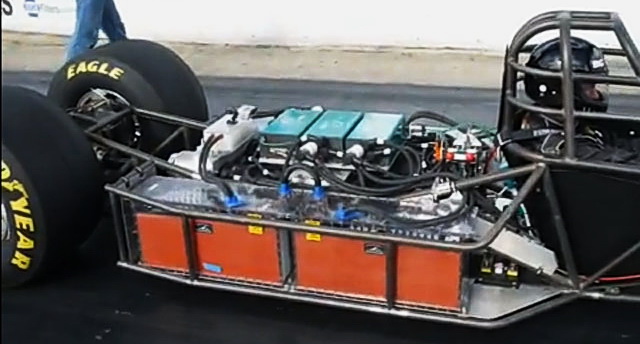 Top Fuel legend "Big Daddy" Don Garlits' electric dragster, Swamp Rat 37, has received it's new body and will soon be getting a rear wing and a custom paint job.
In addition to the new body, the dragster features a Brad Hadman 300-mph-plus-rated chassis, Weld wheels, Mark Williams rear and a B & J Transmission. On the electric side there are three 2,000-amp Manzanita/Zilla Speed Controllers, GE series motors, 1500 kW High Tech Systems lithium battery pack which puts out over 2000 HP, and a few extra "go fast" goodies.
In testing last month in Ocala, Florida, Garlits ran 60-foot times in the low one-second range and a quick run of 3.22 seconds in the 330-foot at 95 mph, shutting off the power at 300 feet since the dragster was still running without a body at that time.
Swamp Rat 37 is being constructed by Shawn Lawless and his crew at Lawless Industries in Youngstown, Ohio. Lawless' 1000 kW drag bike, Rocket, built with Orange County Choppers and raced by Larry "Spiderman" McBride, holds the record for the quickest electric motorcycle at 201 mph at 6.94 mph in the quarter mile. The dragster has 500 kWs more and during test runs ran quicker then the Rocket's best 60 foot time.
Garlits was the first to take a car to 200 mph in the quarter mile on electric powerand now wants to go 200 . Initial goals for the car are six-second, quarter-mile passes at 200-plus mph.
Swamp Rat 37 is the brainchild of Garlits and Mike Gerry and was brought to life by Jeff Disinger of the National Electric Drag Racing Association (NEDRA).
(Photos by Tim Meehan, courtesy NEDRA.com; Click to enlarge)