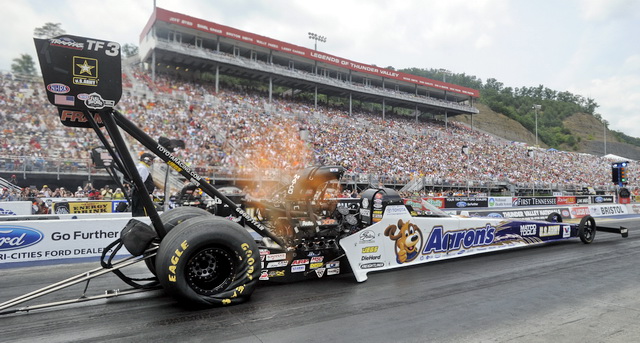 Friday's qualifying leaders, Antron Brown (Top Fuel), Bob Tasca (Funny Car) and Tennessee native Allen Johnson (Pro Stock), secured the No. 1 qualifying spots Saturday at the Ford NHRA Thunder Valley Nationals presented by Tri-Cities Area Ford Dealers at Bristol Dragway.
Brown set both ends of the Top Fuel track record in his Aaron's dragster with a 3.814 second pass at 323.12 mph during his second qualifying attempt Friday night under the lights at Bristol Dragway. Brown posted one of the quickest runs of the day – a 3.843 second pass in Saturday's hot conditions — but no one was able to beat his Friday night run and he remained No. 1 for the second of the season and 31st of his career.
"That last session, the way the track temp was, that's what we're going to see a lot of tomorrow, so we felt real good to run well," Brown said. "We were trying to run like an.86 first lap today. That didn't work out, but we got it back together and got that Aaron's Lucky Dog car down there.
"I was very, very pleased with the run. It gives you a lot of confidence for tomorrow. The car responded well. It lifted the front end up, hiked it up. It feels good when you go into tomorrow, race day, with the same conditions that you had in that last session, and it was a great run"
Brown will match up against Pat Dakin and his Mark Industries dragster, the No. 16 qualifier, in the opening round of eliminations Sunday.
The surprise of the day was when Morgan Lucas' GEICO/Lucas Oil dragster failed to make the 16-car field during Saturday's hot conditions. Lucas has been one of the hottest drivers this season thanks to two wins and four No. 1 qualifying positions, which has placed him fourth in the championship point standings. Lucas' Morgan Lucas Racing teammate Brandon Bernstein, who has two wins at the track and who was the runner-up at the most recent Full Throttle event in Englishtown, also failed to qualify for Sunday's eliminations.
"A lot of people don't understand how tough this class is, how tough Top Fuel is right now," Brown said. "This class is as tough as the class has ever been. You have to hit it right in the right spot to make these cars perform on this racetrack."
Tasca's Motorcraft/Quick Lane Shelby Ford Mustang Friday night run of 4.063 seconds at 310.48 mph earned the provisional No. 1 spot heading into Saturday and no one was able to better Tasca's effort during Saturday's hot conditions. This is Tasca's second consecutive No. 1 at Bristol, and third of his career.
"I'm an all-Ford kid, driving an all-Ford hot rod, qualified No. 1 at the all-Ford race, so that's a cool deal, and hopefully we can win this thing for Ford," Tasca said. "First round is going to be real good, then it's going to warm up, and you're going to have to learn how to pull the car back. We really wanted to go down that last run, but the data we have is good data. We know what we have to do to make it go A to B in the heat."
Tasca will face rookie Blake Alexander and his Gates Chevy Monte Carlo in the opening round of eliminations Sunday.
The story was the same in Pro Stock as local favorite Allen Johnson's track record 6.623 second pass at 207.75 mph from Friday night remained atop the qualifying order at the end of Saturday's two qualifying sessions. This is Johnson's third consecutive No. 1 at this event, fourth of the season and 22nd of his career.
"We feel like we've won the battle [by qualifying No. 1] and now we've got to win the war during Sunday's eliminations," Johnson said. "We've got a very, very consistent race car now with very good people making very good decisions. Now the driver just has to do his job tomorrow."
Johnson will race Shane Gray and his brand new NTB Chevy Camaro Sunday morning in the first round of eliminations.
Sunday's eliminations start at noon ET.
(Photos courtesy NHRA/National Dragster; Click to enlarge)
BRISTOL, Tenn. — Sunday's first-round pairings for eliminations for the 12th annual Ford NHRA Thunder Valley Nationals presented by Tri-Cities Area Ford Dealers at Bristol Dragway, the 10th of 23 events in the NHRA Full Throttle Drag Racing Series.  Pairings based on results in qualifying, which ended Saturday. DNQs listed below pairings.
Top Fuel
1. Antron Brown, 3.814 seconds, 323.12 mph  vs. 16. Scott Palmer, 4.045, 299.33; 2. Tony Schumacher, 3.822, 320.66  vs. 15. Dom Lagana, 4.019, 302.28; 3. Terry McMillen, 3.823, 315.27  vs. 14. Cory McClenathan, 3.927, 307.79; 4. Doug Kalitta, 3.835, 321.81  vs. 13. Khalid alBalooshi, 3.920, 314.24; 5. Hillary Will, 3.837, 308.35  vs. 12. Bruce Litton, 3.881, 309.34; 6. Steve Torrence, 3.840, 318.02  vs. 11. Clay Millican, 3.870, 314.61; 7. Spencer Massey, 3.844, 321.58  vs. 10. David Grubnic, 3.856, 316.30; 8. Bob Vandergriff, 3.855, 319.07  vs. 9. Shawn Langdon, 3.855, 316.08. Did Not Qualify: 17. Pat Dakin, 4.160, 291.19; 18. Brandon Bernstein, 4.221, 298.93; 19. Chris Karamesines, 4.320, 245.27; 20. Morgan Lucas, 4.778, 303.78; 21. Ike Maier, 5.712, 173.25.
Funny Car
1. Bob Tasca III, Ford Mustang, 4.063, 310.48  vs. 16. Blake Alexander, Chevy Monte Carlo, 4.188, 301.67; 2. Mike Neff, Mustang, 4.072, 310.70  vs. 15. Alexis DeJoria, Toyota Camry, 4.156, 304.53; 3. Jack Beckman, Dodge Charger, 4.077, 310.13  vs. 14. Tim Wilkerson, Mustang, 4.131, 302.75; 4. Ron Capps, Charger, 4.091, 306.40  vs. 13. Courtney Force, Mustang, 4.131, 304.60; 5. John Force, Mustang, 4.094, 312.71  vs. 12. Tony Pedregon, Camry, 4.130, 306.26; 6. Matt Hagan, Charger, 4.096, 307.79  vs. 11. Cruz Pedregon, Camry, 4.128, 304.19; 7. Jeff Arend, Camry, 4.110, 309.63  vs. 10. Jim Head, Toyota Solara, 4.128, 305.49; 8. Johnny Gray, Charger, 4.120, 309.56  vs. 9. Robert Hight, Mustang, 4.124, 304.12. Did Not Qualify: 17. Todd Lesenko, 4.289, 282.78; 18. Bob Bode, 5.617, 290.76.
Pro Stock
1. Allen Johnson, Dodge Avenger, 6.623, 207.78  vs. 16. Shane Gray, Chevy Camaro, 6.746, 204.66; 2. Mike Edwards, Pontiac GXP, 6.641, 207.27  vs. 15. Larry Morgan, Ford Mustang, 6.744, 205.22; 3. Vincent Nobile, Avenger, 6.659, 207.43  vs. 14. Kurt Johnson, GXP, 6.708, 205.26; 4. Jason Line, GXP, 6.662, 206.95  vs. 13. Warren Johnson, GXP, 6.700, 205.47; 5. V. Gaines, Avenger, 6.673, 206.26  vs. 12. Ron Krisher, GXP, 6.698, 206.16; 6. Rodger Brogdon, GXP, 6.678, 206.04  vs. 11. Erica Enders, Chevy Cobalt, 6.696, 206.23; 7. Greg Anderson, Camaro, 6.680, 206.32  vs. 10. Jeg Coughlin, Avenger, 6.693, 206.16; 8. Ronnie Humphrey, GXP, 6.680, 206.01  vs. 9. JR Carr, ford Mustang, 6.692, 204.48. Did Not Qualify: 17. Grace Howell, 6.755, 203.40.