Richard Freeman isn't shy when it comes to expressing himself. That fact made him an obvious choice to appear on the cover of DRAG ILLUSTRATED Issue #123, the annual "Interview Issue." But what Freeman had to say on a number of different topics was just as important.
The Elite Motorsports owner is a key figure in Pro Stock, with a stable of drivers that includes two-time world champion Erica Enders, five-time champ Jeg Coughlin Jr., Vincent Nobile and Alex Laughlin. There's also no denying that Pro Stock in the midst of trying times. But instead of attacking or harping on some of the struggles, Freeman went a different route in the cover story.
In talking with DRAG ILLUSTRATED Editor-In-Chief Wes Buck about the cover story on Buck's Live Facebook show, Freeman admits he's not afraid to speak his mind, but he also doesn't appreciate those who only offer negativity.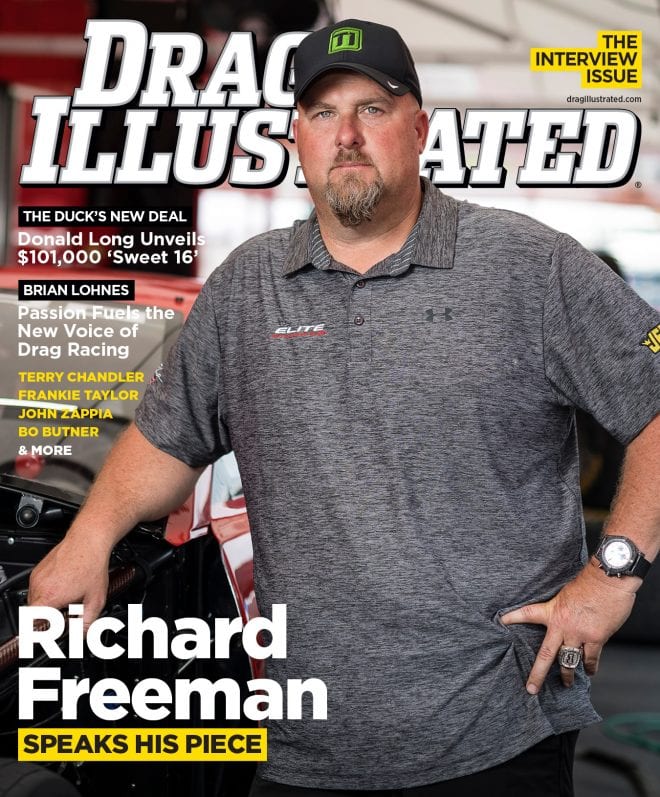 "Not just me, but my entire family, we're not shy on saying what we mean," Freeman said. "We say our opinion. That doesn't make us right, we just believe that it's correct. I can tell you this: If you love drag racing, what I cannot stand is these people in your business that say stuff that is demeaning to everyone that does it and that is trying to make it better. It blows my mind.
"At the end of the day, my grandma always said if don't have nothing nice to say, don't say nothing at all. Me, personally, I have lived a lot of being in the ditch, having nothing, and working and working to have something. When someone steps on something I've spent my entire life trying to do, it pisses me off."
Freeman's passion is apparent and his love for Pro Stock can't be questioned. That's why he's adamant on staying upbeat, focusing on the positive and trying to a number of seemingly reasonable solutions. In the wide-ranging interview in the upcoming issue of DRAG ILLUSTRATED, Freeman touched on a variety of topics related to Pro Stock, obviously focusing on what can get the class trending in the right direction.
On Buck's show, Freeman also discussed just what keeps him coming back for more in Pro Stock.
"I believe the reason people do racing, and especially drag racing, is it's a constant problem that you're trying to solve," Freeman said. "It never ends. There's no perfect run. Every race we go to there's new issues. Sometimes we create more of them, sometimes we conquer them. There's a lot of emotion. We love it. I love Pro Stock."
That hasn't changed even as his team has struggled at times during the past two years. Enders won two straight championships in 2014 and 2015, but the 2016 season was a struggle for the entire organization.
Enders has returned to the winner's circle this year – and Laughlin did so at Bristol – but Coughlin and Nobile have yet to break through in 2017, with the Countdown to the Championship quickly approaching. Freeman knows there is still work to be done, but there's not one hint of dissension within the team.
In fact, Freeman and the rest of the Elite Performance Motorsports group continue to have a great time trying to figure it out.
"We're not back to where we think we should be," Freeman said. "You have people who are really smart people who have struggled, with us being one of them, but that's why we do it.
"But I will tell you, our program at Elite Performance, everything we do, we have a very unique situation. For us, we enjoy competing at a high level, but for me, the most gratifying thing in what we do is the people I meet, the friends I make. We're the lucky ones. The ones that don't get it are the unlucky ones."
To read Freeman's full interview and the rest of the Interview Issue for free online, visit digital.dragillustrated.com.