Randell Reid of Iowa Park, TX, closed out the third round of NAS Racing Pro Extreme qualifying for the Professional Drag Racers Association (PDRA) Dragstock XII with a number-one qualifying 3.54-seconds pass at exactly 213 miles per hour. Also in first place at North Carolina's historic Rockingham Dragway with one more qualifying round to go on Saturday before eliminations begin later in the day were Tommy Franklin (pictured above) in Switzer Dynamics Pro Nitrous, John Strickland in Precision Turbo Pro Boost, Eric McKinney in Drag 965 Pro Extreme Motorcycle and Jody Stroud in Powershield Pro Open Outlaw dragster.
In the PDRA sportsman classes, Buddy Perkinson was first in MagnaFuel Top Sportsman, Kyle Dvorak led in Dart Top Dragster and Carson Brown and Arellyn Garner-Jones led the way in Huddleston Performance Pro Jr. Dragster and Huddleston Top Jr. Dragster, respectively.
PRO EXTREME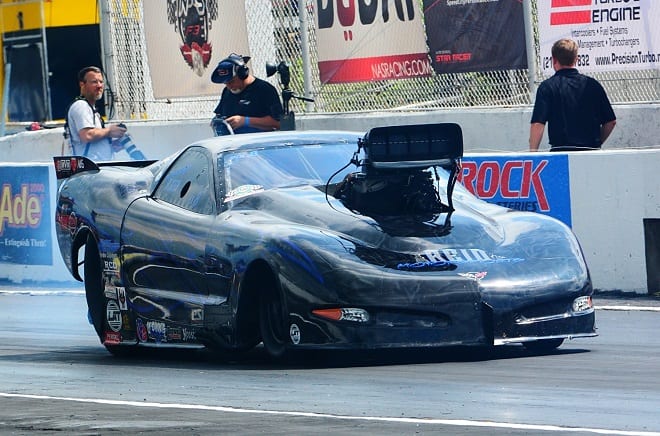 After running 3.59 in the second round of qualifying to place sixth of 11 Pro Extreme entries, Reid barely got a new screw-blown Hemi engine installed in his 2007 Corvette for round three.
"I'm real proud of my team for getting the engine swap done in time. I barely got my seatbelts on before we had to run," Reid said. "It felt really good when it left, but I was ready to lift at the first hint of trouble."
Placing second at the end of the day was Florida's Tommy D'Aprile, who was forced to sit out the third and final round of the day after also losing an engine at the end of his then-leading 3.55 pass in round two. Third and fourth went to Dubai-based teammates Badir Ahli and Mustafa Buhumaid, respectively, with points leader Jason Scruggs filling out the top five.
PRO NITROUS
Franklin led after each round of Pro Nitrous qualifying, going quicker each time in his '69 Camaro until finishing with a 3.71-seconds pass at a career-best 202.97 mph over the Rockingham eighth mile.
"To be out here in 26-hundred feet of air, I really didn't expect that," said Franklin, who won the previous PDRA event in Memphis. "We were expecting a .74 or maybe a .73, so that was a really great run. The race track was awesome and could take anything we threw at it."
After 24 entries made qualifying passes, Oklahoma car dealer Keith Haney ran a career-best 3.74 at 202.30 in his 2015 Camaro to place second, while New York's Chris Rini with another career-best effort at 3.75 seconds was third heading into Saturday's last chance at the track before eliminations begin.
PRO BOOST
North Carolina's own John Strickland eclipsed GALOT Racing teammate Kevin Rivenbark in the third round of Pro Boost qualifying after going 3.82 at 191.19 to close out the day in first place with his blown Hemi-powered '69 Camaro. Rivenbark's 3.85 from round two put him second of 27 entries, with Anthony Disomma, who won the spring PDRA race at Rockingham in his twin-turbocharged '67 Mustang, third at 3.86 seconds.
"That kind of surprised me," Strickland admitted of the first time he's ended a day of PDRA qualifying in first place. "But I knew it was on a good run right from the start. It pulled hard all the way to the finish line and was still pulling when it got there."
PRO EXTREME MOTORCYCLE
Defending class champion McKinney took the Pro Extreme Motorcycle lead with a 4.08 pass at 174.17 mph aboard his 2012 Suzuki in Friday's third and final round of qualifying. The run bumped McKinney up one spot past the 4.09 at 173.49 by Chuck Wilburn in round two, while Chris Garner-Jones remained third with a 4.13 at 171.95 combination. With 12 entries, only an eight-bike qualified field will race on Saturday.
PRO OPEN OUTLAW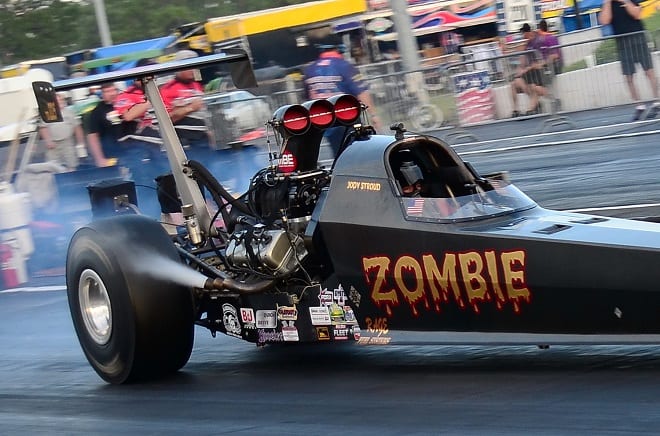 As Friday's three qualifying sessions came to a close, Stroud, from Chesterfield, SC, had his 2014 Ironman dragster in first place with an excellent 3.65 at 198.06 mph in the night session. He'd traded places with Robert Frigon, who was second after a 3.74 pass in round two, with Phil Esz third at 3.76 in the eight-car field.
TOP SPORTSMAN/TOP DRAGSTER
Just as they did at the most recent PDRA event last month in Memphis, cousins Buddy and Randy Perkinson held the top two positions in Top Sportsman qualifying with a pair of 2015 Camaros at Memphis. Buddy Perkinson ran a potential class record 3.88 seconds at 191.10 mph in his Billy Albert-powered, RJ Race Cars-built machine, while Randy Perkinson went 3.91 mph in his Jerry Bickel ride with Buck Racing horsepower. In third was Tony Wilson at 3.97 and fourth was Memphis winner Mick Snyder with a 3.98 at 183.24 in his former Pro Extreme '63 Corvette.
In Top Dragster, Kyle Dvorak of McHenry, IL, jumped up from fourth to first with a career-best 3.92 at 180.89 in the Friday-night qualifying session. Second was Craig Sullivan at 3.96 seconds, while third belonged to Alan O'Brien after a 3.97 effort.
The all-eighth-mile PDRA Dragstock XII will resume with a fourth and final round of qualifying for all classes starting at 11 a.m. on Saturday (Sept. 12), and a pre-race ceremony scheduled for 3:30 p.m. before final elimination rounds begin.