One of America's most beloved and scenic dragstrips, Bandimere Speedway in Morrison, Colorado, will shut its gates at the end of the 2023 season but not without first hosting Frank Hawley's Drag Racing School for the final time on July 24-26.
Surrounded by the majestic Rocky Mountains, aspiring racers and experienced veterans alike will have one last chance to blast down Thunder Mountain's NHRA-sanctioned quarter-mile surface – and no prior racing experience is needed to participate in the School's programs.
"Everyone remembers the first time they raced 'on the Mountain!' For me, it was the NHRA Nationals in 1983 in the Chi-Town Hustler, and we won!" recalled Frank Hawley, School Owner, who laments making his final visit to the facility. "The Bandimere family has been, and will always be, a prime example of a professional operation with a personal touch. Their integrity, hard work, and forward-thinking mindset has bettered the sport of NHRA drag racing."
On Monday, July 24, drivers will strap in to full-sized, competition-style dragsters and experience the incredible thrill of accelerating from 0 to 60 mph in 3 seconds while running to the finish line at nearly 130 mph in a real side-by-side race. A perfect opportunity for friends, family, employees, customers, or anyone who appreciates adrenaline to live the dream of drag racing, seats in the School's popular Dragster Adventure can be purchased online at www.FrankHawley.com.
Next, the School will host its famed 2-day NHRA/IHRA licensure class on Tuesday and Wednesday, July 25-26. A great foundation for all types of racing including NHRA, NMRA, NMCA, PDRA, ODRA, or even local bracket racing, the course includes plenty of personalized guidance and constructive coaching from the School's experienced staff.
Upon completion of both the renowned classroom sessions and the hands-on, on-track portion of the program, successful participants will officially be licensed to compete in either a Super Comp dragster or a Super Gas door car. Whether it's a rookie racer learning the ropes or a seasoned professional, anyone can benefit from Hawley's extensive wealth of knowledge and insights into the psychology of winning.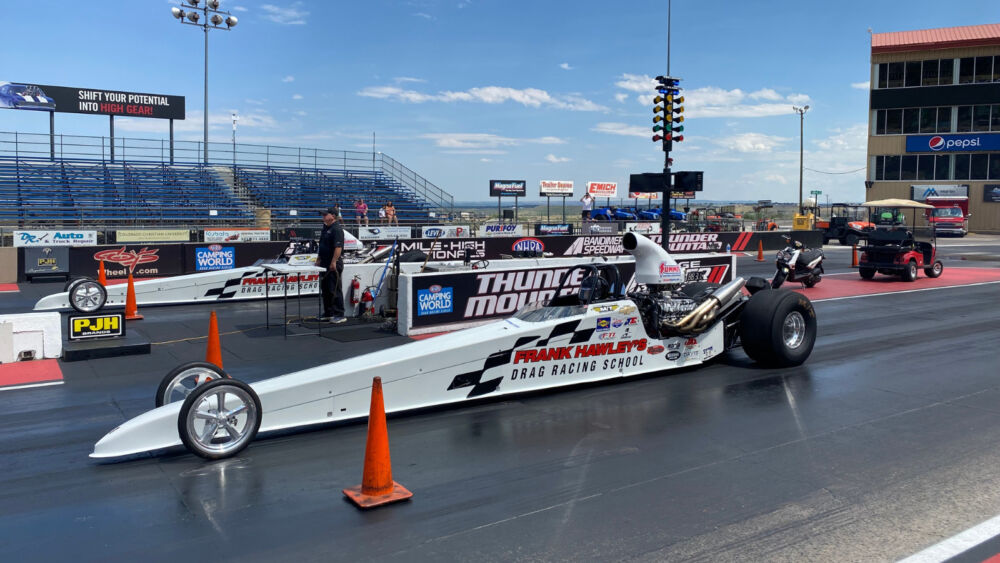 "Frank [Hawley] takes you through the mental and physical preparation to race – it's more than just strapping in and stepping on the gas – and he makes it so you can not only do it, but you can do it well and be competitive," shared Bandimere Speedway's General Manager, Sporty Bandimere, who has also attended the School as a participant. "Frank and his team do a great job, and we truly love being able to help the students either enhance their racing careers or check a big item off their Bucket Lists."
The July 24-26 classes hosted by Frank Hawley's Drag Racing School offer a final once-in-a-lifetime opportunity to race beneath breathtaking views at a truly historic facility. And, although the beloved 150-acre Bandimere Speedway is soon set to cease operations after 65 years, the Bandimere family legacy is likely to continue with a sequel to Thunder Valley as the search for a new location is reportedly already in the works. "We can't wait to see what's next for the Bandimere family in motorsports," added Hawley. "Whatever the future holds for them… count me IN!"
Seats are limited and courses sell out quickly. To reserve, please call 866-480-7223! Visit www.FrankHawley.com for all upcoming class dates and locations.