The three racing Force daughters were guests today on the Queen Latifah Show which will air on Wednesday, January 8th. Ashley, Brittany and Courtney Force sat down with the versatile Queen Latifah, the talk show host/actress/singer, to talk about racing as well as being role models for women around the country.
After the in-studio segment the four women also took it to the "track" for a fun racing segment that included actor James Van Der Beek.
"Those Krazy Karts were so much fun. It was awesome to race James Van Der Beek and Queen Latifah. James got the win but I was spinning in circles and he got around me at the last second," said Courtney Force.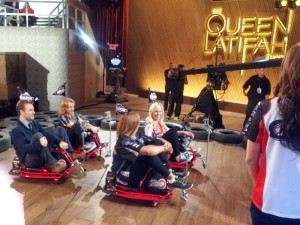 "It was an honor to be on her show and we are looking forward to having her come out to the Winternationals in Pomona. It is fun to do a show with someone who is that enthusiastic about girl power, fast cars and racing."
The Forces invited Queen Latifah to join them at the upcoming 2014 Circle K NHRA Winternationals at Auto Club Raceway in Pomona on February 6th – 9th.  Joining the Forces on the Queen Latifah Show were the Stars of "2 Broke Girls" – Kat Dennings and Beth Behrs plus actor Van Der Beek. Visit www.queenlatifah.com to see when and where the show airs across the country.
"It was such a great experience to be a guest on the Queen Latifah Show. My whole family is a big fan of hers and it was cool to be a part of the show," said Brittany Force.
(Photos courtesy JFR; Click to enlarge)