With only three NHRA national events left this season, John Force is focused on going rounds, winning races and, in his words, "gobbling up" as many points as he can during the Countdown. While the 16-time NHRA Mello Yello champion may compare how he'll reach his goal for another NHRA world title to the 1980's Pac-Man video game, it will be all business when his Castrol GTX High Mileage Mustang rolls to the starting line at Maple Grove Raceway.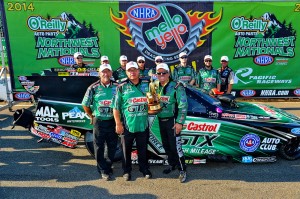 Force will face some stiff competition at this weekend's 30th annual NHRA Nationals in Reading, Pennsylvania – some of it from his own camp.
Some of the opponents lining up will include Force's teammates who are also his family members such as daughter Courtney, who is number two and just 30 points behind her father after she drove to victory at last weekend's AAA Insurance NHRA Midwest Nationals. Force's son-in-law, Robert Hight, is also a player heading into the Countdown despite being bumped out of second and into fourth place after last weekend's race. All of Force's team drivers are a serious threat and can easily overtake him for the points lead.
However, there's an opponent that is in a perilous close spot and he's sitting right between Castrol-John Force Racing drivers Courtney Force and Robert Hight. That opponent is John's arch rival and former NHRA Mello Yello champion, Matt Hagan. Hagan recently moved into third place and John Force knows this is a real threat not only to himself, but to his team drivers as well.
"When a teammate wins, it's okay, like Courtney last weekend in St. Louis. The Castrol car went out, the Auto Club car went out, but Courtney in the Traxxas car got the job done and she helped her dad out despite whipping me in the semifinals. Even though Courtney took out Hagan in finals, he (Hagan) can still hurt us in points and is always a threat," said John Force.
"There're three races left, but we have three cars and it's starting to become a four-car race, but it's still way early to say that right now. Hagan's right in the middle of it and we can't afford to fumble or drop the ball right now."
With the intensity and passion John Force exhibits, he's is ready to head to Maple Grove Raceway as the weather and track conditions have always been conducive in setting new performance records. It also gives crew chief Jimmy Prock the opportunity to swing for the fences and see how much faster he can make the already potent 8,000 horsepower Castrol GTX High Mileage Mustang.
"The good air at Reading will tune everybody up, we can run in the heat, that's how we gobbled up points, but that's what this game is all about and we just keep trying. It's a whole new ballgame right now for John Force, every point counts so don't call me the champ, call me Pac-Man, I got to eat every point out there," said John Force.
With Force's runner-up early this month at the Chevrolet Performance U.S. Nationals, his 10th final round appearance this season that includes three wins (NHRA Winternationals, Summit Racing Equipment NHRA Nationals, NHRA Northwest Nationals), he has a slight lead in the NHRA Mello Yello Countdown chase with 2344 points over teammate Courtney Force, who's right there in second place with 2314 points.
(Photos courtesy NHRA/National Dragster; JFR/Lewis)