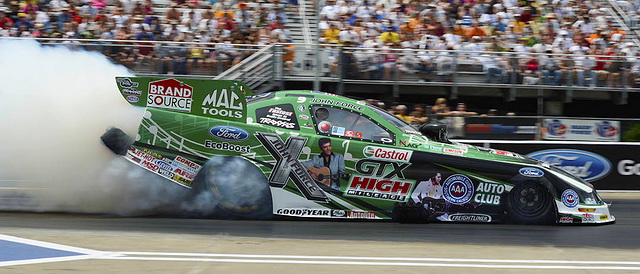 If John Force had a dollar for every time someone declared his racing career to be in decline, the 15-time Auto Racing All-America selection would have, well, a whole lot of dollars.
For all but two of the last 27 seasons, the 63-year-old icon has been a threat to win the NHRA Funny Car championship.   On 15 occasions, he has done so.  Six other times he has finished fourth or better.  He hasn't finished outside the Top 10 since 1984.
So, despite what the detractors might say, it would be difficult to find even one of Force's rivals at this week's 33rd annual Mopar Mile-High Nationals at Bandimere Speedway who believes that the defending event champion's current slide is anything more than just an apparition.
After all, Force has driven his Castrol GTX® HIGH MILEAGE™ Ford Mustang into the winners' circle already this year.  He secured his 134th tour victory last February in the Kragen O'Reilly Winternationals at Pomona, Calif.
That gave him a win in 25 of the last 26 years and propelled him into the NHRA points lead for the 20th season.  And while it's true that his team has struggled since that season-opening success, Force has demonstrated, over the course of his 34-year pro career, that he never can be discounted.
"I'm not done racing," he said, "and I promise you, I ain't dead.  I still love what I'm doing and I'm going to keep on racing until someone tells me I can't do it anymore."
By "someone," he means someone other than a cynic on an obscure internet website.
After all, it's been just 12 months since the recent inductee into the International Motorsports Hall of Fame came to Bandimere, blew the body off his Mustang in qualifying and then won the sport's unofficial high-altitude championship for the sixth time in his remarkable career.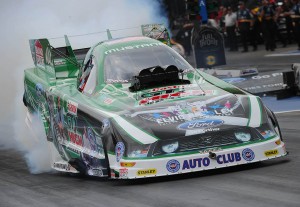 In fact, Bandimere is one of Force's favorite tracks, one on which he has been racing since the 1970s and one on which he was the first driver in any category to break the 300 mile per hour barrier (301.30 mph on the quarter mile course in 1996).
In addition to last year's victory, he was runner-up to teammate, son-in-law and current Full Throttle points leader Robert Hight in 2010.
Also worthy of note is that the former truck driver is just two years removed from his last series championship, a title that signaled his complete recovery from injuries suffered in a spectacular 2007 crash at Dallas, Texas, that probably would have ended the career of any other driver.
"We're 10th in points," Force said, "and you gotta be in the Top 10 (to make the Countdown to 1 playoffs).  At the end of the day, you know that if you make the Countdown, anything can happen.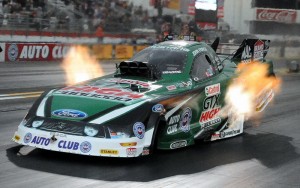 "Robert (who drives the Force-owned Auto Club Mustang) was No. 10 when he won in 2009.  We want to gain some ground in the Western Swing (which continues the next two weeks with races at Sonoma and Seattle) but, in the back of your mind, you know what they say: 'if you're in it, you can win it.'"
Despite his recent struggles, Force expects to be "in it."  No doubt his rivals expect him to be there, too.
(Photos courtesy NHRA/National Dragster and JFR/Ron Lewis; Click to enlarge)