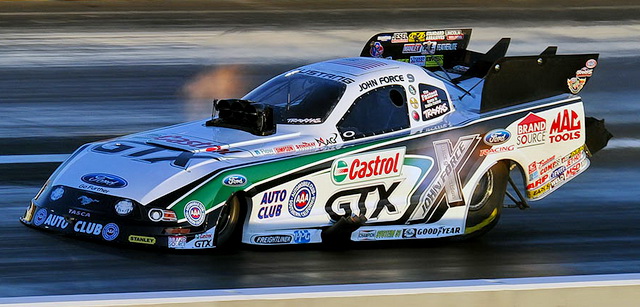 On the heels of his first win in 2013, John Force has pushed his Mike Neff-tuned Castrol GTX Ford Mustang Funny Car to the top of the Friday qualifying field at the inaugural Uni-Select Auto Plus NHRA New England Nationals.
Force posted the quickest elapsed time of 4.051 seconds outpacing points leader Matt Hagan's 4.057 second run for top honors.
"I was here over 25 years ago and to come out here and run that kind of number is great. I couldn't even get down the track the last time I was here in 1985. I see why the NHRA wanted to come here. The crowds come out of Canada, New York, all over New England. This is a big crowd for Friday night. They are going to need to get some more grandstands for tomorrow. This is pretty exciting.  If they don't have seats they can stand up and watch from the fence. That is how we did it in the good old days," said Force.
If Force holds onto the top qualifying spot New England Dragway will become the 24th different track where he has been the No. 1 qualifier. A lucky fan will also win a front loading washer and dryer set from BrandSource as part of the "Win with Force" fan contest.
"We are learning here but what I think they did with the concrete out there to be able to come out here and run 4.05 this thing will run national records if we lean on it. So many fans are here from the old days. It is just exciting for me to be a part of it. There are kids that I met when they were little now they are here with their own kids. That is new energy and NHRA needed this. TV needs it."
In the first session Force was the best JFR Mustang Funny Car running 4.153 seconds which was the fifth quickest time of the day. That run set up his second session run by putting him at the back of the pack. Force, an obvious fan favorite at New England Dragway did not disappoint.
"My old hound dog she is starting to talk. We got a win on Father's Day in Bristol. You didn't really know what was going to happen here. We have no data for this race track. They can tell us the concrete is good and the air is good. The first run Mike (Neff) put her down there and we got in the show. He said it is out there. We pushed her and we got past Hagan. All our Funny Cars are in and our dragster will get in tomorrow. Good to be back and this is a great market. We are going to give these fans what they bought the tickets for."
Courtney Force finished out the first day of qualifying in the No. 3 spot. The 25-year-old, who celebrated her birthday on Thursday before this race weekend, went out in the first qualifying session and rattled the tires in the heat.
Force signed autographs and took photos with fans at the John Force Racing "Win with Force" midway display between rounds before coming out to take another shot at the new track on the NHRA Mello Yello Drag Racing series circuit.
The youngest daughter of John Force ran a 4.083 at 313.37 mph and went to the top spot before being bumped down two places by her father and fellow competitor Matt Hagan. She picked up one qualifying bonus point for being third-quickest of the session in her Traxxas Ford Mustang Funny Car.
"In the first round of qualifying it rattled a little bit down the run. We came back out know the conditions were better and we needed to take advantage of that. We needed to go for it. We have two more runs tomorrow, but this was prime time to get our best run in. It needed to be worth it with those good conditions," said Force, the winner of the NHRA Winternationals.
"We went to the No. 1 spot before getting bumped by my dad and Matt Hagan. We made a great run. Running in the 4.0's is good for our team. We're excited for tomorrow and we're going to see how well we can run in the heat."
The AAA Northern New England Ford Mustang piloted by Robert Hight had some issues in the first session but bounced back as the sun set and qualified No. 5 at the end of Friday. In the opening round his Mustang was on a great pass before it slowed to 4.277 seconds and had him sitting No. 9.
"The first run wasn't so good. It was going to make it down the track, but it wore the clutch completely out and never locked up so that was no good. It was slow and I lifted early because the motor was buzzing up there too high. We came back and made all the adjustments," said Hight.
"When you don't make it the first run, you got to make sure you make the next run, so we just made a conservative run and ended up fifth, so we did what we had to do. I'm proud of my guys. All in all, it was a great first day at New England Dragway."
Hight like John Force was amazed by the fan turnout and the reception all the drivers and teams received from the New England fans.
"It's crazy how many people are here and they're all just so friendly. It's a breath of fresh air to have them all talking about 'Welcome to New England!' and 'We've been waiting years for this!' They're just so excited about it and a lot of energy, so we want to put on a good show for them. There are also a lot of people from AAA Northern New England, which is where I went and visited this week. We're running their colors this weekend and we want to do a really good job for them."
Heading into tomorrow last two qualifying session Hight knows there is a good opportunity to pick up valuable data and some qualifying bonus points.
"We just need to make sure this AAA Ford Mustang goes down the track twice. My goal is to gain some points with both runs tomorrow. If we do that, then we'll be in a really good shape for Sunday," concluded Hight.
Brittany Force came in to New England Dragway with as much information as any of the other Top Fuel drivers she has been competing against her rookie season. The driver of the Castrol EDGE Top Fuel dragster made both runs today and will go into Saturday outside of the Top 12 but with only sixteen dragsters on the property racing into the 16-dragster field is a given.
"This is my first time here, so it's all new. I think it's a pretty narrow groove up there. Like my guys say, if it ever gets cold here, you could set national records. They did a really good job on the surface and I think so far everything about this race is going smooth for a new event. Kudos to all the management and good job," said Force, one of the top contenders for the Automobile Club of Southern California Road to the Future Award.
"Our two qualifying runs we had earlier today didn't quite go exactly as we planned, but there are only 16 cars here this weekend so we have two more runs tomorrow and I'm hoping we'll step this thing up and get our Castrol EDGE dragster in the top half of the field. I just need to keep doing my same routine. I'm going to practice on my tree more and make sure my reaction times are good, make sure I'm shallow when I'm staging and just get the car down the track."
(Photos courtesy JFR/Nastase; Click to enlarge)