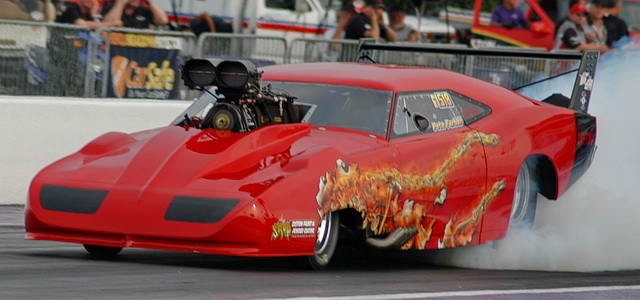 Swedish racer Adam Flamholc, who suffered a wild, violent accident Sep. 27, at Gateway Motorsports Park, has announced he's secured a new ride and hopes to return to racing Dec. 5-8, in the Snowbird Nationals at Bradenton (FL) Motorsports Park.
Flamholc crashed during the second round of Pro Mod qualifying for the NHRA Midwest Nationals in Madison, IL, near St. Louis.
Despite experiencing multiple snap rolls that destroyed his supercharged G-Force-built '68 Camaro, Flamholc was alert and responsive after the accident and remarkably his only significant injuries were a broken right arm and hand that required surgery upon his return home to Malmo, Sweden.
And now, just two weeks removed from the harrowing experience, Flamholc confirmed through his Facebook page that he has "closed a deal" with fellow NHRA competitor Pete Farber to take over Farber's '69 Dodge Daytona (above).
"I always liked the car and another G-Force car suits me perfect," he said.
Farber will compete with the Daytona at the final NHRA Pro Mod race of the year later this month at Las Vegas. He and crewman Malcolm Nickerson will then install Flamholc's engine in the car before delivering it to Florida in time for the annual Snowbird Nationals.
"If I'm back in shape by then, we'll race at Bradenton," Flamholc stated.
Flamholc, who also competes on the European Alcohol Funny Car circuit, also announced his alky flopper has been sold to Graham and Gareth Ellis in England.
(Photos by Ian Tocher; Click to enlarge)