While rain was nonstop for the first half of the Summit Racing Equipment Shakedown at the Summit presented by Mickey Thompson Performance Tires & Wheels, action was nonstop for the second half of the event Sept. 16-18, 2016 at Summit Motorsports Park in Norwalk, Ohio.
At stake was a $150,500 purse, including $40,000 to win in ProLine Outlaw Pro Mod, which is the largest purse ever paid in Summit Motorsports Park history.
As the event's quickest and fastest category contested on the quarter-mile, ProLine Outlaw Pro Mod featured cars with superchargers, turbos and nitrous and ten out of 27 of them clicked it in the high fives in qualifying. Don Walsh, Jr. drove the loud and proud Skinny Kid Race Cars '72 Olds to a 5.85 to lead the pack, but the final round featured Flash Fiscus and his '12 Mustang and Melanie Salemi and her '68 Firebird. Fiscus flew to a 5.97 to find victory over Salemi, who ran into trouble and lifted to a 12.22. While Fiscus was photographed with the $40,000 check in the winner's circle, his proud parents were later spotted posing for a photo with it, too.
"We had to thrash all week to get here, and then thrash some more when we got here," said Fiscus, whose crew consisted of Fiscus/Klugger Racing teammate Josh Klugger, Johnny Drama, Steve Cooks and his parents, Marsha and Sandy Fiscus. "We blew two burst panels out of the intake and we were only running at 80 percent all weekend, but somehow, we were able to go rounds and get the check at the end of the day."
In Precision Turbo and Engine Outlaw 10.5, Phil Sliskovic slid his '68 Camaro to a 4.05 to take the lead qualified spot, and held on through the final, where he met up with Mike Decker, Jr. and his '02 Camaro. Sliskovic leaped off the line first, and turned off the timers at 3.97 for the win over Decker, Jr., who followed with a 4.06.
Speedwire Systems Outlaw Limited Street put the spotlight on Mark Micke, who piloted Jason Carter's turbocharged '78 Malibu to a whopping 3.99 for lead qualifying honors. On his heels, however, was Josh Klugger of Fiscus/Klugger Racing, who was 4.09 in his turbocharged '93 Mustang to take the second qualified spot. The two met in the final, and in a tight race where both drivers blasted to a 4.00, Micke pulled off the win.
"I've been to three finals in the last three races, and it was nice to win one at Summit Motorsports Park," said Micke. "It's an awesome facility and the track prep was spot-on every round. I want to thank Garrett Turbo, Mickey Thompson, Aeromotive, Billet Atomizer, Visner Engine Development, Fuel Tech, Nelson Competition, VP Racing Fuels and Mark "Woodymart" Woodruff. You never know when you'll need him."
Boyd Beyer blew to a 6.32 and the lead in qualifying in his '04 Mustang in Holbrook Racing Engines Top Sportsman, but taking it all the way to the final were Marco Abruzzi and Glenn Butcher. Abruzzi's trip to the winner's circle started at the hit in his '68 Camaro as Butcher turned on the red in his Camaro. Abruzzi went on to post a 6.78.
In Wiseco X275, Jamie Stanton wheeled his '02 Camaro to a 4.50 to see his name at the top of the list of qualified
entrants, but the final round featured Ohioans Darren Hilterbran and his '90 Mustang and Trace Meyer and his Team Z Motorsports-built '90 Mustang. Hilterbrand was to the finish line first and won with a 4.57 to Meyer's 4.65.
After pounding pavement in Callies Pro Street in his '69 Camaro, Ed Parker produced a 4.47 to populate the top qualified spot. He remained on point on his way to the final, where he lined up against Charlie Cooper and his PTP Racing-tuned '91 Mustang, but when the tree dropped, Cooper was ready for him with an .010 reaction time and won with a 4.54 while Parker had problems and limped to an 8.74.
Shawn Pevlor pushed his nitrous-gulping '93 Mustang to a 4.76 in the super-competitive Team Z Motorsports Ultra Street, which was good for the lead qualified spot as well as the category's ET record. He faced number two qualifier Camren Massengale and his RPM Transmissions-backed '01 Corvette in the final, and won with a 4.78 to Massengale's 4.91.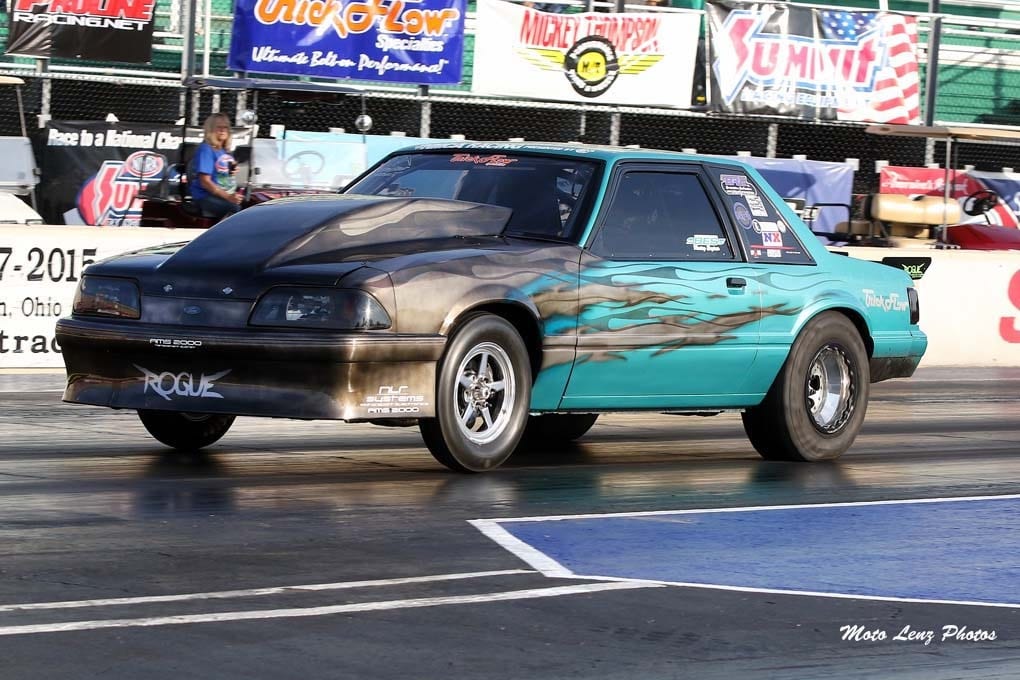 "It was a good, smooth weekend, and we didn't have any problems," said Pevlor, who won in the same category at this event in 2014. "Setting the ET record for the category and winning the race were of equal importance to me. We'll be at next year's Shakedown."
In Trick Flow Specialties Open Comp, Billy Buehrer lead qualifying in his consistent mid-eight second '67 Nova, and as such, he won a $1,000 bonus from Trick Flow Specialties. In the final, however, Chris Cadle cruised his '89 S10 to a 10.32 on his 10.30 dial-in to defeat Dan Pepper, whose '67 Camaro cruised to a 9.13 on a 9.09 dial-in.
The G-Force Race Cars/Resolution Racing Services Money Shot was a special feature of the event which guaranteed that the driver of the quickest car taking part would receive $5,000. That driver this weekend was 2015 Hot Rod Drag Week winner Tom Bailey, who turned in a time of 6.01 and 237 mph in his stunning street/strip '69 Camaro.