Look at the latest car build to roll out of the championship-winning chassis shop of RJ Race Cars and Quarter-Max. This stunning new Pro Boost 2022 Chevy Camaro was custom built for Roderjan Busato's MRB Motorsports Team.
Under the hood you'll find industry-leading FT fuel injectors with FuelTech EFI and data system to manage the ProCharged Hemi built by ProLine Racing. Behind the engine will sit a M&M transmission and torque convertor to transition all that horsepower back to the rear end.
Featuring the latest RJ design of Pro Mod double frame rail chassis optimized for today's Pro Mods, this car is set to handle the task of well over 3,000 horsepower. The rear suspension features a RJ Race Cars-built full 4130 custom fabricated floater housing with Strange axles and pro carbon brakes, state-of-the-art Quarter-Max 4-link suspension with their unique extreme 1/8" increment adjustable billet 4-link chassis brackets, extreme 2″ splined anti-roll bar, extreme 1-1/4" pro series wishbone, and PRS pneumatic controlled suspension for the shocks and struts. The front suspension features the Quarter-Max threaded adjustable strut mounts, and Weld Racing Full Throttle 15″ x 3.5″ Anglia front wheels. A fully loaded carbon fiber interior from Quarter-Max is highlighted with 48″ wheel tubs, double frame rail transmission tunnel, and flat sheet panels. Cockpit safety upgrades include a carbon wraparound seat with safety head pad system and a Simpson 7-point harness.
The exterior of the car features an all-carbon fiber body from Five Star race car bodies, with custom paint and graphics by SD Enterprises. This highly sophisticated, modern day Pro Mod car is optioned out from tip to tail with the high-quality craftsmanship work and details that has been a trademark for the Quarter-Max and RJ Race Cars brands for over 35 years.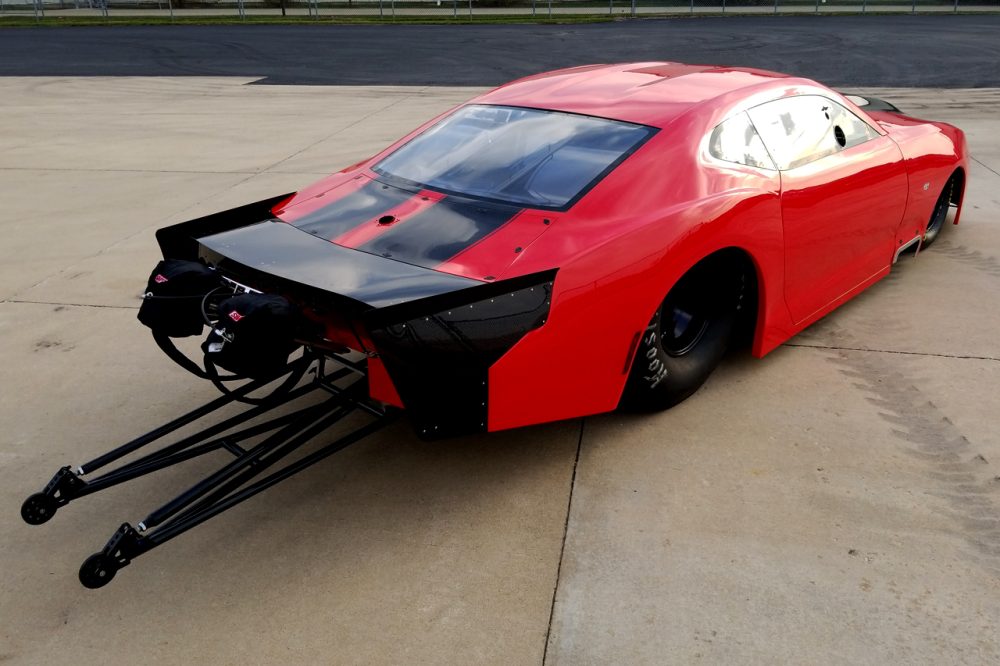 Rick and Rickie Jones are the owners of RJ Race Cars and its entity Quarter-Max, which is a manufacturing leader in chassis and racing components, as well as a major outlet store for more than 100 of today's top racing brands at their facility in Galesburg, Ill. RJ Race Cars has built cars for many of the top names in Pro Stock, Pro Mod, and the sportsman ranks, and the company recently celebrated as their RJ Race Cars brand of chassis was the first and only chassis shop to claim both the NHRA Pro Stock and NHRA Pro Mod championships in the same single season, and then went on to do so again, going back-to-back in 2019 and 2020 for Erica Enders (Pro Stock) and Stevie "Fast" Jackson (Pro Mod).
Busato, a Brazilian native, is set to debut this new masterpiece in the upcoming summer with plans to compete in PDRA's Pro Boost category in 2022.