Lethal Threat Racing announced June 26, it has entered into a new major marketing partnership with GTX Blue, a Texas-based hydration solution for the working man.
"We couldn't be happier to welcome GTX Blue to our team," Lethal Threat Racing team owner and driver Todd Martin said. "With GTX Blue's help we feel certain we'll be able to quench our thirst for winning!"
The supercharged, 4,000-horsepower '68 Mustang that Martin drives in the Professional Drag Racers Association (PDRA) Pro Extreme class will carry the colors and branding for the water company for the remainder of the 2014 season, beginning with this weekend's PDRA race at Martin, Michigan. The spectacular GTX Blue "water flames" graphic wrap was designed and applied by Kryptonite Kustomz in Broken Arrow, Oklahoma.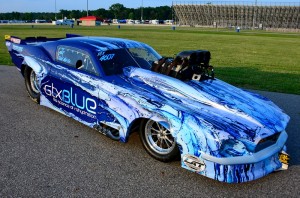 "It's very exciting to introduce not only a new sponsor like GTX Blue to our sport, but an entirely new product category," said Martin, who co-owns Tulsa Raceway Park, where GTX Blue anticipates a complete product roll out Aug. 15-16, when the PDRA visits the historic Tulsa track.
"We're really looking forward to hosting GTX Blue in Tulsa, but we also enjoy racing up here in Michigan," Martin added. "The track is excellent, the facility is beautiful and the fans are very knowledgeable and enthusiastic, so I think this is the perfect place to introduce GTX Blue to the PDRA."
In addition to sponsoring the Lethal Threat Pro Extreme Mustang, GTX Blue supports motorsports by offering unique marketing incentives to race tracks that purchase the product.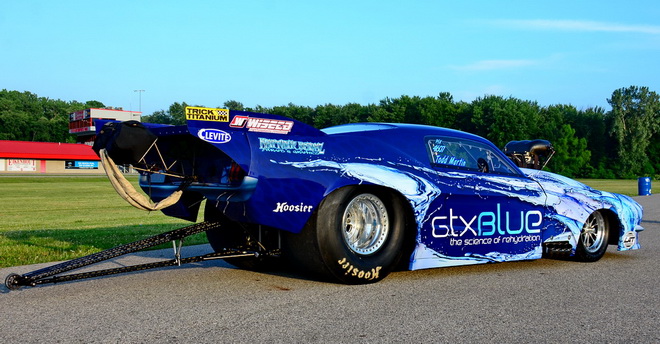 (Photos by Ian Tocher; Click to enlarge)