Jason Scruggs (above) of Saltillo, MS, led through both rounds of Pro Extreme qualifying Friday for the 2nd annual Professional Drag Racers Association (PDRA) Spring Nationals at North Carolina's historic Rockingham Dragway. Also qualifying number one in the PDRA pro classes were Jay Cox in Pro Nitrous, Anthony DiSomma in Pro Boost, Phil Esz in the debut of the PDRA's Pro Open Outlaw class and defending Pro Extreme Motorcycle champion Eric McKinney.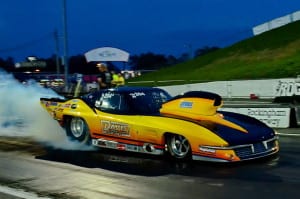 In the PDRA sportsman classes, Georgia racer Ronnie Davis made the only three-second pass in MagnaFuel Top Sportsman at 3.981 seconds and 181.69 mph to lead after two qualifying rounds, while Craig Sullivan paced the Dart Top Dragster field with a 3.945 at 180.84-mph combination.
Also, Kimberly Messer placed first in Huddleston Performance Pro Jr. Dragster and Connor Glaser led the way in Huddleston Top Jr. Dragster.
PRO EXTREME
Driving a new '69 Camaro with less than a dozen total passes on it, Scruggs posted a run of 3.57 seconds in the opening round, then ran 3.542 seconds at 217.42 mph in the evening session to lead the 16-car NAS Racing Pro Extreme field into two more rounds of qualifying on Saturday before the first round of eliminations are run for all classes that night.
"That was a good run, but I'm not sure it's going to last," Scruggs said. "I think there's supposed to be a cold front coming in and the air should be a little drier tomorrow, so there's definitely a few cars that can step it up. But so can we if we have to."
Close behind Scruggs is teammate and defending class champion Bubba Stanton at 3.548, followed by Mustafa Buhamaid, winner of the PDRA season opener last month in Texas, North Carolina's own Terry Leggett and John Stanley, who ran a career-best 3.59 seconds to round out the top five.
PRO NITROUS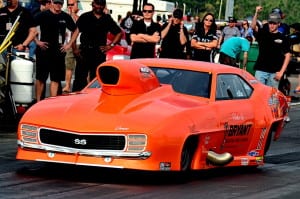 Cox also led after both rounds of Switzer Dynamics Pro Nitrous, finishing with a 3.744-seconds pass at 200.35 mph that satisfied a long-held goal for the Smithfield, NC-based driver.
"We've run a couple of .74s already this year, but I'm tickled to death because I finally got my first 200-mile-an-hour time slip," he explained. "This is my first year with fuel injection and I've got my good friend Danny Perry here with me. He's been looking over my trouble spots and we picked up quite a bit in the back half thanks to him."
Texas winner Tommy Franklin is currently second at 3.75 seconds, followed by past class champions Steve Jackson and Mike Castellana. Lizzy Musi, driving a borrowed '69 Camaro after crashing her own car at Dallas last month, placed seventh with a 3.80 pass that ended with a long, fast ride through the shutdown area after her parachutes failed to deploy.
"It was pretty dark and bumpy down there and I was just squeezing the brakes as hard but as gentle as I could because you don't want to get the tires sliding," Musi said. "I got it stopped before the track ended, though, so no big deal, fortunately."
A total of 23 drivers made qualifying attempts in Pro Nitrous with defending class champion Jason Harris the first of seven not yet qualified after his '68 Firebird ran a best of 3.90 seconds.
PRO BOOST
The twin-turbocharged '67 Mustang of New Jersey's DiSomma didn't make it down the track in round two, but his 3.805 pass at 210.24 mph from round one held up to place him on top of 18 Precision Turbo Pro Boost entries. Placing second with a 3.841 effort was Kevin Rivenbark in a supercharged '67 Mustang, with Texas winner Kevin Fiscus third in another turbocharged Mustang at 3.844 seconds.
PRO OPEN OUTLAW
After missing the opening qualifying round for the PDRA's new Toefco Pro Open Outlaw class, Phil Esz of Amelia, OH, stepped up with a 3.644 run at 202.67 to lead eight entries into Saturday's action. Eddie Lykins, Mark McElwee and Jody Stroud filled out the top half of the field.
PRO EXTREME MOTORCYCLE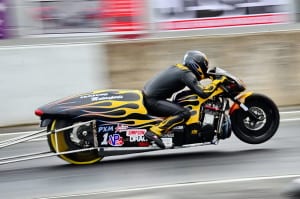 With 16 bikes showing up to contest the Drag 965 Pro Extreme Motorcycle class, all are guaranteed a race-day slot. McKinney, who won last month in Texas, again set the pace in qualifying with a 4.078 pass at 177.32 aboard his nitrous-boosted 2012 Suzuki.
Casey Stemper was second at 4.100, followed by McKinney's teammate and tuner Ashley Owens, Brad McCoy and Ron Procopio.
SOUTH EAST GASSERS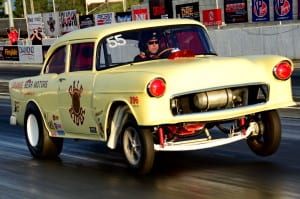 In addition to the PDRA's official classes, the South East Gassers, featuring period-correct race cars typical of the 1960s and '70s, engaged in a 12 car exhibition at the PDRA Spring Nationals.
Though elapsed times or speeds are deliberately not displayed, Shannon Smith (left) led the way in his '55 Chevy after two qualifying rounds were in the books. He was followed by a trio from the Stott family as Donovan Stott and his '48 Anglia were second, his uncle and South East Gassers organizer Quain Stott was third and Donovan's father, Mitch, placed fourth.
The all-eighth-mile PDRA event at 'The Rock' will resume with two more qualifying sessions starting at 10 a.m. Saturday, followed by the opening round of eliminations for all classes at 6 p.m. that night. Final eliminations will begin at 11 a.m. Sunday.