Ed Burnley records quickest quarter-mile pass by a nitrous car
Veteran racer Ed Burnley made headlines at Crofton, Maryland's Capitol Raceway in early September when he uncorked the quickest quarter-mile elapsed time ever recorded by a nitrous-oxide-assisted Pro Mod car. Driving a '68 Camaro he built himself roughly eight years ago, Burnley stopping the timers in 5.734 seconds at 231.99 mph during the second round of eliminations at a Northeast Outlaw Pro Mod series event.
While the elapsed time of this run was the lowest ever seen with a nitrous-boosted entry, the run had even more potential. A piston in Burnley's 903 c.i. Pat Musi-built engine suffered considerable damage at about 1,000 feet into the run, which accounts for the abnormally low mph. "I could feel it nosing over and I knew it was hurt, so I lifted at 5.3 seconds into the run," says Burnley, who hails from nearby Pasadena, Maryland.
Despite winning the round of competition, Burnley couldn't answer the call for the finals due to the engine damage. "We were happy, though, because we accomplished what we came here to do, which was break the track record, but we certainly weren't expecting to go that fast!" laughs Burnley.
The team has been energized by the Capitol Raceway outing, realizing they've likely got a car capable of running high 5.60s. The milestone is particularly satisfying to Burnley, considering this is the same car in which he suffered a horrific crash at Maple Grove Raceway in 2012. "I broke my back in that crash and spent two weeks in a Pennsylvania hospital," recalls Burnley.
The crash sidelined the team for the remainder of the season and took roughly six months to repair the Camaro.
"I know everybody wants to say this, but we're probably the lowest budget team out here. I have a partner, Bill Smith, and we've been together 35 years, racing everything from brackets to Pro Mod to even NHRA Pro Stock in the late 1980s to early 1990s. Bill owns a body shop and I have a refrigeration business and we completely fund our racing operation from that without any sponsorship."
Burnley also owns a chassis shop that he says he launched out of necessity more than anything.
"We didn't have the money to go out and buy stuff, so that was the motivation to launch Ed Burnley Race Cars. Back in the heyday, probably 10 years ago, we used to build probably four cars a year, but these days I have time to build just one car a year. My refrigeration business is very good right now, and I can barely get off work long enough to go racing," Burnley adds.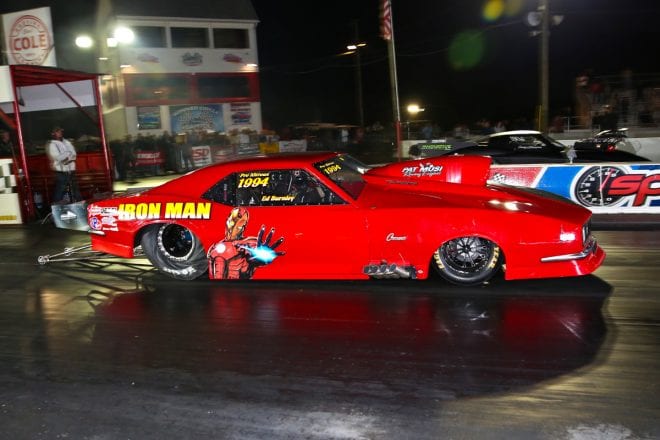 For 2017, Burnley and crew – Smith, Bobby Holtzer, George Shriver, Ken Willey, Thomas Johnson and Tim Simmons – had planned to follow the entire PDRA circuit, as well as select Northeast Outlaw Pro Mod events, but the Camaro was plagued with suspension problems mid-season, which resulted in a brief period of revaluation.
"We parked the car and went through it from front to back and fixed some stuff in the rear of the car. We then took it to MIR (Maryland International Raceway) and ran a 5.80 while letting off the throttle early. We knew it would run in the 5.70s, but we were shocked at the .74 it ran at Capitol last week," smiles Burnley, who is anxious to return to the track and shoot for the 5.60s.