Since 2009, Morgan and Katie Lucas have shared the same goal of honoring their dear friend Eric Medlen while helping children at Peyton Manning's Children Hospital at St. Vincent. The tradition continues this year with the sixth annual Eric Medlen Memorial Golf Tournament, Aug. 28, at Eagle Creek Golf Club in Indianapolis.
Medlen, who passed away after a testing accident, was known for being a genuine person with a love for helping others, especially children.
"The world lost a great racer that day but more importantly it lost a truly great individual," Morgan Lucas said. "Eric had a love for kids that surpassed most. He had a passion for helping children in any way, whenever he could. Because of this, all the money we've raised with our golf tournament goes towards a place very close to our hearts."
With the tournament in its sixth successful year, many special projects have been completed for the Peyton Manning Children's Hospital, including a special MRI room dedicated in Medlen's honor this past April by the Lucas family.
"Katie and I had a firsthand experience with Peyton Manning Children's Hospital last December when our newborn son Hunter was admitted," Lucas said. "The doctors, nurses, and staff members were incredible during such a frightening time for our family.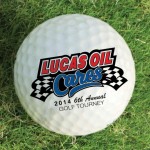 "We are very blessed to have such a great facility in our community. Hopefully with everyone's help we can help the hospital continue to grow."
The Eric Medlen Memorial Golf tournament kicks off with registration, pictures, raffles, and silent auction at 8 a.m. Tournament play will start at 9:30 a.m. with cocktails and h'ordeuvres, awards, live auction, and putting contests finals at 3:30 p.m.
To register for the memorial golf tournament or for more information on how to donate, visit www.ericmedlenmemorial.com.