With the close of the 2015 season, the Professional Drag Racers Association crowned its second round of World Champions. Each of the PDRA's eight classes welcomed a new regime, except one. Eric McKinney reigns as Drag965 Pro Extreme Motorcycle World Champion for the second year in a row, making him the only PXM World Champion in the PDRA's budding existence.
As one of the most successful drag bike racers in history, McKinney has worked to advance both his own program and the Pro Mod bike class. There is little he has not done within this arena. He has seen the class both struggle and soar, and, according to McKinney, the future of PXM is brighter than ever.
"The PDRA has been the best thing that's happened for our class," stated the Champ. "It's about as top notch organization as you can race for. I've raced with a bunch of organizations in my day and this is by the far the best organization I've ever raced in. It's a class act.
"Most of the motorcycles are up and down the east coast. It's hard for some of those guys to make the western races, but anybody that can run Pro Extreme Motorcycle should support this. It's the best thing going right now for motorcycle drag racing."
While McKinney and his teammate Ashley Owens have seemingly had a hand up on the rest of the class in recent years, results from the final event of the 2015 PDRA season prove that there is parity in the field once again. McKinney himself only qualified 7th in the 16 bike field, and the top 12 qualifiers ran a 4.10 or better. The competition of PXM is heating up, promising an exciting 2016 season.
"I think in 2016 everybody's going to have to be running bottom 4.0s," predicted McKinney. "We set the record in Dallas with a 3.99 at the beginning of the year. I think everybody will have to run high 3s to win races this year. Everybody has stepped up that much. It's tightened up and it's going to make for some good racing. I hope we stay on top, but we'll see.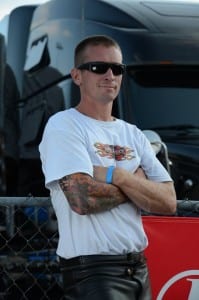 "When I first started racing I got beat second round for the first two years. It's discouraging, but it makes you want to work harder if you really want to be a champion. We don't have anything special that anybody else doesn't have. Racing is a good time to hang out with all your friends, but we're there for one reason: to win races. To be the top dog in this sport you have to put the work in. I think people are starting to do their homework now. People are starting to catch us."
McKinney admits that his team's incredible success in recent years may have hurt the class during stints in which either McKinney or teammate Ashley Owens was consistently taking home the trophy, but is happy to see the competition gains made by the class as a whole and believes PXM will continue to grow stronger and provide PDRA fans with great side-by-side runs.
As he prepares to defend his championship for the second year in a row, McKinney is continually pushing the envelop of his own program in which he and Owens will return as a two bike team. "The goal is to run 3 second passes on the regular and win races. We got on cruise control winning races and quit trying to set records. The competition caught us. Now it's time to raise the bar again.
"I've got a wall full of PDRA men, and I want to keep doing this for as long as I can and get as many wins and championships as possible."
McKinney highlights the fact that drag racing is as much a mental exercise as it is mechanical. His success has not come without much thought, practice and preparation. "You definitely have to be on your game. With eighth mile drag racing there's not enough room to cut a bad light or miss shift points. I'll sit around and mentally go through my run from the time I put my helmet on to making the pass to turning on the return road. I'll do that two or three times in my mind just to make sure I don't forget to turn a switch on or miss a shift point. Some people think drag racing is just keeping a bike in a straight line for four seconds, but there's so much more than that. It's actually pretty stressful. By the time the weekend is over I'm mentally drained. I don't want it to be my fault we lost a round. If we lose a round because of a mechanical failure or because we just flat get outrun that's one thing, but I don't want it to be my fault. I don't want that on my shoulders. So I go out there every time trying to do the best I can do.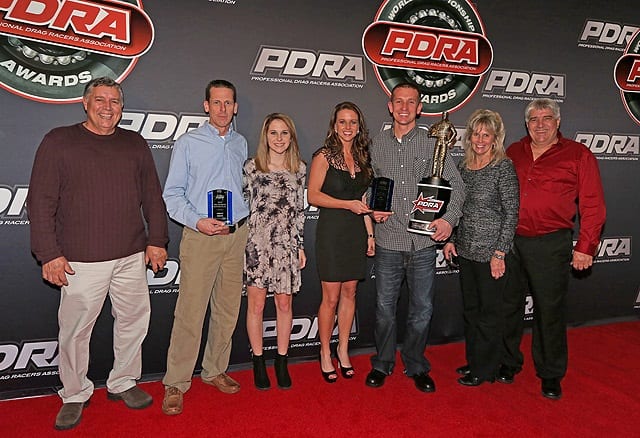 "It's an honor to be back to back PXM Champion," he added. "I'm kinda speechless for it. We had a great team and were consistent. Between my dad and Ashley Owens I've got a great team behind me. I've got my Uncle Steve on the clutch and mom feeds everybody. If it wasn't for them we couldn't do this. I don't think anybody could do it with just one person. I want to thank my mom and dad, Ashley Owens, my uncle Steve McKinney, my girlfriend Ashley, the class sponsor Drag965, Vance & Hines, Fast by Gast, Simpson Helmets, VP Race Fuels, and especially the PDRA. If it wasn't for the PDRA we wouldn't have a class act place to race. I'm just fortunate to be a part of it."
Photographs by Ian Tocher, Mike Carpenter and Tim Hailey/EatMyInk.com