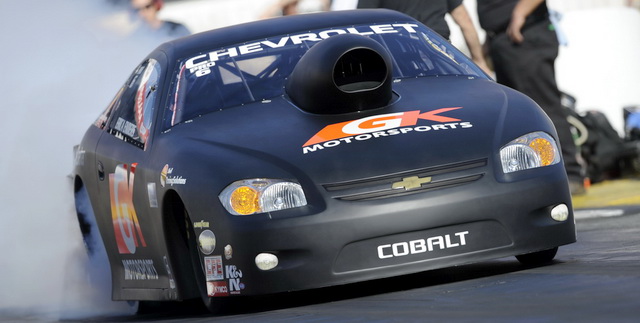 Lyn St. James' Women in the Winner's Circle Foundation will honor NHRA and Pro Stock racer Erica Enders at its 10th annual Women in the Winner's Circle Awards Friday, Dec. 7, in Indianapolis.
At the annual celebration, St. James will present the Leadership Award to NHRA President Tom Compton. Enders will receive the Outstanding Achievement Award after her history-making season by becoming the first woman to win in the Pro Stock class. She scored two No. 1 qualifying spots and won four races to finish fourth in the 2012 points standings.
"NHRA has a tremendous history of participation and success for women in racing, and I'm extremely proud of Erica, who is also a graduate of our driver development academy. Women now have victories in every national class of NHRA," St. James said. "Unfortunately, she's not able to be here due to the fact that she's getting married this weekend, but I suspect she has her sights set on a championship in the future."
St. James continued, "NHRA has a commitment to cultural, technical, and geographical diversity and has generated championships for drivers, such as this year when Antron Brown was the first African-American to win a Top Fuel championship, and dates back to Shirley Muldowney, the first driver ever to win three national championships in Top Fuel. We applaud their leadership."
The Women in the Winner's Circle Awards is the foundation's major fundraiser, celebrating the success of women in racing, helping them build strong ties with each other and with the motorsports community, and honoring those who have provided leadership and opportunities for women in racing.
The event will be held this year in conjunction with the International Motorsports Industry Show (IMIS) at the Indiana Convention Center. A VIP reception is set for 5 p.m., and the dinner and awards celebration will begin at 6 p.m. Individual tickets for $125 and table reservations for $1,000 for the event are still available.
Guests will have the chance to meet and visit with many of America's top female racers and industry leaders. Attendees who reserve a table will have the honor of a driver sitting at their table. For more information about the Women in the Winner's Circle Foundation or the 10th Annual Awards Celebration, log on to www.lynstjames.com.