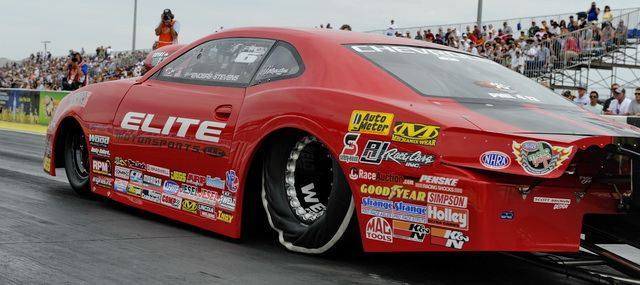 Erica Enders-Stevens raced to victory in the K&N Horsepower Challenge, closing out an action-packed Saturday at the SummitRacing.com NHRA Nationals at The Strip at Las Vegas Motor Speedway.
Enders-Stevens entered the K&N Horsepower Challenge field as an alternate for the sidelined Mike Edwards but took full advantage and beat fan-vote winner Dave Connolly in the final with a performance of 6.646 seconds at 208.39 mph to pocket a $50,000 paycheck. The No. 3 seed was runner-up to Allen Johnson at last season's bonus event, but she piloted her Elite Motorsports Chevy Camaro to her first win in the K&N Horsepower Challenge, becoming the first female winner of the special bonus race.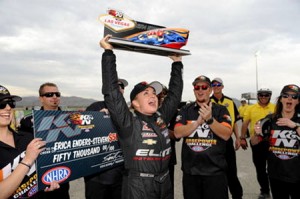 "We've had a great hot rod all year and it really came together for us two weeks ago in Gainesville," said Enders-Stevens. "We set the national record but lost in the final round on a holeshot, so it was great to give something back to my guys."
The final with Connolly pitted Enders-Stevens against her former crew chief, a matchup that both wanted to take for bragging rights. The Houston native brushed it off, mentioning that it was her job to focus only on her lane and run.
"Part of being a professional athlete is having to put personal things aside for business, and it is a true challenge and something I work hard on," she said. "It's about me getting up on the wheel and the guys putting a great race car underneath me to get from Point A to Point B."
(Photos courtesy NHRA/National Dragster)
LAS VEGAS — Final round-by-round results from the K&N Horsepower Challenge at The Strip at Las Vegas Motor Speedway, the fourth of 24 events in the NHRA Mello Yello Drag Racing Series:
ROUND ONE — Shane Gray, Chevy Camaro, 6.635, 208.49 def. Jason Line, Camaro, 6.664, 208.55; Erica Enders-Stevens, Camaro, 6.642, 208.42 def. V. Gaines, Dodge Avenger, 6.657, 208.33; Jeg Coughlin, Dodge Dart, 6.639, 208.55 def. Vincent Nobile, Camaro, foul; Dave Connolly, Camaro, 6.648, 208.07 def. Allen Johnson, Dart, 6.643, 208.23; SEMIFINALS — Enders-Stevens, 6.653, 208.14 def. Coughlin, 6.642, 208.88; Connolly, 6.654, 208.10 def. Gray, 6.658, 208.68; FINAL — Enders-Stevens, 6.646, 208.39 def. Connolly, 21.146, 36.51.