Erica Enders-Stevens became the first woman to win an NHRA Pro Stock world championship title Sunday when she defeated her closest points rival Jason Line in the final round of the Auto Club NHRA Finals at Pomona, CA.
In other racing, Matt Hagan claimed the Funny Car world championship in dramatic fashion over John Force and also won the season-ending race, while Andrew Hines took the Pro Stock Motorcycle championship by racing to a first-round victory. Morgan Lucas earned the Top Fuel race victory and Hector Arana Jr. captured the Pro Stock Motorcycle win.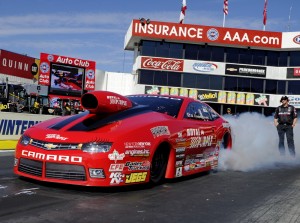 Enders-Stevens raced to her sixth victory of the season when Line fouled at the start in the winner-take-all final-round meeting at historic Auto Club Raceway at Pomona. She is the third female to win a world championship in the NHRA Mello Yello Drag Racing Series, joining three-time Top Fuel champion Shirley Muldowney and three-time Pro Stock Motorcycle champ Angelle Sampey.
Enders-Stevens led a major charge this season by female racers in NHRA that resulted in 14 victories by four drivers. She was joined in the winner's circle during the year by Courtney Force and Alexis DeJoria in Funny Car and Angie Smith in Pro Stock Motorcycle. Brittany Force raced to four runner-up finishes and three No.1 qualifying positions in Top Fuel.
"It's awesome to be a part of this female movement in NHRA," Enders-Stevens said. "I think it goes to show what we're capable of and what a great platform NHRA gives all of us girls to climb the ladder and to get to where we want to go.
"To join two of my heroes, Shirley Muldowney and Angelle Sampey, who are both my friends now, as NHRA world champions, is simply unreal. The words of advice I've received from those two women means so much to me."
Enders-Stevens, whose early life as an NHRA Jr. Drag Racing League competitor was the subject of a popular Disney Channel original movie in 2003, began pursuing this goal in 2005 when she made her Pro Stock debut. After advancing to six final rounds in her first eight seasons she broke through with her first victory in 2012 at Chicago. She challenged for the championship the last three seasons, finishing a career-best fourth in 2012.
This season she led the points standings for most of the season and overcame a slow start in the Mello Yello Countdown to the Championship by rallying in the last four playoff races to post a pair of semifinal finishes in St. Louis and Reading and closed her championship run with back-to-back victories in Las Vegas and Pomona. She also posted six No. 1 qualifying positions, including four during the Countdown, at the controls of her Elite Motorsports Chevy Camaro.
"I was a little kid with a big dream," Enders-Stevens said. "I started racing junior dragsters and then moved into sportsman racing and moved on up the ranks to the pro level and now 10 years later here I am in Pro Stock. It's an awesome feeling and I feel so blessed."
In Funny Car, Hagan claimed his second world championship title when he won his semifinal round over Tommy Johnson Jr. He then put an exclamation point on his title by racing to his fourth victory of the season and 14th of his career by defeating second place finisher John Force in the final round.
Hagan powered to a final round performance of 4.076 seconds at 310.77 mph in his Mopar Express Lane Dodge Charger to hold off Force's Castrol GTX Ford Mustang, which finished in 4.086 at 276.58.
"I think that the championship was really what we were after, and the race win was kind of icing on the cake," Hagan said. "But it just solidifies that we had a great race car. To be the best, you've got to beat the best, and everybody says he's the best, so we beat him, and that's what's cool about this deal.
"It was nice to finish it out here strong. We beat him here last year at this time, and we did it again this year. Hat's off to him. They've got a great car, but we had a little better one today."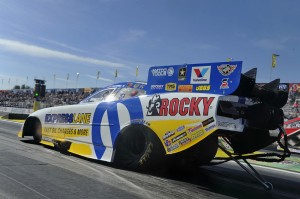 Hagan, who earned his first world championship in 2011, scored four victories this season, including three in the Countdown playoffs to wrap up the championship after finishing the regular season in eighth place. Hagan, who moonlights as a cattle rancher in his southwest Virginia home, has finished first or second in the points in four of the last five seasons.
"There's a lot of guys who have been out here their entire careers and haven't won one of these so you never take any of it for granted," Hagan said. "We gave these fans what they were waiting for and paid for, and hopefully, we can go out and win another one, but it's just great to be in this experience and be a part of this."
Lucas took his second Top Fuel victory of the season and 11th of his career by posting two of the top three-quickest runs in category history to hold off newly-crowned Top Fuel world champion Tony Schumacher in the final round. Schumacher earned a record eighth Top Fuel world championship at the end of qualifying on Saturday.
Lucas, who ran a part-time schedule this season, raced to round wins over Billy Torrence, Shawn Langdon and Antron Brown in early rounds before defeating Schumacher in the final. He posted a 3.707 to win the semi match with Brown and then saved his best for last, posting a track record 3.704 to take the final-round win over Schumacher.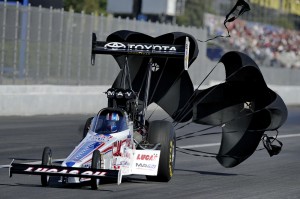 "I feel like I'm doing a better job behind the wheel on a part-time basis than I ever did racing full-time," Lucas said.
"The car was fast, and it was on a string. I almost didn't have to steer it or do anything. It felt like I was strapped to a missile. I had a lot of fun today."
Hines captured his fourth Pro Stock Motorcycle world championship and first since 2006 when he claimed the first-round win over Katie Sullivan.
Hines raced to six victories during the season to earn his first championship in the Countdown era aboard his Screamin' Eagle Vance and Hines Harley-Davidson.
"I've been waiting a long time to be able to write '4x' next to my name," Hines said. "It was nice to finally get it done, but also to get it done with a win. I didn't really want to have to be the guy who waited for someone else to lose to clinch it.
"It's great to get that big trophy and that big check, but the biggest trophies I have are my wife, Tanya, and my kids, Declan and Rion."
Arana Jr. went on to claim the race victory on his Lucas Oil Buell, taking his second win of the season and ninth of his career by outrunning Hines' teammate Eddie Krawiec in the final round.
"I popped the clutch and never saw Eddie," Arana Jr. said. "My bike went straight down the track and it was an amazing feeling.
"This is going to be a good off-season. I'm glad we got the win for the team. This is a good confidence booster. It's good for our morale for the next four months."
The 2015 NHRA Mello Yello Drag Racing Series season begins Feb. 5-8 at Auto Club Raceway at Pomona (Calif.).
(Photos courtesy NHRA/National Dragster)
POMONA, Calif. — Final round-by-round results from the 50th annual Auto Club NHRA Finals at Auto Club Raceway at Pomona, the final of 24 events in the NHRA Mello Yello Drag Racing Series:
TOP FUEL
ROUND ONE — Shawn Langdon, 3.758, 326.00 def. Spencer Massey, 5.184, 138.43; Morgan Lucas, 3.745, 326.40 def. Billy Torrence, 3.766, 326.00; Steve Torrence, 3.787, 325.53 def. Doug Kalitta, 3.833, 314.02; Richie Crampton, 3.720, 320.89 def. Troy Buff, 3.812, 318.84; Antron Brown, 3.746, 321.81 def. Clay Millican, 5.927, 97.74; J.R. Todd, 3.765, 325.77 def. Bob Vandergriff, 4.924, 141.16; Dom Lagana, 3.832, 312.93 def. Khalid alBalooshi, 4.719, 171.71; Tony Schumacher, 3.749, 327.11 def. Larry Dixon, 3.765, 324.67; QUARTERFINALS — Todd, 3.765, 323.04 def. S. Torrence, 3.763, 327.35; Brown, 3.749, 323.43 def. Lagana, broke; Lucas, 3.903, 299.53 def. Langdon, 4.986, 166.19; Schumacher, 3.752, 327.35 def. Crampton, 3.763, 327.82; SEMIFINALS — Schumacher, 3.770, 328.30 def. Todd, 3.824, 262.23; Lucas, 3.707, 325.45 def. Brown, 3.742, 320.74; FINAL — Lucas, 3.704, 325.14 def. Schumacher, 3.742, 324.98.
FUNNY CAR
ROUND ONE — Del Worsham, Toyota Camry, 4.035, 310.48 def. Jack Beckman, Dodge Charger, 4.051, 317.27; Tim Wilkerson, Ford Mustang, 4.200, 295.85 def. Cruz Pedregon, Camry, 10.017, 83.08; Ron Capps, Charger, 4.028, 316.38 def. Jeff Arend, Charger, 11.137, 72.48; Tommy Johnson Jr., Charger, 4.060, 316.23 def. Tony Pedregon, Camry, 4.774, 176.07; Alexis DeJoria, Camry, 4.025, 314.61 def. Gary Densham, Chevy Impala, 5.381, 135.95; John Force, Mustang, 4.083, 319.29 def. Bob Tasca III, Mustang, 4.337, 245.45; Matt Hagan, Charger, 4.015, 320.05 def. Chad Head, Camry, 5.083, 167.63; Robert Hight, Mustang, 4.049, 313.29 def. Courtney Force, Mustang, 6.611, 98.40; QUARTERFINALS — J. Force, 4.031, 318.62 def. Wilkerson, 4.101, 313.00; Johnson Jr., 4.077, 311.27 def. Worsham, 4.027, 314.83; Hagan, 4.081, 314.83 def. R. Capps, 6.801, 100.94; DeJoria, 4.012, 313.80 def. Hight, 5.317, 149.93; SEMIFINALS — Hagan, 4.065, 315.86 def. Johnson Jr., 6.184, 107.28; J. Force, 4.044, 320.58 def. DeJoria, 6.953, 94.32; FINAL — Hagan, 4.076, 310.77 def. J. Force, 4.086, 276.58.
PRO STOCK
ROUND ONE — Dave Connolly, Chevy Camaro, 6.528, 212.33 def. Greg Anderson, Camaro, 6.913, 163.77; Jonathan Gray, Camaro, 6.545, 211.66 def. Chris McGaha, Camaro, 6.536, 211.59; Rodger Brogdon, Camaro, 6.528, 212.19 def. Allen Johnson, Dodge Dart, 8.475, 114.04; Matt Hartford, Pontiac GXP, 6.520, 211.39 def. Vincent Nobile, Camaro, 6.507, 213.30; Jeg Coughlin, Dart, 6.522, 212.36 def. V. Gaines, Dodge Avenger, 6.524, 212.69; Jason Line, Camaro, 6.496, 213.06 def. Jeff Isbell, Camaro, foul; Shane Gray, Camaro, 6.516, 212.13 def. Greg Stanfield, Camaro, 6.578, 210.54; Erica Enders-Stevens, Camaro, 6.494, 213.47 def. Larry Morgan, Ford Mustang, 6.551, 210.93; QUARTERFINALS — Coughlin, 6.527, 212.73 def. Hartford, 6.548, 211.53; J. Gray, 6.529, 212.13 def. S. Gray, 6.502, 212.73; Line, 6.519, 212.46 def. Connolly, 6.518, 212.43; Enders-Stevens, 6.494, 213.67 def. Brogdon, 6.511, 212.46; SEMIFINALS — Line, 6.511, 212.93 def. Coughlin, foul; Enders-Stevens, 6.494, 213.67 def. J. Gray, 6.524, 212.29; FINAL — Enders-Stevens, 6.480, 213.43 def. Line, foul.
PRO STOCK MOTORCYCLE
ROUND ONE — Adam Arana, Buell, 6.889, 195.51 def. Jerry Savoie, Suzuki, 6.853, 194.80; Steve Johnson, Suzuki, 6.874, 193.32 def. Angie Smith, Buell, 7.059, 190.65; Hector Arana, Buell, 6.886, 195.90 def. Elvira Karlsson, Suzuki, foul; Eddie Krawiec, Harley-Davidson, 6.848, 194.24 def. Shawn Gann, Buell, 6.942, 192.80; Andrew Hines, Harley-Davidson, 6.839, 194.77 def. Katie Sullivan, Suzuki, 7.054, 193.38; Hector Arana Jr, Buell, 6.835, 198.17 def. Freddie Camarena, Suzuki, 6.971, 195.99; Chaz Kennedy, Buell, 6.904, 191.35 def. Jim Underdahl, Suzuki, 6.888, 194.66; Scotty Pollacheck, Buell, 6.893, 192.11 def. Matt Smith, Buell, 6.880, 195.65; QUARTERFINALS — Kennedy, 6.924, 189.31 def. Pollacheck, 6.941, 190.78; Krawiec, 6.835, 194.13 def. A. Arana, 6.881, 195.42; Hines, 6.864, 194.02 def. H. Arana, 6.959, 191.05; Arana Jr, 6.888, 195.22 def. Johnson, 6.937, 193.96; SEMIFINALS — Arana Jr, 6.808, 197.16 def. Kennedy, 6.981, 187.55; Krawiec, 6.850, 194.83 def. Hines, 6.890, 194.80; FINAL — Arana Jr, 6.832, 195.08 def. Krawiec, 6.977, 176.37.
POMONA, Calif. — Point standings (top 10) following the 50th annual Auto Club NHRA Finals at Auto Club Raceway at Pomona, the final of 24 events in the NHRA Mello Yello Drag Racing Series:
Top Fuel
1. Tony Schumacher, 2,594; 2.  J.R. Todd, 2,463; 3.  Spencer Massey, 2,430; 4.  Shawn Langdon, 2,419; 5.  Doug Kalitta, 2,407; 6.  Steve Torrence, 2,406; 7.  Antron Brown, 2,405; 8.  Khalid alBalooshi, 2,326; 9.  Richie Crampton, 2,299; 10.  Brittany Force, 2,249.
Funny Car
Matt Hagan, 2,628; 2.  John Force, 2,585; 3.  Tommy Johnson Jr., 2,442; 4.  Courtney Force, 2,421; 5.  Robert Hight, 2,414; 6.  Del Worsham, 2,393; 7.  Alexis DeJoria, 2,382; 8.  Ron Capps, 2,375; 9.  Tim Wilkerson, 2,310; 10.  Cruz Pedregon, 2,244.
Pro Stock
1. Erica Enders-Stevens, 2,639; 2.  Jason Line, 2,600; 3.  Dave Connolly, 2,481; 4.  Shane Gray, 2,463; 5.  Jeg Coughlin, 2,445; 6.  Allen Johnson, 2,403; 7.  Jonathan Gray, 2,385; 8.  Vincent Nobile, 2,364; 9.  V. Gaines, 2,269; 10.  Chris McGaha, 2,168.
Pro Stock Motorcycle
1. Andrew Hines, 2,689; 2.  Eddie Krawiec, 2,620; 3.  Hector Arana Jr, 2,472; 4.  Matt Smith, 2,416; 5.  Steve Johnson, 2,369; 6.  Scotty Pollacheck, 2,350; 7.  Hector Arana, 2,319; 8.  John Hall, 2,253; 9.  Angie Smith, 2,223; 10.  Michael Ray, 2,144.
POMONA, Calif. — Sunday's sportsman class final results from the 50th annual Auto Club NHRA Finals at Auto Club Raceway at Pomona. The race is the final of 24 in the NHRA Mello Yello Drag Racing Series:
Top Alcohol Dragster — Duane Shields, 5.412, 264.13  def. Cameron Ferre, 5.625, 265.74.
Top Alcohol Funny Car — Steve Harker, Chevy Monte Carlo, 5.489, 266.21  def. John Lombardo Jr., Ford Mustang, 5.519, 263.36.
Competition Eliminator — Aaron Strong, Chevy S-10, 8.116, 165.44  def. Clint Neff, Bantam Roadster, 10.668, 78.17.
Super Stock — Jeff Taylor, Chevy Cobalt, 9.634, 124.03  def. Marion Stephenson, Pontiac Sunbird, foul.
Stock Eliminator — Bobby DeArmond, Chevyt Camaro, 10.128, 128.18  def. Paula Cotten, Plymouth Duster, foul.
Super Comp — Gabriel Torres, Dragster, 8.907, 168.16  def. Alan Kenny, Dragster, 8.905, 170.08.
Super Gas — Trevor Larson, Chevy Corvette, 9.917, 158.04  def. Tommy Phillips, Chevy Camaro, 9.894, 160.63.
Summit Super Pro — Steve Sisko, Dragster, 9.648, 113.04  def. Cliff Carr, Dragster, foul.
Summit Pro — Gerald Halle, Chevelle, 9.506, 140.85  def. Dustin Moore, Chevy Nova, foul.
Summit Bike — Roy Hagadorn, Suzuki, 8.862, 142.60  def. Brenda Kay, Suzuki, 8.606, 150.56.
Summit Sportsman — Bill Crutcher, Chevy Nova, 12.490, 107.35  def. Scott Smith, Chevy Malibu, foul.