As long as Richard Freeman is racing, Erica Enders will be the one driving.
That's the message the two-time Pro Stock world champion has long received from the Elite Motorsports owner and that's coming true in an exciting way this weekend at Enders' hometown track, Royal Purple Raceway.
Enders will make her E3 Spark Plugs NHRA Pro Mod Drag Racing Series presented by J&A Service class debut as part of this weekend's NHRA SpringNationals, racing a turbocharged RJ Race Cars Camaro. That means the 22-time Pro Stock winner will pull double-duty this weekend and that's music to her ears.
"NHRA has a rule that you can only compete in two classes at an event or else I would compete in more," Enders said. "I absolutely love it and I'm definitely looking forward to the opportunity."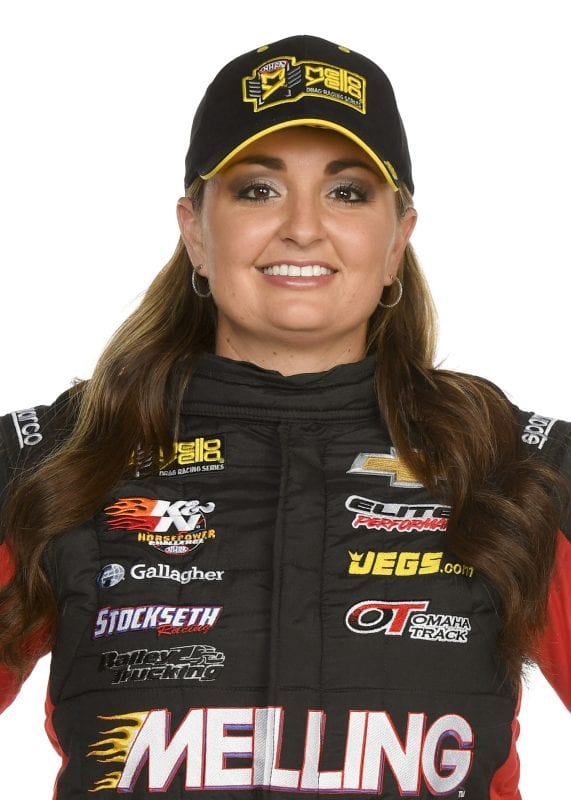 Enders plans to race the final 11 races of the NHRA Pro Mod season, meaning her plate will be full and then some the rest of 2018. But she's more than fine with that, even as the Pro Stock operation continues to go through its share of struggles.
After back-to-back world championships in 2014 and 2015, the team is still looking for its footing, having won just once since then. Enders is currently 10th in Pro Stock points through four events this year, but she doesn't believe it will be any problem balancing racing Pro Mod and getting back on track in Pro Stock.
The main reason is because she has full trust in the Elite Motorsports team that has continued to push through any and all adversity over the past two years with an encouraging diligence. In fact, that support group behind her is the only reason she's jumping in a second class
"It's 100 percent definitely the reason," Enders said. "With a handful of other teams, you bring your helmet and drive. Richard has allowed me to be an intricate part of this team, and it means a lot to be part of it.
"But also, nowhere does it say you have to be miserable while you go through (the struggles). Something unique about this team week in and week out, if we don't have the performance we want or expect, we're still happy because this is what we love to do."
Enders jokingly referred to Freeman still being a "jovial fellow" in midst of those frustrating stretches and that has trickled down.
It's never been a problem for Enders, who is over the moon excited for her Pro Mod debut. The next step for the engine-building division of Elite Performance is building Pro Mod engines, and Enders is the beneficiary of that ambition. Crew member Jake Hairston will make the tuning shots on the Pro Mod car.
Seeing it coming at Royal Purple Raceway adds one more special element to it.
"I'm a firm believer that everything happens for a reason," Enders said. "I was disappointed I wasn't able to race in Gainesville (in Pro Mod), but looking back, it would have been way too rushed. It's going to be cool to debut there.
"I've always enjoyed watching the class. It's fast and crazy, and all of it is intriguing for me."
It's the first time Enders will drive a turbocharged car, though she does have some Pro Mod experience after racing a nitrous car in the ADRL for Keith Haney in 2013.
Still, this is a different challenge, as Enders will be taking on close to 30 top-flight competitors in the NHRA Pro Mod class. But that is also why Enders is so eager to make her debut.
"It's awesome and I'm excited to have a chance to drive, and I'm hopeful and have some high level of expectations," Enders said. "There's going to be close to 30 really great, competitive cars, so by no means to I expect to dominate and win. But obviously we hope to be successful."
Enders also remains optimistic about the turnaround for not only her Pro Stock team, but also the class in general. With talks of a reduced schedule and field looming late last year, she credits Freeman for saving the class, bringing the teams together at the Dallas race last October with hopes that everyone could work as a group to get the class back on track.
It seems to have had a strong effect and Enders certainly appreciates it. She also believes that Pro Stock can continue to move in the right direction.
"I've had the opportunity to drive a lot of different things but I chose to stay in Pro Stock because I love to drive," Enders said. "That's where my heart is and we do it because we love it. The weight on the driver's shoulders and I love it. I love our class and I do feel like there's a bunch of positives, and hopefully that continues to be the trend."