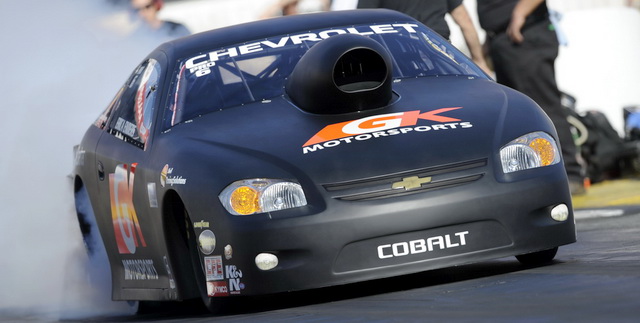 KLR Group driver Erica Enders grit her teeth and played it smart in the first round of the O'Reilly Auto Parts NHRA Nationals at zMax Dragway on Sunday.
Charlotte was the first race of the Countdown to the Championship, and on a slippery surface in the left lane, Enders was well ahead of six-time Pro Stock champion Warren Johnson as the two roared to the finish line. But something was wrong with the track, and Enders' GK Motorsports Chevrolet began sashaying left and right.
Enders thought quickly and pulled the parachutes to regain control and slow her car down, which allowed Johnson to slip past for the victory.
"Unsafe racing surface," Enders said. "The worst surface I've been on in thousands of runs. I didn't have a choice. I hung on to it longer than I should've. At the end of the day, my job is to get the car back to this trailer safely. We've got a car in one piece to go on in the Countdown (to the Championship). That's the only good thing about that."
Enders' discretion was proven in the second round, when Shane Gray crashed after his car slipped out of the groove and Dave Connolly also had to abort his run when his GK Motorsports ride slid around in the same area. Both cars were in the left lane, and after Connolly's run, NHRA decided to work on the track.
That was little solace to Enders.
"Just extreme and utter disappointment in the preparation," Enders said, referring to the track prep.
Enders was ahead at the 1,000-foot mark but slowed to a pass of 6.785 seconds at 165.25 mph. Johnson went through to the next round with a run of 6.658 seconds at 208.65 mph.
"It was extremely loose," Enders said. "My rear end was going side-to-side-to-side, and I'm trying to chase the car the whole way down the race track. When we're in high gear, the car is up on the tire, and we have no downforce. That's the most dangerous part of the run.
"It made two big swings, and coming around on that third swing, it was the same feeling I had when I crashed in Bradenton due to lack of experience. I got the chutes out to get the car straight, and Warren came around us."
Enders, though, knows her Chevy is still fast – and in one piece.
"I left on him, and we were .988 down low," Enders said of her .020-second reaction time and 60-foot time. "Providing we had a good race track, we were going to the next round to race Shane Gray and not Greg Anderson. That was a big, big mistake – not on our part."