KLR Group driver Erica Enders and crew chief Dave Connolly were honored by Chevrolet during the manufacturer's Media Reception for the SEMA Show Monday night at the Venetian.
Enders was presented the Chevrolet Performance Award from Jim Campbell, U.S. Vice President, Performance Vehicles and Motorsports for Chevrolet. She was honored for becoming the first female to win in a Chevrolet race car in a professional racing series.
The 29-year-old accomplished that feat by becoming the first woman to win an NHRA Pro Stock race earlier this year on July 1st when she drove a Chevy Cobalt for GK Motorsports to victory lane at Route 66 Raceway near Chicago.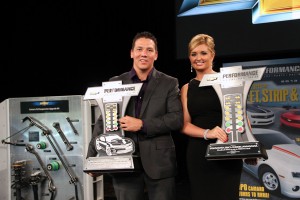 "It was definitely a big honor, and it's something that we're proud of," Enders said. "We're really thankful for Chevy's involvement with our Pro Stock team, and we're hopeful to continue a successful relationship for several years and rack up many more victories for Chevy."
Enders was joined on stage by Connolly, who was also honored for becoming the first driver to win in a Chevy COPO Camaro. Connolly drove the Cagnazzi Racing COPO Camaro to CC/SA Stock Eliminator victory at the U.S. Nationals in Indianapolis in September.
"We're going to try to get another COPO so Dave and I can race them," Enders said. "And we'll both be in Camaros next year in Pro Stock. It'll be really cool for us and cool for Chevy."
Enders' award was a part of a big night for Chevrolet, as she and Connolly helped unveil a special convertible COPO Camaro that will be auctioned off for charity next January at Barrett-Jackson.
In addition to Enders and Connolly, three-time NASCAR Sprint Cup champion Tony Stewart and "Diners, Drive-ins and Dives" host Guy Fieri appeared during the event. Stewart and Fieri revealed special-edition Chevrolets: Stewart a Camaro and Fieri a turbocharged Corvette.
A Texas native, Enders has become a force in the ultra-competitive Pro Stock class this season. She's won four times, including back-to-back wins at Seattle and Brainerd, Minn., to rank among the class elite. She also has three other final-round appearances, two No. 1 qualifiers and two track elapsed-time records.