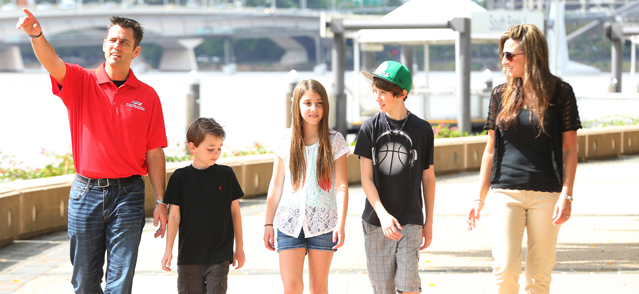 The second-most successful NHRA Top Fuel driver in history – Larry Dixon – took time out from pre-event preparations for this week's Santo's Cranes Super 3 Extreme Drag Race at Willowbank Raceway to chat with local media at the South Bank Parklands this morning.
Dixon will be joined on-track at Willowbank Raceway this Friday and Saturday (29/30 March) by celebrated NHRA crew chief Lee Beard as part of the Rapisarda International Autosport team of Santo Rapisarda, after the pair signed with Rapisarda's NHRA (America's drag racing association) team earlier this year for a full-time campaign.
"Having Lee Beard come over from the States is hugely important to our operation. To put it in perspective, I see it as being similar to when Michael Schumacher went to Ferrari in Formula 1 – he took all of his people with him so there was a comfort and skill level around him – it is exactly the same for me," said Dixon from the South Bank Parklands.
"Lee has won a tremendous amount of races and Championships all on his own in NHRA competition, so we're doing all we can to win out here this weekend. To be racing for my team owner, Santo Rapisarda on his home soil and the trophy that honours his son Louie's memory really is a big deal and we want to keep this trophy for the Rapisarda Autosport team."
Dixon and his young family – wife Allison, daughter Alanna (10) and sons Donovan (12) and Darien (6), enjoyed a walk by the Brisbane River while detailing their expectations ahead of this weekend's revolutionary new event.
"I'm very excited as I've never been to Australia before, as well as being back on racing full quarter mile (400m) racing," said Dixon.
"The Super 3 Extreme format is new to Australia, but I have used this at exhibition races a lot in the past and for other team owner's such as Don Prudhomme. You've got to run quick right out of the box and do your best every time you pull up to the starting line.
"I'll be up against the best that Australia has to offer in Top Fuel, so we have to be prepared as quick as we can – we're racing some of your country's best."
The Good Friday, Easter Saturday event represents a new approach to the sport of drag racing in Australia, with a tight schedule forcing a focus on action-packed entertainment centred around a high-stakes racing program which demands the best from its racers.
Each day, the gates will open at 3.00pm, with the first on-track action at 4.00pm and the Top Fuel and Top Alcohol brackets making their first appearances of the day at 5.00pm. Racing will then be frantic, with the finals each night expected to run at 9.00pm.
Dixon will join 15 Australian racers on-track for no less than two rounds of the ANDRA Top Fuel and Top Alcohol championships in just two days.
The Santo's Cranes Super 3 Extreme Drag Race event will also feature the inaugural Louie Rapisarda Top Fuel Trophy Race, in memory of event sponsor and Rapisarda International Autosport principal Santo Rapisarda's son and Top Fuel racer Louie, who passed away in 1990.
Willowbank Raceway Managing Director Steve Bettes said it was a real coup for Queensland's premier drag racing facility to have Dixon and his crew chief Lee Beard as part of the Santo's Cranes Super 3 Extreme Drag Race.
"Having people of the calibre of Dixon and Beard on-track for the Santo's Cranes Super 3 Extreme Drag Race really ups the ante for the entire event," said Bettes.
"The Australian racers want to prove themselves and beat Dixon on their home-ground, while I know Dixon and Beard are determined to come away from the weekend with a win for Santo and also for Louie.
"With the new approach to the event schedule and race format, we know everyone will be watching keenly to see how this event plays out, and with Dixon and Beard and a great list of Aussie competitors in the mix, I am sure this week's racing will make for a very special Easter celebration indeed!"
The racing won't be the only entertaining factor for fans on-track this Good Friday and Easter Saturday, with visual, audio and interactive entertainment also having been considered.
"Here at Willowbank Raceway we have been working hard on the entertainment package to provide the spectators with something they have not seen before at any other drag racing event," said Bettes.
"We will have light shows, spectator cams, crowd games, a wide range of video elements, a powerful soundtrack, driver introductions on the big screen, and an amazing fire-thrower on each of the lane's timing boards which will be set to go off each Top Fuel and Top Alcohol run to signify that run's winner, amongst other things.
"Combined with the fantastic talent we have lined up for this event and the scheduling, we believe this commitment to entertainment will see the event pushed to the next level for spectators and drivers alike when it comes to visual impact and the overall wow factor; I can't wait to see it all in action this Friday and Saturday!"
Announced at the end of 2012, the Santo's Cranes Super 3 Extreme Drag Race concept, featuring the Louie Rapisarda Top Fuel Trophy Race will see professional drag racing return to the Easter timeslot (29-30 March 2013) at Queensland's premier drag racing facility for the first time in years.
The concept will operate on the idea of two individual championship rounds in one event for the Top Fuel and Top Alcohol categories, with a winner to be crowned on both the Friday and the Saturday of the event.
Seventeen competitors boasting 29 major season championships between them will take to the track across the Top Fuel and Top Alcohol brackets – including US Top Fuel star Larry Dixon, the second most successful Top Fuel driver in NHRA Top Fuel history, who will be joined at Willowbank Raceway by his celebrated NHRA crew chief Lee Beard in the Rapisarda Autosport International team.
Racing will begin with the first pass for all Top Fuel and Top Alcohol cars at approximately 5.00pm followed by an elimination round for all cars later in the evening. From this round, the third and fourth quickest winners will proceed to the 'Preliminary Final' while the two quickest winners battle it out in 'The Final', as per the Special 3 Round Format ratified this season in the ANDRA rulebook.
Once the winner is crowned on Friday, the full field for each bracket will get ready to do it all over again on Saturday, while the winner for the Louie Rapisarda Top Fuel Trophy will be decided at the conclusion of racing on day two using the combined points from both Friday and Saturday.
Joining the Top Fuel and Top Alcohol racers on-track will be an array of sportsman competitors across the Outlaw 10.5, Pro/Modified Street Blown and a range of fixed index, heads-up pro start categories; who will complete three qualifying sessions on Friday 29 March before racing in a Chicago Shootout plus final format on Saturday 30 March.
Willowbank Raceway is Queensland's premier drag racing facility, located 45 minutes from Brisbane or just a short drive from Ipswich, offering a year-round program of events for the entire family. For more information including a full event calendar, please visit www.willowbankraceway.com.au
Click photos to enlarge…