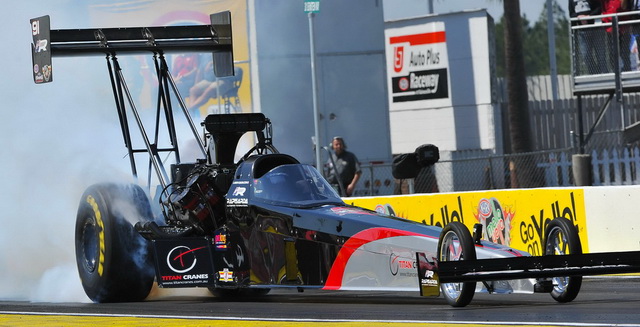 Following a a first-round loss to eventual race winner Antron Brown in this past weekend's Amalie Oil NHRA Gatornationals in Gainesville, Florida, Rapisarda Autosport International Top Fuel driver Larry Dixon and tuner Lee Beard are making a quick side trip to Australia before the next NHRA event, Apr. 5-7, at the The Strip at Las Vegas Motor Speedway.
Without any pre-season testing, the newly-formed drag racing squad has been working to develop a solid foundation competing for victories in the highly-competitive Top Fuel division of the NHRA Mello Yello Drag Racing Series and the Gatornationals provided more needed information for the young team.
Despite the early-round loss to Brown, Dixon and his Rapisarda teammates believe their operation is making good strides with their race car.
"We are still playing from behind right now," Dixon said. "We have about 15 or 16 runs under our belt so we are playing catch up.  But I think everyone feels good about the progress so far. We are waiting on some new parts that will help us in the future."
For Dixon, Beard and the Rapisarda organization, the future means a long trip this week to prepare for the upcoming Easter Classic at the Willowbank Raceway in eastern Australia, home of the Rapisarda family. Dixon will be competing in a two-day event Mar. 29-30, and said he feels excited about the opportunity.
"My passport has only been used once," he said laughingly.  "I went to Qatar once and that is it, so this trip to Australia is really a thrill for me and the family.
"And to be honest, we can learn a little more about our car setup.  We will run the other Rapisarda dragster that is based 'Down Under.'  I know it's a long trip but I'm anxious to get there."
Dixon and his team left Mar. 19, and will work for several days in Sydney before traveling north next week to the event just south of Brisbane.
"We will come straight back from Australia and go to Las Vegas for the next NHRA event," Dixon said. "I think our team is very realistic right now. To be honest, we are pointing towards the Charlotte race in April. We should be prepared with new parts and some additional runs.  Lee says we need to stay on the path we designed at the beginning of the year."
The Gatornationals, one of the most historic races in the 23-race Mello Yello drag racing tour, saw a huge crowd jam into the Auto Plus Raceway at Gainesville during the three days of professional racing.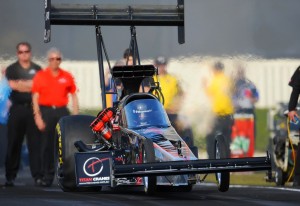 "Having great weather helped the crowd this year and the pits were very busy all of the time," said Dixon, a four-time Gainesville champion. "It was fantastic to see all of the fans again at Gainesville.
"The conditions were good for the fuel cars. We had some good and bad runs during qualifying, and our team going against Antron in the opening round was tough. He and his team are really on their game. They had a great weekend."
Brown clocked a 3.78-second run at 321.81 miles per hour to Dixon's 3.88 seconds at 302.55 m.p.h. in the first round matchup.
"I definitely don't like to lose," said Dixon. "And I know Lee and the Rapisarda team doesn't either, so we will continue our preparation for Las Vegas and Charlotte next up on the NHRA Mello Yello calendar. By the fifth race, I feel we'll have the things we need to race with the front runners. So the runs at Gainesville still help us for down the road."
But before the next NHRA tour event, it's a  good old fashioned "Chicago Style" drag race in Australia for Dixon and his bunch.
"I bet I have been to a hundred 'Chicago Style' races with the Snake (Don Prudhomme) as a mechanic and I have raced in a few of them against the likes of Shirley Muldowney," Dixon recalled. "You run two rounds of competition and the two best times return for the final. So we need to be ready to go when we hit the Willowbank drag strip. And it's more learning for the Rapisarda team and that is good right now."
(Photos courtesy Rapisarda Autosport; Click to enlarge)