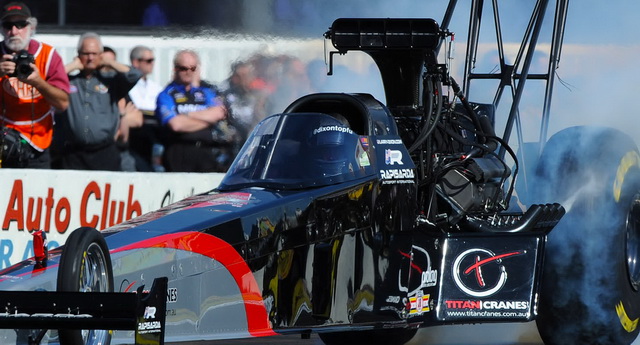 To say that Auto Plus Raceway at Gainesville is special to Larry Dixon would be an understatement.
Nearly 20 years ago, the 46-year-old veteran driver attended the Frank Hawley drag racing school, secured his Top Fuel license and captured his first NHRA Gatornationals title in initial NHRA appearance at the famed Florida pavement strip.  That all happened in less than year.
Dixon, the California native now residing in Avon, Ind., has gone on to appear in six more NHRA Gatornationals finals with three additional Gatornationals victories.  The second generation Top Fuel driver also recorded four No. 1 qualifying positions at Gainesville during his legendary career.
"Gainesville has a special meaning for me," said Dixon.  "I always considered the Gatornationals as one of the big three on the NHRA tour with the Winternationals in Pomona and the U.S. Nationals in Indy.  My dad (Larry Dixon Sr.) raced Top Fuel at those races so they were big for me."
But Gainesville means more to Dixon now have his successful driving career.
"I drove there in Frank's driving school and got my Top Fuel license there in Snake's (Don Prudhomme) car in 1994," he admits.  "In fact, I tied the national record that day so I felt I could handle the dragster.  Then winning the Gators in my first time competing at the track was just off the charts.  That was back in 1995 and I remember it like it was yesterday.  Winning at Gainesville four times has been incredible for my career."
But, last year, Dixon missed his first Gatornationals as a competitor since 1995.  He didn't have a ride. He was still there but in the announcing role for the National Hot Rod Association.  Dixon feels a lot more comfortable this week.
The second winningest Top Fuel racer in NHRA history is returning to the site of those special wins this weekend's Amalie NHRA Gatornationals with his new team, Rapisarda Autosport International.  The Australia-based team brought in drag racing royalty with the addition of driver Dixon and veteran engine tuner (and 54-time NHRA national event winner) Lee Beard this year.
Dixon and Beard had never worked together in their stellar drag racing careers, but both believe they can put the Rapisarda dragster in victory lane for the first time in 2013.
"This team has all of the ingredients to win national events," said Dixon, who'll head to Australia immediately following the Gatornationals to compete with the team's other dragster in a special Easter Weekend spectacular at Willowbank Raceway.  "With our late start in 2013, we have been playing catch-up.  But Lee and I feel this team is improving every day.  We are collecting more parts and preparing for a strong Gainesville performance."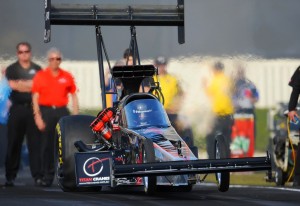 Beard has won NHRA national races with 11 different drivers in his illustrious career and hopes Dixon will make his list an even dozen.  Beard was pleased with the learning process gained at the season-opening Pomona and Phoenix races.
"It has been an uphill battle for us right now since we really didn't get started until the middle of January," said Beard, a two-time Gatornationals champion.  "Going to Pomona and Phoenix were good test runs for the team.  The Rapisarda boys – Santo Jr. and Santino – have great talent as mechanics for just 19 years old.  So we are developing their experience as well as preparing for the NHRA tour.  We still have a ways to go but we are moving in the right direction."
Dixon and his Rapisarda team had not made a run until the first round of qualifying at Pomona last month, so five solid Winternationals runs helped their 2013 Top Fuel setup.  A close first round loss to NHRA champion Antron Brown ended their Pomona effort.  At Phoenix, Dixon defeated Brandon Bernstein in the opening round before dropping out in the second round to Spencer Massey.
Dixon and his squad are primed for a strong performance this week at the legendary Florida drag strip.
"It was tough watching last year at Gainesville," Dixon said.  "I love racing at that track so much and I wanted to be competing.  To be honest, I learned a lot from the outside last year.  Working with Bob Frey in the announcing booth gave me an interesting view.  I feel I am more rounded about what all goes on at an NHRA national event.   But this year I wanted to be back in the driver's seat there."
Top Fuel Qualifying for the NHRA Amalie Gatornationals begins Friday, March 15, with final eliminations set for Sunday, March 17, at Auto Plus Raceway at Gainesville.
(Photos courtesy Rapisarda Racing; Click to enlarge)