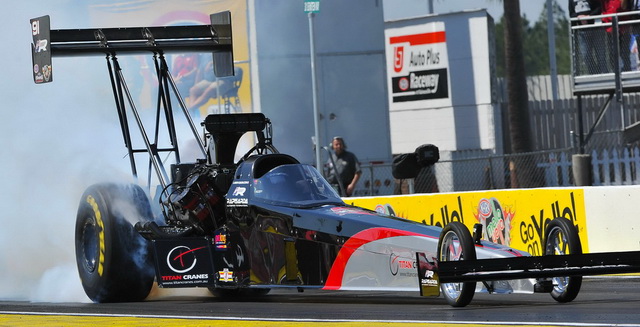 Three-time NHRA Mello Yello Top Fuel drag racing series champion Larry Dixon announced today that he plans to concentrate on securing the necessary funding for his 2014 Top Fuel program and has left the part-time effort of Rapisarda Autosport International (above).
Dixon, 46, is the second winningest Top Fuel driver in National Hot Rod Association history with 62 national event victories as well as the 2002, 2003 and 2010 Top Fuel series champion.  Among Dixon's wins in NHRA competition include four U.S. Nationals at Indianapolis titles and six Summernationals crowns. The California native also recorded the No. 1 qualifying position on 51 occasions.
"I want to thank Santo Rapisarda and the entire Rapisarda Autosport International team for their efforts this year," said Dixon, who began in the sport as a mechanic before taking over Don Prudhomme's seat in the Miller Genuine Draft Top Fuel car in 1995. "However, I have decided to concentrate on 2014 now and work to be ready to go when the season opens in Pomona.  I wish the Rapisarda family all the best in its future racing endeavors."
In January, Dixon teamed up with veteran tuner Lee Beard and the Brownsburg, Ind.-based Rapisarda team in an effort to develop the part-time Top Fuel operation into a race-winning, top-ten racing team.  Dixon set an all-time Australian national record on March 29 with a quarter-mile reading of 4.50 seconds at Willowbank Raceway with the Rapisarda team.
However, Beard left the Rapisarda team for a unique opportunity with Torrence Racing in May and the organization had to regroup as it prepared for the final half of the NHRA Mello Yello drag racing series tour.
"We were improving our performance race to race early on," said Dixon.  "But, when Lee departed, we still needed help on the tuning side. Richard Hogan was brought in when he became available. Unfortunately, we didn't get enough time with him. After that, the team has decided to scale back and we no longer share the same long-term goal."
Dixon is currently developing a new program in the form of Larry Dixon Racing.  Dixon plans to coordinate the new team throughout the second half of the year and looks to have an organization ready to go for the 2014 NHRA Winternationals.
"I have been working in a variety of areas to put a team in place for the upcoming season," said Dixon.  "I believe we can put a championship effort on track next year.  We are continuing to gather information and meet with various people and companies to assist us that have the same vision. I'm anxious to work full-time on this project."