Seventy-year-old Kinston Drag Strip owner Bobby Smith genuinely treasures the experiences and memories associated with operating his eastern North Carolina drag strip for nearly four decades. The reflections of track ownership as well as friendships made along the way is something he ponders often, not to mention the changing drag racing landscape he's witnessed throughout a long-spanning racing career.
Smith was an energetic 15 year old when he first came to work at Kinston in an assortment of odd jobs, and although the youngster longed to be the chief starter (since that's where all the action was, he says), he also realized he'd have to work his way up the ladder to earn the position. "You couldn't just show up and be the starter," he laughingly recalls. "I had to start out doing some brooming and brushing and working the staging lanes and all sorts of other odd jobs in the beginning."
In addition to working at the track throughout his teenage years, Bobby also discovered the thrill of competition in his early 20s as he raced a number of beloved Chrysler cars. He eventually bought the track in 1977 and has operated it ever since, making it among the longest-running track ownership tenures in the state. Among the earliest changes that Bobby oversaw was the decision to restructure the racing distance to begin competing on the eighth mile.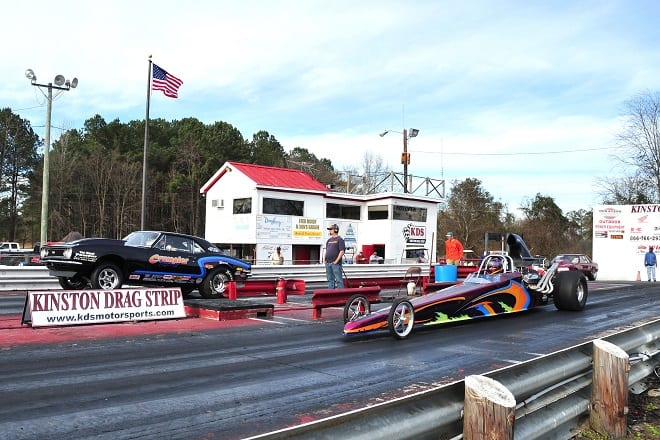 "Believe me, I wasn't real enthused about it either! When I was coming up we raced on the quarter mile and that's the only way I thought a drag race should be done," he remembers thinking. "The cars were getting faster though, and the track wasn't getting any longer, so it was something we had to do."
Bobby admits it literally took years for him to get used to the new format, but came to realize that racing to the 660-foot mark was safer, easier on parts and simply made a whole lot of sense. "Eventually it became the racing style of choice for our bracket program," he says, although to this day Kinston still offers test-and-tune sessions on the full quarter mile.
Another milestone that came under his leadership sometime in the mid-'80s was joining IHRA sanction. "The track was independent from the time it was built in 1960 to when we joined IHRA probably 30 years ago and we've remained IHRA every year since."
Then, in 1987 Kinston launched a wintertime event that eventually would become the most celebrated yearly gathering of the track's entire season. Upon the urging of friends Becky White and Stan Welch, a racing newspaper publisher, Smith embarked on presenting "Winterfest," which was to be scheduled when no other event was going on, at least not in North Carolina.
"We selected the first weekend in January to hold the event," Smith recalls fondly. Bobby was as curious as anyone to see if people would actually show up and says he felt somewhat relieved when 60 racers entered the inaugural Winterfest. The race only got bigger once word of its existence got out and at the height of Winterfest mania—not to mention a booming economy sometime around 1999 or 2000—a record 440 entries squeezed into the pits at Kinston Drag Strip.
Regardless of the economic climate, if there's a decent weather forecast for the first weekend of January you can pretty much bet on several hundred bracket cars showing up for the two-day Winterfest. "I never imagined the event would last for almost 30 years now—and for that matter, I never imagined I'd last for 30 years either!" Smith adds, laughing.
This year's running of Winterfest ushered in a beautiful 70-degree day for Sunday's finale. Winners for 2016 include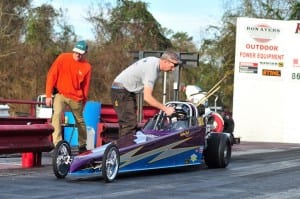 Tommy Plott in Top E.T., who got past David Phipps in the final round. Remarkably, Phipps also went to the final in Saturday's eliminator, taking runner-up to the dragster of Chad Duke. Tommy Duff doubled up Saturday and Sunday with top honors in the Modified class, while Tyler Duff and Jayden Lauler took wins in Jr. Dragster.
"From here on out we hold test-and-tune sessions on Sunday afternoons until the weather warms up and we return to our normal Thursday-night schedule in mid-March," Smith says. Roughly eight points-paying bracket races are held throughout the season, beginning in April and ending in August.
Smith is also anxious to put his vintage 1970 Plymouth Duster back on the track. "I've still got the Duster that Herb McCandless fixed for me eons ago and my grandson is itching to drive it, so I'm about ready to drag it out again," Bobby says with a smile just before confessing that he, too, is excited at the thoughts of making a pass or two in the old Mopar.
Additionally, Smith routinely leases Kinston Drag Strip throughout the season to outside promoters for special events such as grudge races, car shows, motorcycle events and concerts. Regardless of the purpose, though, the venue is never in operation without Bobby present. "If the gates are open, I'm here—you can count on that!"
This story originally appeared in Drag Illustrated Issue No. 107, the #Trending Issue, in March of 2016.