Fans of quarter-mile Pro Modified drag racing have a lot to look forward to in 2015, especially when it comes to the NHRA side. The NHRA J&A Service Pro Mod Series has new backing this year from oilfield service provider J&A Service and its owner and Pro Mod competitor, Jim Whiteley. Class participation is through the roof, with full fields entered for all 10 races and even more racers begging to enter. New cars are popping up left and right. The Pro Mod class will even see a few new faces in 2015.
The NHRA J&A Service Pro Mod Series racers will start their season at the Amalie Oil NHRA Gatornationals, March 12-15, in Gainesville, Florida. Here's a quick recap of some of the offseason changes, new car builds and reasons why we're excited for the 2015 NHRA Pro Mod season
New C7 Corvettes
The eagerly awaited C7 Corvette Stingray body is set to make its NHRA Pro Mod debut this weekend. The three power adders will have each have at least one C7, with nitrous racer Bob Rahaim and turbocharged Troy Coughlin debuting their Corvettes at Gainesville, while Danny Rowe has announced plans to have a supercharged C7 ready to race around the Englishtown race.
Full Fields Expected
In a time when some of the other Pro classes are struggling to fill their 16-car fields, it's refreshing to know there's an abundance of NHRA legal Pro Mods ready to race. As of late Tuesday night, there are 26 Pro Mods entered for the Gatornationals. Even more exciting – over 23 teams have already entered for all 10 races. The NHRA has opened up 28 spots for most races and a whopping 34 spots for the Chevrolet Performance U.S. Nationals in Indianapolis over Labor Day weekend. Almost 30 of those spots are already claimed!
The Series Has a New Sponsor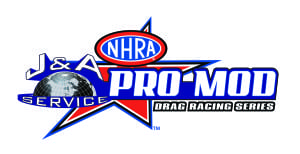 Two-time NHRA Top Alcohol Dragster national champion Jim Whiteley made the switch to NHRA Pro Mod last year, sponsoring the Houston event and fielding a pair of supercharged entries with son Steven. Jim and his wife Annie, owners of J&A Service, decided to invest in the class further this year. J&A Service, a national oil and natural gas well-servicing business, will sponsor the 10-race series for 2015, providing a $200,000 purse with the champion receiving $50,000. The company will also sponsor the two new YNOT Racing Pro Mods – a Chevelle driven by Jim and a Cadillac CTS-V wheeled by Steven.
TJ Coughlin Steps up to Pro Mod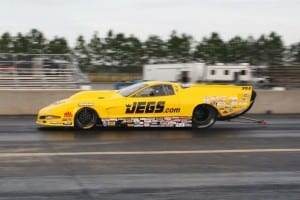 NHRA Super Gas divisional champion TJ Coughlin is making his Pro Mod debut at the Gatornationals behind the wheel of a JEGS Mail Order 2014 Corvette previously driven by his dad, 2012 Pro Mod champion Troy Coughlin. The third generation racer enters the Pro Mod class after several years of success in the sportsman ranks. He won his first national event in 2009 at age 19 and has won two U.S. Nationals titles since then. Turbocharger guru Steve Petty will tune both of the Coughlins' Corvettes.
A former champion returns
Khalid alBalooshi, the 2011 NHRA Pro Mod champion, is returning to the class this weekend after spending the last three seasons driving the Al-Anabi Top Fuel dragster. When Al-Anabi dropped funding of its U.S. race teams earlier this year, alBalooshi was left looking for a ride for 2015. He found it just a few weeks ago when he partnered up with the Precision Turbo team owned by Harry Hruska. alBalooshi will drive the '68 Camaro previously driven by Don Walsh Jr. and Brad Personett, serving as a team car for the PTE 2014 Camaro driven by Walsh.
GOOD READS
If you want to read more about the growing participation in the NHRA J&A Service Pro Mod series, specifically the process required to enter all 10 races, check out this DI piece with commentary from Danny Rowe, a longtime Pro Mod driver and Real Pro Mod Association board member.
With 2015 being the 25th anniversary of Pro Modified becoming a class contested on a national level, Competition Plus recently partnered with artist Ian Hawkins to come up with a series of renderings pairing the drivers and paint schemes of Pro Mod's past with current body styles.
GOOD VIEWS
If pre-season testing numbers are any indication of what's to come, you can expect a solid Gatornationals debut by T.J. Coughlin. He clicked off a 5.967 elapsed time at almost 250 miles per hour at South Georgia Motorsports Park last weekend.
Whether you missed the original broadcast or you want to review for this year, here's the full 2014 NHRA Gatornationals Pro Mod coverage show from Velocity.
When Khalid Al Balooshi made his Pro Mod debut at the 2011 Gatornationals, few would have expected him to go on to win the overall championship. Though he was driving a very capable Shannon Jenkins-tuned Speedtech Nitrous Camaro, the Dubai resident really hadn't planned on racing the full season.