Ah, the life of a drag racer. More often than not, it is a swinging pendulum of joy and torture, small accomplishments and painful downfalls, big dreams and harsh reality. In truth, it isn't ever easy – but when drivers clock out of a national event grinning widely and hoisting not one but two trophies, it is oh-so-tempting to think that tremendous success is right there for the taking. Perhaps that is precisely what drives those thousands of dedicated Lucas Oil Drag Racing Series competitors as they travel far and wide to play in one of the most competitive, costly, and rewarding games on the planet.
Jimmy DeFrank's drive was unequivocally rewarded when he doubled-up at the 2015 SummitRacing.com NHRA Nationals at The Strip at Las Vegas Motor Speedway, taking home the trophy in both the Super Stock and Stock Eliminator classes for the second time in his career and earning wins No. 16 and 17. He defeated Brad Burton in the Stock Eliminator final and Les Norton in Super Stock.
"We were so excited, and so thankful. It really does feel like a dream," said DeFrank, who earned his first NHRA Wally at the 1995 NHRA Finals and first double at the 2013 Winternationals. "I never saw it coming, and I didn't realize we even had the opportunity until we were actually in both finals. I looked to the guardrail wall immediately [in the Vegas Super Stock final] to look for the win light, and there it was. My dad came on the radio at the same time yelling that we had won; we won both! I was so excited that I was yelling inside the car and nearly lost my voice. My mom and dad, Jeff Taylor, and Tom Kerr drove up to the end of the track immediately and we met by the scales and were all hugging and high-fiving. I just kept saying, 'Can you guys believe this?!' Everything just happened so fast during that last hour of the day, and I could not believe we had pulled it off. That day made our whole racing year and became one of our biggest accomplishments in the past 20 years.
"I feel like Las Vegas completely turned the season around and gave us hope that we can still win a race. Sometimes you really start to doubt, but we just kept chipping away at it, and we'll continue to do that. It is so competitive, and the difference between a first-round loss and making it to the final is so, so close. We need to stay on top of everything and stay focused, but this was a great beginning."
Surprisingly, DeFrank started somewhat slow on the national scale this year, but he was suddenly making it look easy in his endeavors on the 2015 tour. As always, the driver of the California Car Cover SS/CM '10 Cobalt and B/SA '69 Camaro kicked off the year in Pomona at the season-opening Winternationals, but this time he was solely focused on Super Stock as brother Tony DeFrank, an accomplished drag racer in his own right with six national event wins in nine final rounds, was piloting the DeFrank & Sons Racing Chevrolet Camaro in Stock Eliminator. Tony was behind the wheel for the first two nationals and had the trusty Chevrolet all warmed up; when Jimmy jumped in at the Division 7 Lucas Oil opener in Phoenix, he drove it all the way to the winner's circle as a pre-cursor to the Las Vegas double.
Following his demolition of the Super Stock and Stock categories at the national in Vegas where he recorded the 30th national event double in NHRA history, the unbelievable run continued the very next weekend as he competed in both Super Stock and Stock at the second Division 7 race on the schedule. He nearly did it again, but ultimately, DeFrank got to the quarterfinals in Stock and won the Super Stock trophy with a final-round defeat of Dave Bridgewater.
"It was another very special weekend," said DeFrank, who shared the winner's circle with friend Kyle Seipel, amongst other esteemed drivers. "It is very difficult to win two consecutive weekends, and this was more than just a race win for us. It was really big. It did cross my mind that we could double again as things kept going on Sunday, but I made a poor call on the Stock dial, we ran too far over, and we got beat. It was just a lesson learned, but I am thankful for the late-round finish and the Super Stock win. I really can't be disappointed. I know the chances are so slim, but it sure would have been cool to double two weeks in a row."
The DeFrank family has an exceptional history at The Strip at Las Vegas Motor Speedway. Jimmy has sealed up championships and won both national and divisional events there – six times he has been a finalist at the national level with three victories earned – and brother Tony has two wins in four final rounds in Las Vegas national competition. Notably, Tony also won Stock at the Division 7 race there in 2013. In his early career, Tony was unstoppable in national event final rounds and won the first six in which he competed.
"We were so happy for him, and so proud," said DeFrank. "I do think Tony will run the Stocker again this year and next, and maybe he'll even jump into Super Stock for a race or two. It's always wonderful to have him at the races, and we enjoy being there as a family with our dad Jim, mom Loraine, and Tony's wife Meghan. Win or lose, we are always just thankful to be there together."
Now competing in his 20th season as an NHRA sportsman competitor, Southern California-based DeFrank has been afforded the chance to double up at a national event five times. The first opportunity came in 2000 at the NHRA Finals where he was runner-up in Comp to Arnie Martel and beat Mark Faul for the Super Stock trophy. Nine years later, at the 2009 World Finals, DeFrank got the best of Bob Bales in the Super Stock final and battled for the Stock trophy against winner John Shaul, and the next season he was runner-up in Super Stock to Tony Mandella in Sonoma but earned top honors in Stock with a defeat of Jim Durham.
Prior to this season, DeFrank hasn't had quite as much success in the Stock Eliminator category as he has in Super Stock, where he has earned four national championships and 11 division season titles. His Stock national event scorecard includes three wins in seven final rounds.
"I've always been more comfortable in Super Stock, I think because it was the first category I ever ran, and also because of the transbrake," explained DeFrank, citing the mechanism on the steering wheel that places the transmission in first- and reverse-gear at the same time to hold the racecar in place until ready to launch.
"I'm just used to leaving with my thumb more than with my foot. But this year, we're making more of an effort to make good runs in Stock, and our friend Dave Ficacci, who runs the same car in Division 1, had some suggestions on carburetor tuning that have made the car more comfortable to drive and work with. I know I'll make some mistakes throughout the year, but I really hope we can continue a nice pace in Stock and stay focused. The first time I drove a Stocker was at a few races in 2005, and the first year I drove it full time was 2008, so I still have a lot of learning and catching up to do. The Camaro is a great racecar, and it deserves our attention in driving and dialing. Both of our cars are absolutely wonderful thanks to the watchful eye and decision-making of my dad, Jim."
DeFrank says that while they do plan to increase their focus on Stock Eliminator and strive for continuous improvements, they will not shift focus from Super Stock. They simply plan to place equal emphasis on making strides in both cars.
"I think we will just keep taking things one race at a time," said DeFrank. "We have a nice start and are very excited, but we also realize that racing is very competitive, and we're going to lose early sometimes. We do go to races to win, but it's bigger than that for us, because it has always been something that we have done as a family.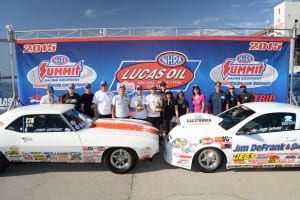 "Racing has only strengthened us. We get to be together and have those fun times and work towards the same goals. We absolutely have some of our best family memories at NHRA drag races. There are times when we have jumped up and down and hugged and cried tears of joy celebrating a special win. I wouldn't want to change anything about the way we have done things. No matter what, we're going to enjoy every day and every round together as a family. That's always our goal."
(Story and photos provided by Kelly Topolinski)
GOOD READS
One of the featured stories on the MSN homepage over the weekend was this Hot Rod article covering the evolution of the Funny Car, focusing on Jack Chrisman's series of floppers for examples. It's a quick, informative piece with some very cool old photos.
As the only blind crew chief in motorsports, Top Alcohol Funny Car owner and crew chief Jay Blake has earned a ton of press, having been featured on NBC Sports and the pages of The New York Times, and now Drag Illustrated. Read Blake's story in the DI Crew Chief Special Issue, then head over to the Follow A Dream team Facebook page to congratulate Jay and driver Todd Veney on their win at the Richmond, Virginia NHRA regional race last Saturday.
If you're one of the individuals who is vehemently opposed to the thought of electric vehicles, much less racing them on a drag strip, look away now. A 71-year-old drag racing novice recently drove his new Tesla P85D to the track to make some runs and reported back with his results and overall experience. The all-electrical vehicle, available from dealers for about the same price as a race-ready Cobra Jet Mustang, turned in a best of 11.69 at 115 mph. You can see the time slips and video in the article here.
GOOD VIEWS
Engineering Explained, a popular tech channel on YouTube, recently posted this feature on the technical side of Top Fuel clutches. The host, Jason Fenske, spent some time with the Dote Racing team at Pomona to learn all about the science behind the kings of our sport.
This little Chevy LUV is straight nasty! The combination of a blown, short wheelbase truck at a no-prep race is a recipe for trouble. After getting a little sideways in the burnout, the LUV blows the tires off at the hit and then blows something else. Hit play to see more!