The NC Street Outlaws series visited Timberlake, NC's Roxboro Dragway Aug. 30, as fans and racers enjoyed a great day of racing and equally great weather.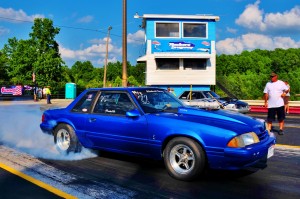 Series founders Jamie Doss and Jamie Parsons were excited to bring the show, promoted under their J&J Promotions banner, to this fast eighth-mile facility for the first time since launching the series in the latter part of 2013. Track owner Jr. Ward and the staff at Roxboro had the track working great and fans enjoyed thrilling, side-by-side competition throughout the day.
The event attracted an exciting array of cars in a broad range of classes not only from North Carolina, but several surrounding states. "We encourage people to come out and get in where you fit in," Parsons said.
Brand new at this event was the inclusion of the VA Street Outlaws, who were invited to do battle with the Tarheel state entries. The thrilling final round saw Todd Vanadas from North Carolina meet Virginia's Monty Williams, both driving Camaros. Vanadas was out of the gate first and in the lead before his Procharger belt let go, allowing Williams to drive around for the win.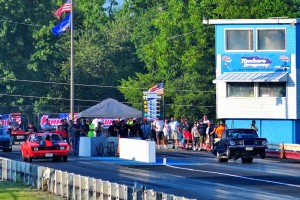 "It was a stand-on-your-tip-toes run that everyone enjoyed," Doss said of the final round. "We call it 'Battle of the States' and we can't wait to do it again next year."
A total of four exciting classes were on hand at Roxboro. In addition to the headlining NC Street Outlaws class, fans enjoyed heads-up competition in 6.49 and 7.49 index classes, as well as a new class called True Street that was introduced at the event.
"This is a neat, grassroots class where the entry is truly streetable, tagged, insured and registered," Doss explained after True Street participants even went for a cruise around the Timberlake area before meeting back at the track to go head to head and find out who had the fastest car driven to the drag strip.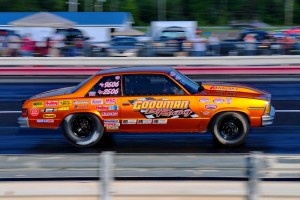 "This is a class that a lot of people can relate to and it's also how many people first got involved in drag racing and became acquainted with the fundamentals of driving," Parsons added.
The NC Street Outlaws had several more events planned for this year including a stop at Farmington Dragway in September and a return to Tennessee's Knoxville Dragway on October 11. For more information about the NC Street Outlaws visit them online at www.ncstreetoutlaws.com. Complete results from their events also can be viewed by visiting the NC Street Outlaws on Facebook.
(Photos by Van Abernethy)
GOOD READS
GOOD VIEWS
Here's a wild little mail truck/go cart making passes in 2012 at Shakespeare County Raceway in England. It's a real handful off the line, but runs 19-seconds over the quarter mile at nearly 100 mph once it settles down.
No doubt Valdosta, GA's Mike Rowan's wild, big-block Chevy-powered VW van will be at this weekend's No Mercy V drag radial race at South Georgia Motorsports Park — on the spectator side of the fence. This one's a true daily driver that epitomizes the rat rod vibe! Truly unique!
Speaking of No Mercy V, one of the heaviest of hitters there will be Oklahoma's Dewayne Mills and his twin-turbo '68 Camaro, whose heroics a couple of months ago in Tulsa are documented in this video by our friend Sean Melton at Urban Hillbilly Action Videos. Enjoy!