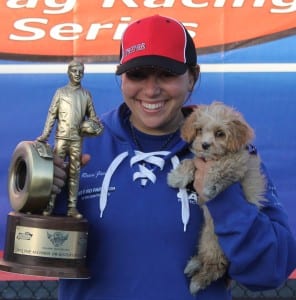 Super-class standout "Miss Mia" Tedesco scored the first NHRA national event win of her young yet impressive drag racing career last weekend, not in a Super Gas car or Top Dragster, but in a nitro-injected A/Fuel dragster. Now in her second year competing in Top Alcohol Dragster, Tedesco qualified number one at the NHRA Four-Wide Nationals and strung together four win lights to become the 199th female to win an NHRA national event.
Tedesco is familiar with the winner's circle, having won two $10k bracket racers before turning 18, but the prestige and fanfare surrounding a national event win are unlike any of the races Tedesco won before this weekend.
"In my eyes, a win is a win, but a national event win has always been in the back of my mind. It's been one of my goals, and to finally do it the way that we did it is just incredible and I feel so blessed."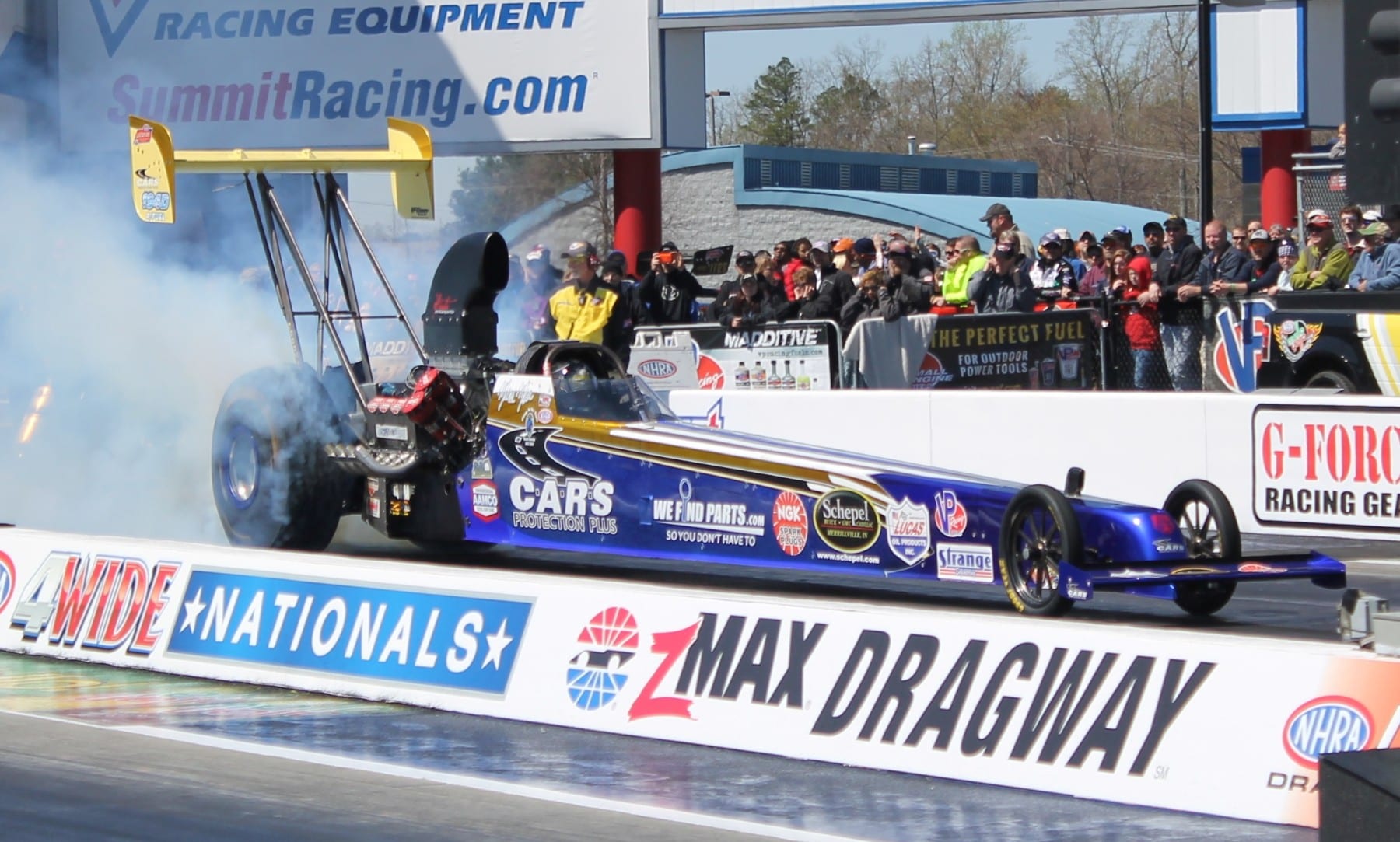 Both Tedesco and car owner/tuner Dave Hirata acknowledged that their road to the winner's circle wasn't perfect, but the Midwest team was on the receiving end of some lucky rounds. First round opponent Mike Lewis smoked the tires, second round opponent Marty Thacker went into one of his infamous wheelstands, and semifinalist Randy Meyer left too early. In the final round, Tedesco and rookie Jake Allen both dropped cylinders, but Miss Mia's qualifying effort, a 5.229 at 277.77 mph, stood for low elapsed time and top speed of the event and proved that the C.A.R.S. Protection Plus dragster is heading in the right direction.
"Qualifying number one was another first. I've been on cloud nine this whole weekend. Qualifying number one was awesome, then I didn't think I won the semifinal against Randy Meyer until I realized he red-lit. I didn't think we won that final round either because he was ahead of me. It just all worked out for the better and I couldn't be more happy.
"This weekend has sure brought my confidence up. Last weekend we struggled with a lot of gremlins shaking the car. We tested before the Gatornationals and after the Gators and I think we finally figured it out. This weekend was a great confidence boost for me and my team," said Tedesco.
The 21-year-old Pennsylvania native had to do some driving to get to the winner's circle, and reacted to the situations better than she might have during her rookie season last year.
"Last year it was a lot of thinking, more so than this year. Now it's just a routine and I know it. I had to think, 'alright, hand brake, clutch.' I'm used to a transbrake and nothing like this, so I had to think a lot. But now if it shakes, I'm pedaling it. It's just a lot of action and I'm getting more comfortable. I had to pedal it I think two rounds and thankfully I did, and thankfully it turned out like it did. It wasn't the race I thought it would be – I thought it would be a lot better. But a win is a win and I'm still happy," she noted.
Mia had to draw from another learning experience after winning the race in Top Alcohol Dragster, as her hopes of scoring a double-up were still alive in the Super Gas semifinals.

"I was surprisingly calm. I just wanted to stay calm, focused and continue to do my job to see if I could win another one. I was in two finals at Gainesville two years ago and I was all hyped up. I prepared myself to not ever let that happen again. I think staying calm and focused was the best thing I could've done."
Though she ended up losing that semifinal to eventual race winner Jim Perry, Tedesco was satisfied with the event, in which she won a total of eight rounds.
"God has really blessed me this weekend," Tedesco praised. "My guys worked really hard and did an amazing job every round. C.A.R.S. Protection Plus, WeFindParts.com, NGK Spark Plugs, Schepel Motors, and Lucas Oil all help us out. This race weekend has been for my Uncle Carmen; he passed away a few weeks ago."
The next stop on Mia Tedesco's 18-race TA/D schedule is the NHRA Lucas Oil Series North Central Region opener at Lucas Oil Raceway in May.
GOOD READS
Looking for more results and notes from the NHRA Four-Wide Nationals? Check out our RETURN ROAD article, recapping some of the best and worst moments from the race.
The guys at Bangshift.com are reporting that NASCAR will re-enter the drag racing game in 2016. Make sure you check the date after you're done reading this one.
Nostalgia Funny Car-turned-Pro Mod-turned-Top Fuel driver Leah Pritchett recaps her eventful Gatornationals weekend in her latest NHRA.com driver blog.
GOOD VIEWS
Swedish racer Jonnie Lindberg picked up the Top Alcohol Funny Car Wally at the Four-Wides, but the event win was almost an afterthought when you consider this run. Before the Charlotte race, no TA/FC in the world had dipped into the 5.3s at 270+ mph. By the end of the race, Lindberg ran two sub-5.4-second runs and three 270+ mph blasts.
The super-cool conditions covering much of the southeast also affected the performances at the Outlaw Street Car Reunion at Memphis last weekend. Jason Michalak drove his Billy Stocklin-tuned Corvette to this 3.97/194 mph lap, all while snowflakes were falling in the pits!
You don't have to be a Larry Morgan fan to be happy about his win at the Four-Wide Nationals last weekend. The Pro Stock "nice guy" won for the first time since 2009, and if his quick lights and consistently quick elapsed times continue, it won't be long before Morgan is hoisting his next Wally.