The hunt for a new Outlaw Drag Radial ET record has been going strong for quite some time, but on July 20, "Big Daddy" DeWayne Mills had his '68 Camaro set on kill and reclaimed bragging rights with an insane pass during the Radial Revenge Tour race at Osage Casino Tulsa Raceway Park.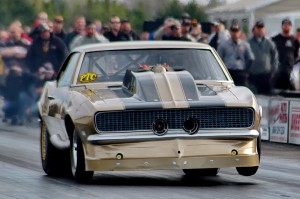 Having held the record himself not too long ago, everything came together once again for Mills that day–great track prep, an unstoppable car and flawless driving–with the result nothing short of legendary.
"The track was really great, and we had great weather. A cold front came in, temps came down, and David Cook and the guys had the track prepped right," said Mills, of Sand Springs, Oklahoma. "The track was as good as any other place in the country that day. They really put it all together and had everything set to make records happen."
Running in the right-hand lane against fellow twin-turbo driver Mark Woodruff in the third round of qualifying for Radial vs. the World, Mills kept his focus on putting down a solid hit with his "Golden Gorilla" Camaro. He was rewarded with not only the top spot, but also the quickest-ever radial tire pass, having gone 4.087 seconds at 194.91 mph over the Tulsa eighth mile.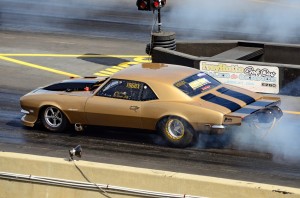 As a bonus, Mills also jumped up to number-one on DRAG ILLUSTRATED's Top 8 list for Outlaw Drag Radial Eliminator.
"It's great to see a first-gen Camaro making it happen since it seems like everybody's either got a Mustang or a Corvette," Mills said.
Then, to prove it was no fluke, he ran even quicker the next day.
"We had a competition bye in the first round of eliminations. I ran it through first, took it easy, and when we got back to the pits we changed the fluid in the rear end and let it cool off," Mills recalled.
"We had a bye run from the ladder in E2 as well and went 4.080 that time out. That should be the record right there," he added. "We also went 4.09 and 4.10 that weekend. I definitely wouldn't call it a 'one-hit-wonder' pass!"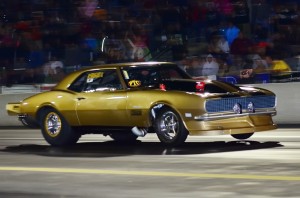 Mills acknowledged the hard work that went into making the record run happen, thanking his wife, Tara, and daughter Kallee, Tim Davis, Jamie Miller from Proline Racing and Mark at Mark Micke Transmissions. "It's definitely been a joint effort trying to go faster and faster. Each time we find a weak link, we fix it, and then we go faster the next time out."
With records meant to be broken, Mills expressed no doubt someone will go even quicker soon enough–maybe even himself before the year is over.
"I still believe the record will be lowered again by this fall. I know we can go 4.05, so we'll just have to see how many others out there can hang in with us," he said.
 (Photos by Jason Dunn and Ian Tocher; Click to enlarge)
GOOD VIEWS
Here it is, if you want to see what Mills' record-setting pass looked like.
Here's a collection of great saves by some great drivers collected by our friend Sean Melton at Urban Hillbilly Action Videos.
GOOD  READS
This story is actually a prequel to the recent NHRA national event at Sonoma, CA, but it still presents a nice, behind-the-scenes look at the relationship of husband-and-wife Pro Stock Motorcycle teammates Matt and Angie Smith.