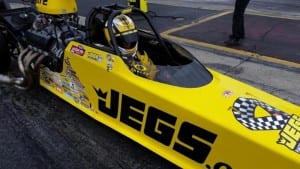 Six-time NHRA drag racing champion Jeg Coughlin Jr. will make his 2015 debut April 22-26 at the third annual K&N Spring Fling Vegas at The Strip at Las Vegas Motor Speedway. The 74-time national event winner knows he'll be immediately tested at the event, billed as one of the largest and toughest bracket races in the country.
Six-time NHRA drag racing champion Jeg Coughlin Jr. will make his 2015 debut April 22-26 at the third annual K&N Spring Fling Vegas at The Strip at Las Vegas Motor Speedway.
"I'm picking one heckuva race to make my return," Coughlin said. "Considering the level of competition that shows up at these events, I'll certainly have my hands full from the get-go.
"Driving a yellow car with JEGS on the sides tends to bring out your opponent's A-game, so I'll need to get up on the wheel right away. Still, I'm excited. This style of racing is my first love, and it'll be fun to once again go toe to toe with the top bracket racers in the country."
Taking a second break from professional racing to spend more time with his own family and he and his brothers' primary business, JEGS Mail Order, Coughlin plans to once again hit as many high-dollar bracket races as his schedule allows this season.
In Las Vegas, Coughlin will be racing two vehicles in the Super Pro category: his distinctive JEGS.com Chevy II wagon and a yellow-and-black JEGS.com dragster.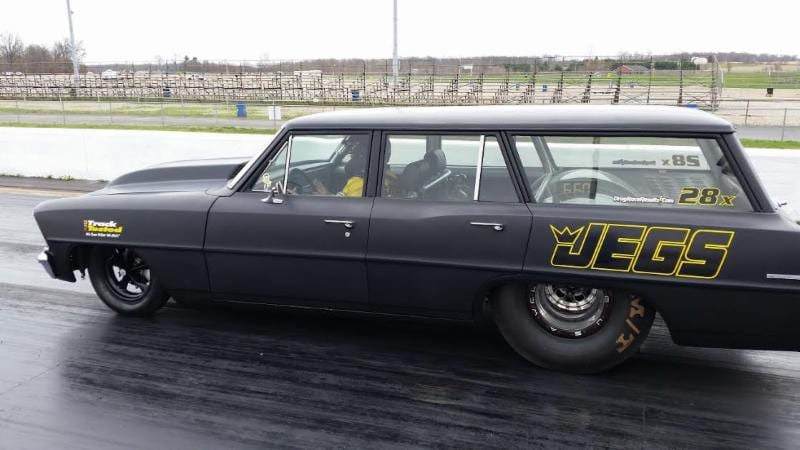 "The last time I raced the dragster we had it set up for Super Comp and I ended up winning the race," Coughlin said. "It just so happens it was in Vegas in the fall of 2012. That gives you an idea of how long it's been since I've been in the dragster. I haven't raced the wagon for two years either.
"Ideally, there's no question I would have preferred to have run a few events to get some seat time, but my schedule didn't work out that way for me. We did make a few cracks at it testing at National Trail Raceway the other day, so that will have to do. I felt a little rusty but we'll be OK."
Coughlin will have no time to adjust to having someone in the other lane as he plans to take part in the $50,000-to-win, 32-car Silver State Shootout on Wednesday evening.
"We jump right into the fire," he said. "Might as well swim with the sharks from the start. It'll be fun no matter what, and I'm anxious to get back out to a dragstrip. My family and business life is great and now it's time to sprinkle in a little more drag racing."
To date, Coughlin has scored eight victories at The Strip at Las Vegas Motor Speedway.
GOOD READS
While we're on the topic of the Coughlin family, check out this thrilling recap of Troy Coughlin's epic thrash before the Pro Mod semifinals at the NHRA Gatornationals last month. Coughlin and crew chief Steve Petty handled the situation expertly, but they certainly don't want to go through that again as Troy and the rest of the NHRA J&A Service Pro Mod competitors return to competition at the O'Reilly Auto Parts NHRA Spring Nationals in Houston, Texas this weekend.
Speaking of Steve Petty, he's on the cover of our new Crew Chief Special Issue. In the issue, championship drivers and crew chiefs from all forms of drag racing talk about what they think makes a great crew chief.
NHRA Funny Car rookie is an experienced Nostalgia Funny Car champion, but he's still getting a hang of the big-show car. Car owner and crew chief "Big Jim" Dunn is helping the Texan progress as a driver, and as Hale says in this Competition Plus piece, the process is working. In just five races, Hale has been to a final round (Gainesville) and just recorded his 4.0-second run at Las Vegas.
GOOD VIEWS
The guys at Team JEGS sent us this video of Jeggie getting in a few test hits in his Chevy II at National Trails Raceway near the mail-order giant's Ohio headquarters. It's a neat little wagon, that's for sure!
Though you'll need to wait until this fall to watch the full NHRA J&A Service Pro Mod Series TV show from the Gatornationals, you can catch this footage of the final qualifying session from Gainesville.
And thanks to Masters Entertainment, you can recap last year's episodes for free on their YouTube channel. Here is the Spring Nationals coverage from Houston last year.