On Sunday, March 15th at 2:23 p.m. in Gainesville, Florida, believe me when I say all hell was breaking loose in the pit area of Troy Coughlin and his son, Troy Jr., driver of the JEGS.com NHRA Pro Mod Corvettes.
After what already would have qualified as a monumental weekend for the family-first racing team –Troy Jr. had snagged the No. 2 qualifying spot in his Pro Mod debut with his dad not far behind in No. 5–the yellow-and-black boys took things to an entirely different level. Following the dispatch of Kenny Lang and Kevin Fiscus from the opening elimination round of the 2015 J&A Services NHRA Pro Mod Drag Racing Series season, the Coughlin boys proceeded to knock off two of the series' most competitive drivers in Mike Janis and Billy Glidden.
With only two wins separating the father-and-son team from an all-Coughlin Pro Mod final, it seemed as if the stars and moon were well on their way to lining up. But it turned out there would be little time to even consider the possibility. Turns out both cars were hurt–Junior's whip, the twin-turbocharged 2012 Chevy Corvette that carried his father to the 2012 NHRA Pro Mod championship, had suffered a broken center section amongst various other minor issues; dad's brand-new Bickel-built 2015 'Vette had smoked a torque converter and transmission.
When the two cars arrived back in the pits and discovered the extent of the damage–well knowing how quickly NHRA officials would be calling them to the lanes–a thrash of monumental proportion ensued.
Sure, this is probably one of the best-funded and most-well-organized operations in NHRA Pro Mod, but having both cars suffer major mechanical failures in their very first outing as a two-car team was obviously beyond what they were prepared to tackle–manpower wise–between rounds. And let's be honest, this is a team that has the financial wherewithal to buy the best parts and pieces money can buy, as well as the veteran leadership to go above and beyond when it comes to routine maintenance. Parts failure of this magnitude–at least simultaneously–was probably something they considered unlikely.
But shit happens (especially at the drag strip).
Simply knowing they had shiny new parts in the trailer that would cure their hot rods' respective ailments (which, of course, they did) was of little solace. It wasn't a matter of having or not having, it was a matter of whether or not this small group of guys could possibly do this amount of work in this amount of time.
For me, personally, there is where it got interesting. Hanging out in the Pro Mod pits and chatting with my pals Danny Rowe and Steve Matusek, who, unfortunately, had become spectators by Sunday afternoon, we quickly took notice of a seismic shift in the atmosphere of the JEGS.com pit area directly across the way. Generally speaking, the Steve Petty-conducted orchestra that is Troy Coughlin's compound at the drag strip is, well, much like an orchestra. Petty's even-keeled nature extends across the whole team. Yeah, Troy is almost always smiling, but there's an uncanny sense of structure and form amongst them all. In all the years I've been around these guys at the races (since they got together), I've never seen anything that even came close to resembling a scramble. This was different.
Listen, these guys are world-class from top to bottom. Steve Petty has won at every level of doorslammer drag racing, Troy Sr. is a two-time world champion, even T.J., while a newcomer to Pro Mod, has taken to the quarter-mile a thousand times. Nobody was panicking, nobody was throwing tools, but there was concern in the air–serious concern.
By 2:45 the NHRA guy on the scooter had been by at least four times. Bob Rahaim and Pete Farber, whom the Coughlins were to meet in the semis, had already rolled out and headed for the staging lanes. Danny, Steve and I had migrated to the back of Troy's trailer, all of us wishing we could somehow be of help, but not wanting to get in the way or derail what has always been one of Pro Mod's truly well-oiled machines. When officials showed up again it was clear the boys in yellow and black were out of time. Part of the crew, including JEGS.com "A-Team" members Mike Rees and Justin Beaver were buttoning up T.J.'s car and had it on the ground, while Troy's 'Vette was still up on Pro-Jacks with the rear wheels and tires off, doors and front-end removed, wheelie bars down and, after the tranny and converter swap, in need of transmission fluid. Troy's brother Mike and his guys, Greg Cody and Tony Collier, thrashed to pack the 'chutes on the new C7.
Literally covered up to his elbows in grease, sweat dripping from his brow, Troy Coughlin, whom one might most often see hanging out in the pits smoking a cigar, climbs out from under the back of his car, having finished slamming the driveshaft in this thing and, calmly pulls his black Oakley sunglasses off the top of his head and down over his eyes.
At this point, it was time to at least try to be helpful. Matusek hung the doors while Danny helped Troy put on his head-and-neck restraint. I lent a hand to second-year JEGS.com crewman Kyle Pettis in getting the car down off the jacks and the front-end on while Danny Rowe Racing crewman Andy "Chop" Denny put the pins in the wheelie bars. Troy's wife, Julie, had already pulled the golf cart around and backed it up to the front of the pit so they could hook up and pull the car straight through. I still can't remember exactly how the rear wheels and tires got back on the car.
All the while, Steve Petty is everywhere.
With T.J. already off to the lanes accompanied by Petty's right-hand-man Mike Rees, Troy climbs in his basically brand-new race car and Danny goes to work helping him get his belts on. Julie Coughlin backs the golf cart up, her brother-in-law grabs the tow strap and they're rolling–with a crew guy on board filling the transmission with fluid on the way. Petty's wife, Erica, has already loaded up the cart with waters and radios.
By the time Danny, Steve and I get to the staging lanes Bob Rahaim is directly behind the water box and all eyes (literally) are on the tardy JEGS.com Corvette driven by Troy Coughlin. Rahaim and crew, as well as the NHRA starting line crew, had clearly been patiently awaiting the arrival of the second half of this nitrous-versus-turbo showdown for a spot in the money round. Not surprisingly to anyone that knows Rahaim, though, he and his guys were prepared to wait as long as NHRA would let them–they'd come to race.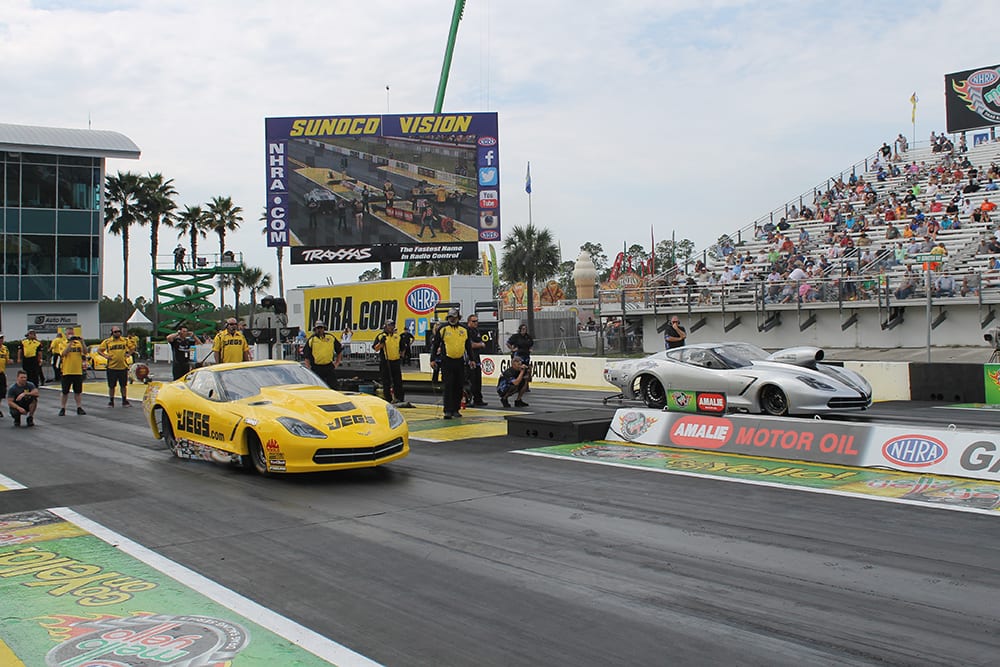 Smeared with fingerprints and surrounded by concerned Coughlins, the twin-turbocharged JEGS.com Corvette came to life and rolled toward the water box. A look of relief came across the faces of all involved for a brief moment–thankful the car was able to move under its own power. After a short burnout Troy started rolling toward the staging beams. When the yellows flashed the two late-model 'Vettes left together, but Troy's broke traction early, forcing the veteran driver to pedal it and that was that. Despite still making a 6.196-second, 237.84-mph pass, it wasn't enough to best Rahaim's uber-consistent 5.996-second, 243.72-mph lick.
With one car down it was time to turn our attention to T.J., who by this time had been pushed around and was directly behind the water box, about 50 feet back from the puddle. The JEGS.com crew gives him the single to fire it up the championship-winning whip whizzes to life (it's a turbo car, ya' know).
And we wait.
The car doesn't move an inch. The engine is running, but even after T.J. puts it in gear the car won't do anything. As it turns out the center section wasn't all that was broken; the transmission was broken, too. Petty takes off his headset and gives Mark Lyle, the NHRA's official starter, the "single" sign. Lyle waves Farber into the beams and by default into the final round, where Rahaim scores the win.
While I suppose it was a bit anticlimactic and might have made for a better story overall if Troy and T.J. had won and then met in a monumental father-versus-son final round–especially in T.J.'s debut–I don't think a win light, or lack thereof, could alter the magnitude of the moment. Just getting those two cars to the starting line was a serious victory, and I can only hope that group of guys is as proud of themselves as they should be.
Just as Danny, Steve and I made it back to the Pro Mod pits, here comes Troy, sitting on the door bar of the Corvette, steering the car as his crew towed him in between the two massive yellow-and-black JEGS.com haulers. We certainly didn't want to be a bother, but we had to go over and say something–at least offer some sort of encouragement following what was a pretty rough ordeal.
After some brief pleasantries, laughs, smiles and handshakes, Matusek cuts in. "I gotta know," he starts. "After all that…what kind of light did you have?"
Troy shrugs, digs around in the pocket of his firepants and pulls out a time slip.
"Oh-twenty-three."
Troy Coughlin is a bad ass.