It's no secret that Jay Leno is a car guy. The former talk show host regularly included car bits during his tenure as host of The Tonight Show, many of them featuring his own massive collection of classics, hot rods, race cars and more. Leno now hosts Jay Leno's Garage, an online series where Leno not only shows off his personal rides, but also some of the hottest new cars and motorcycles on the market, vehicles belonging to fast and famous friends, and even legit race cars. When Leno and his crew decided they wanted to try drag racing recently, they called up Frank Hawley.
"Everyone in America knows the name 'Jay Leno' and most likely everyone knows that Jay is a huge fan of the automobile. His personal collection of cars is one of the largest and most impressive in the country. Jay loves new cars, old cars, fast cars, slow cars and race cars. And he loves to drive them! So when the folks from the television show "Jay Leno's Garage" called me and said Jay wanted to learn to drive a dragster, I jumped at the chance to work with him," said Hawley, who runs Frank Hawley's Drag Racing School.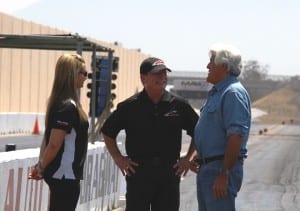 The filming took place at Auto Club Dragway in Fontana, the school's west coast home. Leno got behind the wheel of one of Hawley's dragsters before the duo was joined by one of the school's graduates, Pro Stock world champion Erica Enders. Enders showed up in a not-yet-in-production 2016 Camaro SS, adding another high horsepower, American muscle aspect to the day's filming.
"We had an absolute blast and it was a joy to work with Jay and his team," Hawley remarked. "It was possibly one of the most memorable days I've had at a drag strip."
Unfortunately we won't know any more details about Jay's performance until the show airs in October. Until then, visit the Jay Leno's Garage YouTube account to see some of the other cars Leno has featured.
GOOD READS
GOOD VIEWS
For an idea of what to expect when the Frank Hawley episode comes out, check out this episode of Jay Leno's Garage, featuring Gale Banks' twin turbocharged diesel drag truck. Gale and Jay discuss the technical specifics of the truck's engine and torque converter, as well as the advancements in diesel technology and how Banks Power uses the truck as a R&D tool for real-world applications. Driver Wes Anderson even lays down a nasty burnout on the street behind Jay's garage.
ESPN2's super-slow motion cameras produce some pretty incredible footage throughout the NHRA Mello Yello Series tour, like the clips in this recent video from NHRA's YouTube page. Watch for the unbelievable carnage that results from a nitro engine explosion or Pro Modified nitrous backfire.
Second generation doorslammer great Billy Glidden scored his first NHRA Wally at Englishtown just a few weeks ago. Glidden fought through a tight field, including former series champion Troy Coughlin. The two drivers sat through an epic burndown in their semifinal match, shown here in this fan video.
BONUS: Tune in to the 2nd Annual PDRA Summer Drags live from US 131 Motorsports Park in Martin, MI. MotorManiaTV is streaming qualifying and eliminations today and tomorrow, Saturday, June 27th. CLICK HERE to watch.