The next event on the 2015 IHRA Nitro Jam Drag Racing Series schedule is the May 29-30 Summer Nationals at Cordova International Raceway in Cordova, Illinois. IHRA Nitro Jam teams are making good use of the time off following back-to-back national events in Florida (April 17-18 in Bradenton and April 24-25 in Palm Beach).
Mentor, Ohio's Mike McIntire Jr. (pictured above) is on a roll. He has entered and won three of the four Nitro Jam events held so far this year. The second-generation drag racer won the season-opener at Tucson, Arizona, skipped the Baton Rouge Nitro Jam due to his father's open-heart surgery, then came back strong by winning the Bradenton and Palm Beach events. In fact, McIntire hit a grand slam in Bradenton, not only winning the AMSOIL Nitro Funny Car Presented By Aeromotive final but setting elapsed time and top speed records as well.
"We're working hard," said McIntire, driver of the orange McAttack Camaro. "After the two Florida races we have a lot of stuff to freshen up. We're working hard so we can keep this streak rolling."
Nitro Harley points leader Jay Turner is busy in his North Carolina shop.
"We took a few days off after Palm Beach and relaxed with a few of our good friends. Now we are back in North Carolina doing full services on our team of bikes. We also have a new build going," Turner said.
The new Nitro Harley will be owned by Bobby Buckley and Turner will be its rider. Buckley is the owner of the bike called Bulldog that Jay won two IHRA championships, in 1999 and 2000, then later crashed in Bation Rouge.
"This new build will allow Bobby to officially retire the Bulldog and give him the opportunity to focus on developing this bike into having as many wins and championships as the old bike," Turner added. "We also have a test session scheduled for Randal Andras and Lyle Newton. So our 'downtime' is being used wisely to make sure we are prepared to put on a heck of a show in Cordova."
Three-time IHRA world champion Paul Romine, pilot of the famed Man O' War Nitro Funny Car, shared his plan.
"I am in the (Florida) Keys, doing a little fishing," Romine said Tuesday. "Then headed back home (Fishers, Indiana) to the shop Friday to start on a new clutch project for the Funny Car to get her ready for Cordova. My guys are working their butts off at their day jobs to make up for the time lost with the Bradenton and Palm Beach races."
Bruce Litton, 2007 IHRA Top Fuel Dragster world champion and driver of the U.S. Male Vega Nitro Funny Car, is hard at work in search of his first 2015 Nitro Jam victory.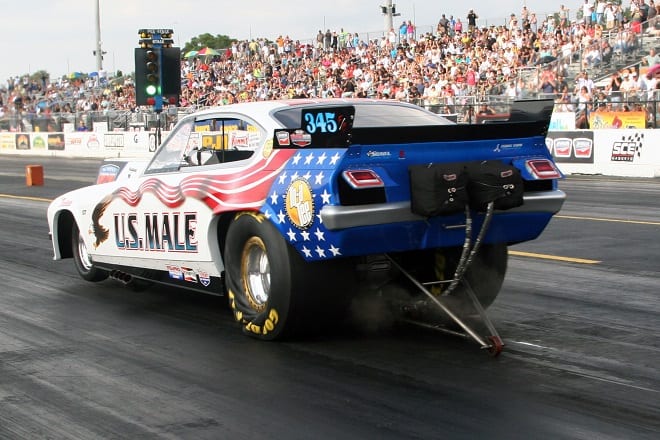 "Crew chief Mike Wolfarth disassembled the entire car and motor," said Litton. "We're trying some new ideas and always looking for ways of picking up ET. The car got quicker each weekend at the Florida races. We still aren't where we want to be yet but we will keep trying, picking through the things the car is telling us it wants. We are starting to prepare our Top Fuel cars as the Canadian races will be here before you know it. It's a completely different direction comparing the Funny Car to the Top Fuel Dragster. One will make you poor and the other one will eat you out of house and home."
Jet Dragster points leader Elaine Larsen is "moving on up."
"We are moving into our new shop! Kat (Moller) and I have been moving jet engines," said Larsen. "We moved 23 pods into the shop in just two days. Marisha (Falk) has been working, booking trips. Shea (Holbrook) has been getting ready to go racing in her road race car. Allison (West) has been taking final exams."
Past IHRA U.S. Bounty Hunters Pro Stock champion John Montecalvo planned a vacation with his wife, Lois Anne, around the IHRA races. Lois Anne celebrated her birthday shortly after John won the Pro Stock final at Palm Beach and he dedicated the win to her.
GOOD READS
NHRA Pro Stock is widely considered to be one of the most technologically advanced classes in drag racing. EngineLabs.com just posted this extremely comprehensive tech piece on what goes into a 500-cubic-inch Pro Stock motor. Whether you're a casual fan of the class or a diehard Pro Stock nut you're bound to learn something new by the time you finish reading this one.
Despite well-documented recent issues with track ownership, the NHRA Kansas Nationals will continue as scheduled, reports The Topeka Capital-Journal. NHRA will oversee the Heartland Park Topeka event, with a number of officials and workers from NHRA-owned tracks already on-site preparing the facility. The decision was released just days after the Topeka City Council voted against the city's purchase of HPT.
One of the numerous crew chiefs featured in the 2015 DI Crew Chief Special Issue is Billy Stocklin, who most notably tunes for "Stevie Fast" Jackson. The multi-talented Drag Radial and Pro Mod tuner sat down with DI Senior Editor Ian Tocher at "Lights Out 6" earlier this year for this Q&A.
GOOD VIEWS

We're glad to hear IHRA Pro Stock racer Cale Aronson is recovering well after suffering this gnarly crash at the IHRA Palm Beach Nationals earlier this month. If you'd like to send Cale and his wife, Tinzy, a note or care package, the hospital forwarding address can be found here.

Here's something you're only going to see at an IHRA Nitro Jam race – a jet dragster vs. Top Fuel dragster match race!

One of the baddest rides on the Drag Radial scene right now has to be Jason Michalak's screw-blown Corvette, seen in this Free Life Films video at Lights Out 6 and the Outlaw Street Car Reunion. With Billy Stocklin and Frankie "Madman" Taylor turning the wrenches, you know it has to be fast!