The countdown is on to the Professional Drag Racers Association 2015 kickoff. The series inaugural season was full of historic wins, wild rides, blown records and incredible, side-by-side, professional eighth mile drag racing. Excitement is building for their second year – which promises even greater car counts and the best outlaw drag racing action in the country.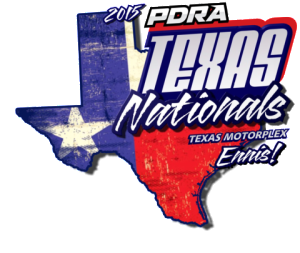 The season kicks off at the world famous Texas Motorplex in Ennis, Tx. on March 19-21 with the Inaugural Texas Nationals. All of the exciting PDRA classes will be there including Pro Extreme – the quickest and fastest doorslammers on the planet. Plus, fire-breathing Pro Nitrous and Pro Boost – the class where blowers and turbo-powered machines go head to head. For two-wheel fans, Extreme Pro Motorcycle is sure to deliver the best Pro Mod bike racing in the country.
The action continues with the PDRA Sportsman divisions. In Top Sportsman and Top Dragster, it's the baddest of the bad dialing in their machines and judging the finish line while going over 170 MPH in four seconds or less. Also catch the next generation of professional pilots getting their experience in Pro and Top Junior Dragster.
The PDRA's own brand of thrilling entertainment will descend on Texas Motorplex in just a few weeks. Affordable tickets for family fun are available now at www.pdra660.com.
"Hosting the season opener for PDRA is thrilling," Texas Motorplex President/GM, Gabrielle Stevenson, said. "This is going to be the biggest Pro Mod race in Texas this year and our fans are going to love this event. We can't wait to finally have a big PDRA event for our fans, partners and anyone who wants to see a blazing hot event with tons of speed and excitement."
"We were extremely pleased with our first season and got rave reviews from fans," added PDRA Race Director Bob Harris. "We're looking forward to even bigger and better things this season. Kicking off the year at Texas Motorplex is exactly the statement we need to say that 2015 is going to be an incredible year for professional eighth mile drag racing!"
There is also a bonus for the first driver in the famous Pro Nitrous class who breaks into the 3.60s in 2015. With so much on the line, the world class engine builders and teams will be letting it all hang out in Texas! Will it happen there or will they crush it at the ROCK?!! "You can buy the whole seat, but you'll only need the edge!!!"
Text by Lisa Collier)
GOOD READS
GOOD VIEWS
Free Life Films just came out with their new promo video for the Lights Out 6 race, Feb. 19-22. Check out highlights from last year to get amped up for this year's race, next weekend at South Georgia Motorsports Park.
Past DI cover girl Leah Pritchett is back for another year as driver of the Gumout/Dote Racing Top Fuel dragster. Go behind the scenes with Leah at last weekend's Circle K NHRA Winternationals.
This week's Wheels-up Wednesday video is a classic. Nitro veteran Jim Head keeps the front wheels up in the air to the eighth-mile and still runs a respectable 4.97.