Funny Car racer Blake Alexander has spent the last four seasons working his way towards becoming one of the more successful part-time nitro racers. He decided at an early age that drag racing would be his profession and made considerable steps toward his goal of driving a nitro Funny Car as each year passed. Alexander developed sponsorship proposals and met with potential partners even since his Junior Dragster days. As sponsors become more involved, Alexander found his way into quicker and faster race cars; Junior Dragsters to local Quick 8 door cars, a Comp Eliminator altered to a nitro-injected A/Fuel Dragster, and now a 10,000 horsepower Funny Car. The 26 year old Charlotte resident made his professional debut at age 23 and has since competed part-time, upsetting the mega teams on several occasions, even reaching the final round at the 2013 Four-Wide Nationals. The part-time racer/full-time marketer recently shared some of his opinions and tips for securing sponsorship in today's economic climate.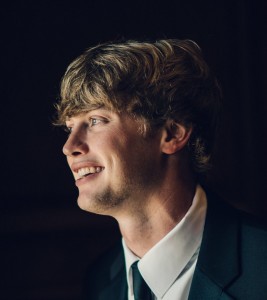 Be Patient
"I try to maintain an appropriate line of communication without appearing pushy or desperate. You have to understand that it's not the #1 priority on everyone's list to be in touch with a drag racer about drag racing when they wake up."
A sticker on a race car isn't enough
Sponsors expect serious results from their investment, but that isn't limited to on-track success. "The overall package that viewers and companies and marketing firms see is not worth the cost of the sport, so you have to find other ways to facilitate opportunities for the partners that you work with through business-to-business marketing, pushing the envelope more, talking to young people and connecting with customers."
Timing is Important
Though not as common as it once was thanks to the Internet age, cold-calling can be one way to get your foot in the door. "I've read studies on when's the best time to cold-call people and I've found the best time to be Tuesday afternoon because most people are starting to wrap up busy Monday work and moving on to new things."
Think Outside the Box
"You can zero in on one industry and be good at it, but to do well you have to diversify so you can have an opportunity with an oil company and something in automotive, but also opportunities outside of the typical industries and companies."
Appreciate the Rewards of your Work
Alexander learned this lesson recently, as the funding that allowed him to run 10-12 races in 2012 and 2013 was cut. "Obviously everyone wants to race more, but I think the less I got to race the more I appreciated getting to do it and how hard it was to go out and even make one run in the car as a normal person who just graduated college a couple years ago and just got married."
GOOD READS
GOOD VIEWS
Who wins this match race between Jim Bell's twin turbo-equipped Pro Mod and Lester Cooper's naturally aspirated Extreme Pro Stock Mustang? You'll have to watch to find out. It's a very tight race!
This 2012 clip of a scary nitrous explosion has been making the rounds lately. If you haven't already seen it, you should definitely give it a view.
Mick Snyder and Frank Manzo had their share of meetings in ADRL competition, with Snyder driving his family's Powersource Transportation Pro Extreme '63 Corvette and Manzo tuning Alex Hossler's Al-Anabi Racing Camaro, but the two first squared off as drivers in the NHRA Top Alcohol Funny Car ranks. Here's one of their matches from 2009.