This weekend, the cackle of Nostalgia Funny Cars and front-engine Top Fuel dragsters will fill the air in Bakersfield, California as the NHRA Heritage Series converges on Auto Club Famoso Raceway. The Good Vibrations Motorsports March Meet, held every year since 1959, is now one of the premier nostalgia races in the world. A rich history and a massive attendance of both teams and fans make the March Meet an annual highlight for everyone from dedicated nostalgia racers to full-time NHRA professional drivers who see the race as a break from the grind of the tour.
One of those NHRA pros is two-time Funny Car world champion Cruz Pedregon, who is competing in the Nitro Funny Car class with his "California Charger" 1977 Trans-Am.
"This race means a lot to me, being from Southern California and growing up back when this race was as popular or more so as it is now. It's a prestigious race. It means a lot. Even though I'm originally from California, we're coming from 2,000 miles away and I'm bringing, ironically, the California Charger from Indianapolis. I'm having fun with it. It's a nice way for me to spend my off-time," Pedregon said.
Even though his attendance as a driver at Bakersfield is limited to a few attempts at the March Meet and the Hot Rod Reunion in the fall, Pedregon's March Meet experiences as a fan go back to the late seventies.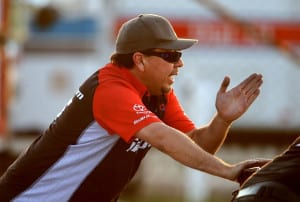 "My brother and I weren't old enough when my dad raced in the sixties. We weren't around when he raced, but he would fly us up for the March Meet. He had a few small airplanes, so he would fly us up in a twin-engine Aero Commander and he would drop us off in the morning on a Saturday, because we were all bugging him that we wanted to go to the March Meet. He would drop us off, walk through the pits and see some of his old friends, jump back in the plane, fly out, and come back and pick us up at 5 o'clock. That was our treat. Those were the fondest memories that I had growing up as a kid at the Bakersfield March Meet."
The driver of the Snap-On Tools Toyota Funny Car is hoping to add another fond memory this weekend with his nostalgia ride.
"If I go out there, I'd like to go out there and win the race. I think I've been to two March Meets and a Reunion, or the other way around, so I haven't had the success, but I think this year is different. I feel like I've put in my time and tested the car. I feel like if there's ever a year I could be competitive but have a shot to win it would be this year," Pedregon claimed.
The March Meet also has a special meaning for Adam Sorokin, driver of the Champion Speed Shop Nostalgia Top Fuel dragster.
"For nostalgia racers, it's probably the biggest race, especially for Nostalgia Top Fuel racers. For me personally, my dad (the late Mike Sorokin, driver of the popular Surfers Top Fuel dragster) won it in 1966 and my team won it in 2010. There's this history of this race being around for over 50 years. For nostalgia racers, it's probably our Super Bowl or Indy 500. To be able to put your name on the list of people that win that race is kind of huge for us," Sorokin noted.
Sorokin recognizes the challenge ahead of his team this weekend, but a series of changes and offseason test sessions at Phoenix and Bakersfield give him confidence.
"This year is going to be tough. (Tony) Bartone is running very good right now. Actually everybody runs pretty good at this race. It's a really good track. It rewards the people with high horsepower. We're more of a quick car than a high-horsepower car, but I think we'll run really well. We've made some changes that will make the car run better and not annihilate parts. I'm looking forward to this race a lot."
On top of the excitement specific to the March Meet, Sorokin is just flat-out ready to get back in a race car. Unlike the busy modern Top Fuel schedule, the nostalgia guys only have a handful of major events each year.
"I'm excited to race this year. The offseason sucks. I don't like not racing and I wish we had more races in the Heritage Series. It'd be nice if we had 10 or 12 races a year rather than the four or five that we're going to now. I think we're all pretty excited as far as the team goes. We intend to make everybody work for it."
The Good Vibrations Motorsports March Meet, March 5-8, has something for everyone; heads-up racing in Funny Car, Top Fuel, Fuel Altered, Rear-Motor Top Fuel, A/Fuel, and Junior Fuel. Index racing is also present, with classes including 7.0 Pro, Nostalgia Eliminators 1, 2 and 3, Hot Rod and A, B, C, and D Gas. The full event schedule is available here.
GOOD READS
GOOD VIEWS
Cruzer recently called out a few of the Nostalgia Funny Car hitters, challenging guys like 2014 March Meet champ James Day and fellow "big-show" Funny Car driver Ron Capps to match races.
Sorokin's Champion Speed Shop entry is one of the major contenders in Nostalgia Top Fuel competition, despite using a small-block Chevy motor in a field of faster Hemi-powered front-engine diggers.
In another one of his phenomenal NitroAmerica videos, videographer Les Mayhew captures the Bartone Bros. Top Fuel team's first NHRA Heritage Series win at New England Dragway in 2013. A rare inside look at one of the baddest teams in nostalgia racing right now.
BONUS: Brian and Chad over at Bangshift.com will again provide free live streaming video coverage of the Good Vibrations March Meet starting on Thursday, March 5th. Tune in HERE.